Some folks have been asking me why I didn't state some (their favourite) cities in my previous Top 5 Favourite cities. Now, that's because I have not been to those cities yet! =) Don't worry, if I get a chance to visit those of your favourite cities, I might create another Top 6, Top 8 and even Top 10 list again! =)
Due to "overwhelming" response to my Top List, here is another one – My Top 5 Favourite Mountains that I had visited!. What are yours?
Mt. Titlis is in the Urner Alps of Switzerland, standing at 3,238 metres. We had enjoyed ourselves very much at the snowy mountain! Beautiful snowflakes drifting on the breath of the breeze while we were joyfully playing with snow. It was spring in May; this glacier paradise offers snow and ice even in summer!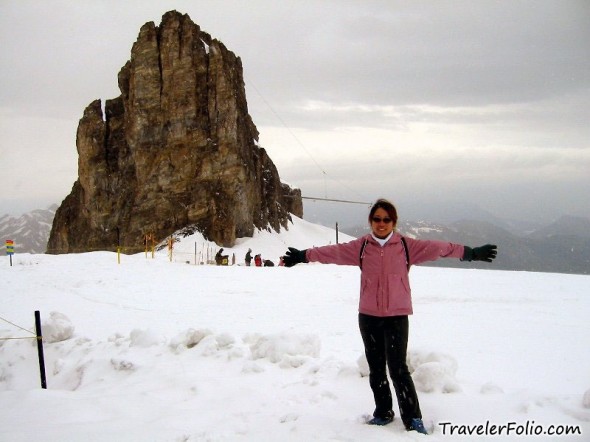 A picture can only speak a thousand words; this is just a fraction of the breathtaking panoramic view taken on top of Mt. Titlis which overlooks a range of mountain peaks in central Switzerland!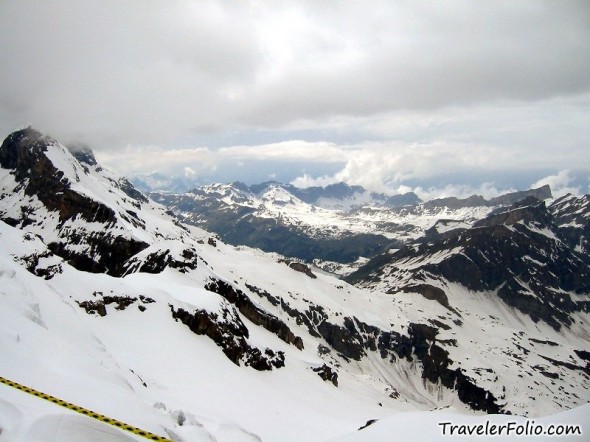 Ride on the Ice flyer – a chairlift that spans the glacier crevasses of Mt. Titlis, with your legs dangling in the cold air. Can you see that it was snowing then? At one point, the snow became so heavy that we had to stumble our way to the nearby Titlis Glacier Cave at a very low visibility condition.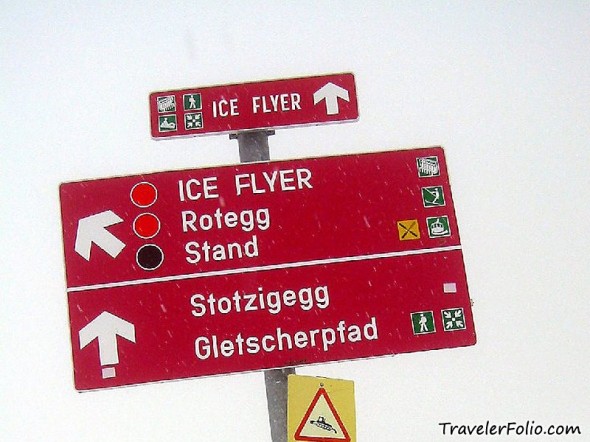 Do you see some ghost effect here? I was in the cold and slippery Titlis Glacier Cave. Felt like frozen meat in a huge freezer!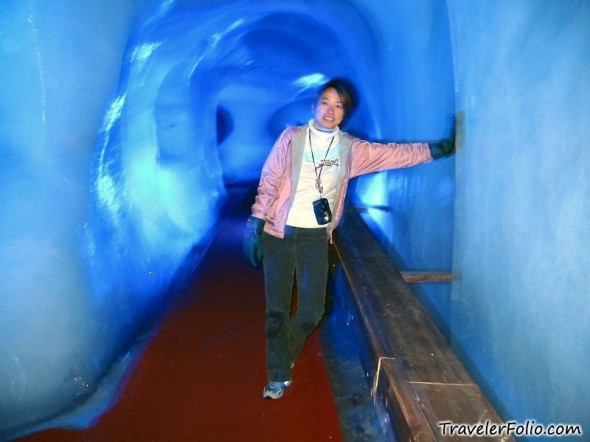 "You are 147 feet under rock and ice" – Only the two of us walking through this long dark tunnel under the glacier. The floor was very slippery with frozen ice, mind you, I slipped and fell hard onto the floor.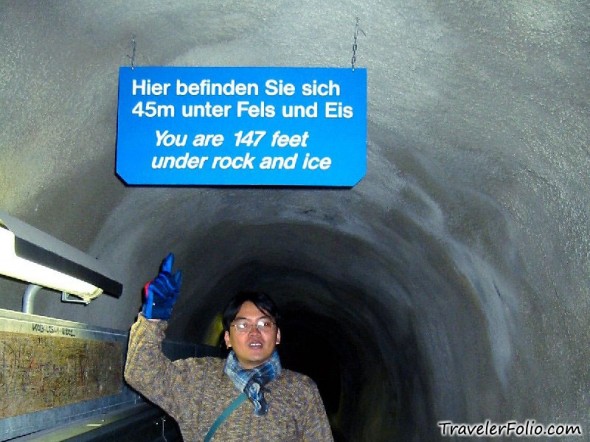 "五岳归来不看山,黄山归来不看岳" is a famous proverb to describe the beauty of Huangshan in comparison with the five other famous sacred mountains in China. It means after visiting the five superb sacred mountains, you won't want to visit any other mountains; but after returning from Mt. Huangshan, you won't wish to visit the five sacred mountains. The five mountains hereby referred to as Mt. Taishan, Mt. Huashan, Mt. Hengshan, Mt. Songshan and Mt. Hengshan.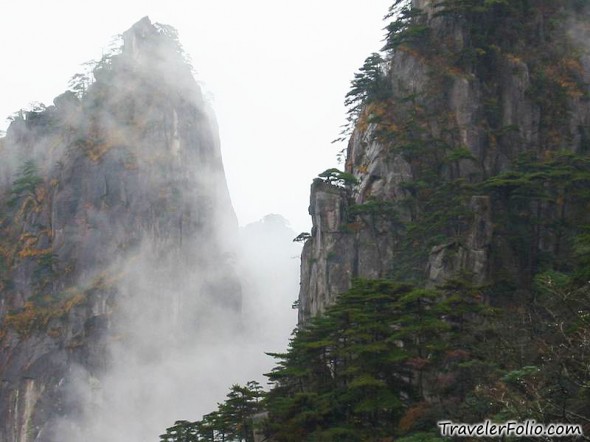 One needs to observe his/her steps on Mt. Huangshan. A common advice is "don't walk if you take photo; don't take photo if you are walking". A trip can send you down the deep!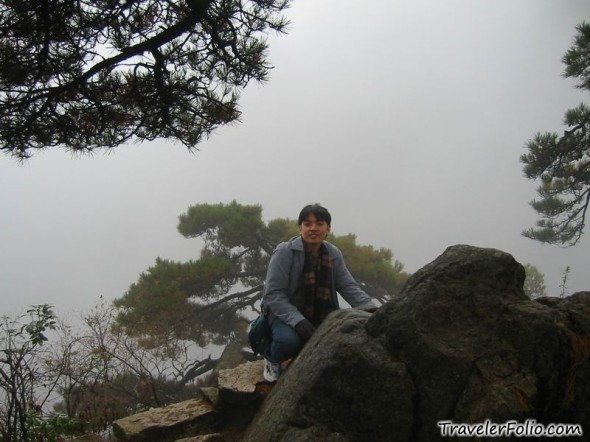 These men are very tough! They can carry heavy loads that are attached on each end of a bamboo stick up and down hundreds of steps on the mountain. Food and other products are more expensive on Mt. Huangshan.
Click on the thumbnails to see the beauty of Mt. Huangshan. Some were not very clear due to the heavy mist.





Read about how I thought I would die due to altitude sickness on Mt. Huangshan!
The Eisriesenwelt (German: "World of the Ice Giants") is the world largest limestone ice caves located in Werfen, Austria. To get up to the ice caves, we took the shuttle bus to the next bus-stop. From there, we had to walk for another 20mins upslope in the cold to the cable car station. The cable car took us to somewhere near the ice caves entrance, and we had to walk for at least another 20mins upslope in the cold again, while gasping for breathe in the thin mountain air. However, it was a lovely walk in the snow.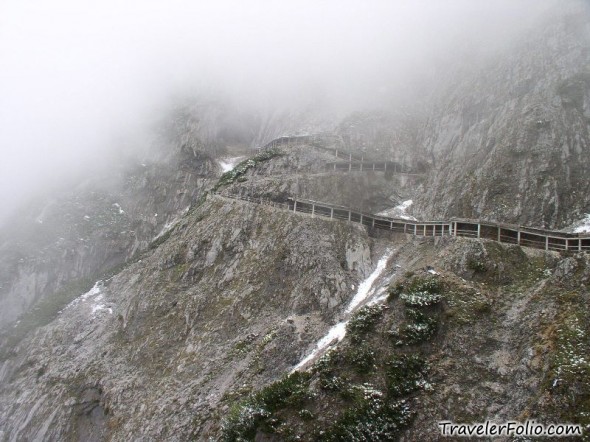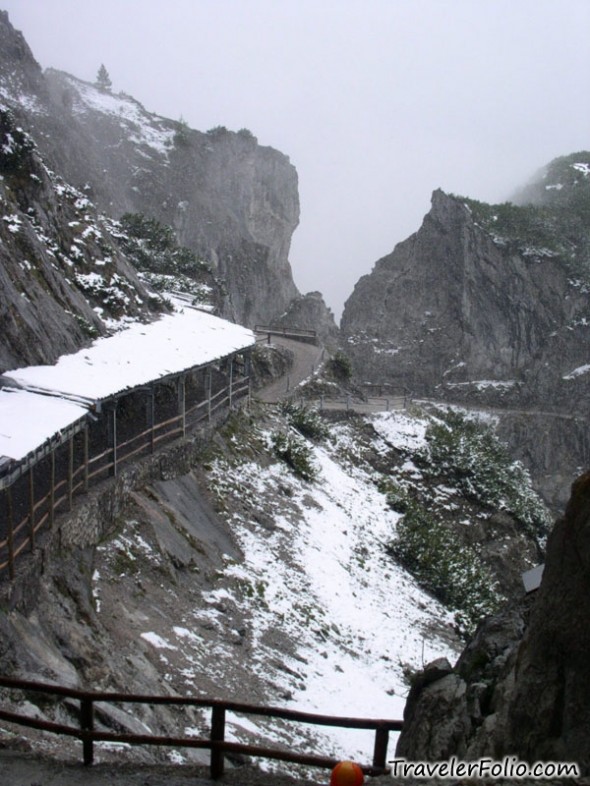 We climbed a lot of steps in the gigantic ice caves and we had to be very watchful with our steps on the slippery ground. The ice caves are covered with bizarre and beautifully shaped thick ice-layers. The tour lasted around 75mins.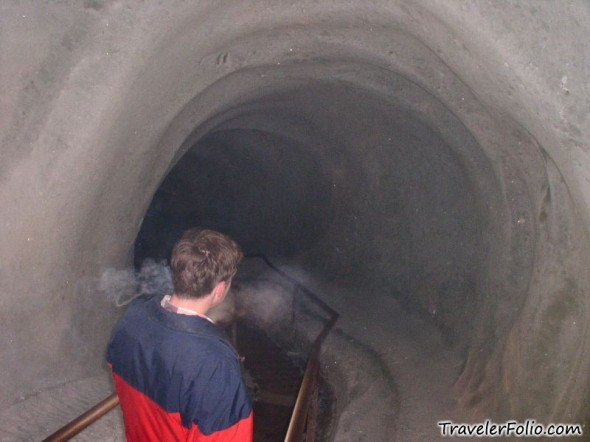 Do you know Mt. Schilthorn is the famous "007 James Bond Mountain"? This is one of the famous mountains in Switzerland to catch the spectacular view of Jungfrau and other mountains like Mönch and Eiger in the Swiss Alps. The Jungfrau-Aletsch-Bietschhorn region is the first World Heritage site in the Alpine region.
This is not a poster, this is an image… nah! This photo was taken with Jacky's finger pointing at the Jungfrau region, while standing at the observation deck at Mt. Schilthorn.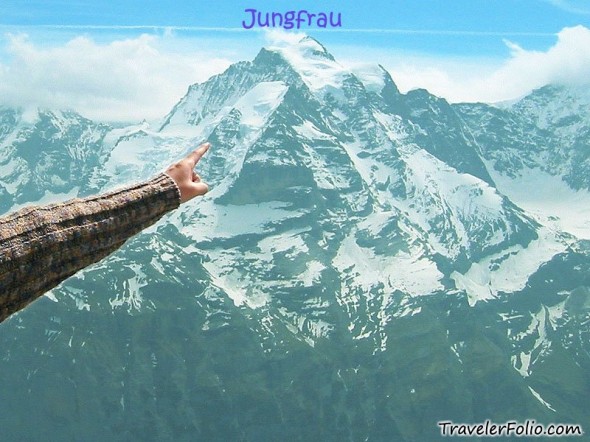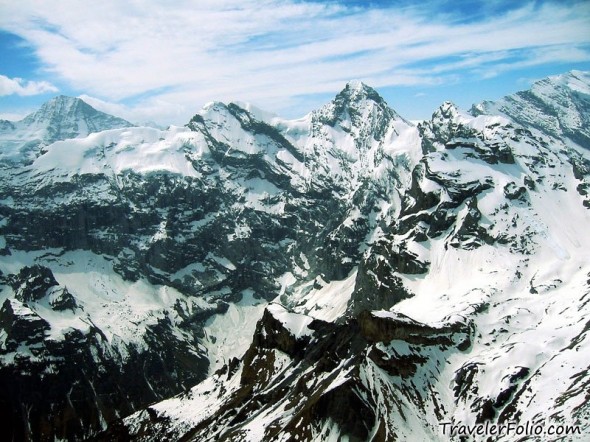 Not only the destination (Mt. Schilthorn) offers one of the most enchanting mountain views in Switzerland, the journey is a breathtaking one that showcased the beauty of the Swiss Alps. Halfway down from Mt. Schilthorn, at about 1,650m above sea level, the Mürren village is another scenic spot to explore the peaceful alpine meadows. Every angle of the mountainous view is picturesque!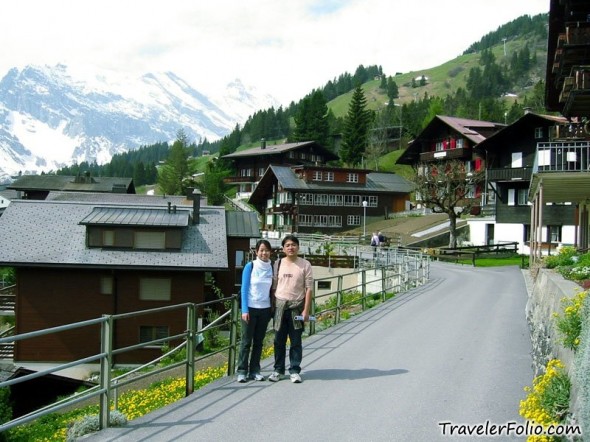 What a shame! Now then I realised these sweet yellow flowers are dandelions!!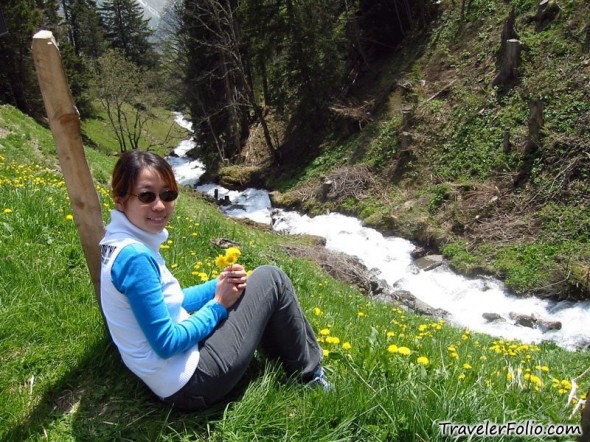 The Leshan Giant Buddha(乐山大佛) is the world's largest statue of a Buddha carved out of a cliff and faces Mount Emei. Standing at 71 metres, this statue was built during the Tang Dynasty. It has been listed as a UNESCO World Heritage Site since 1996.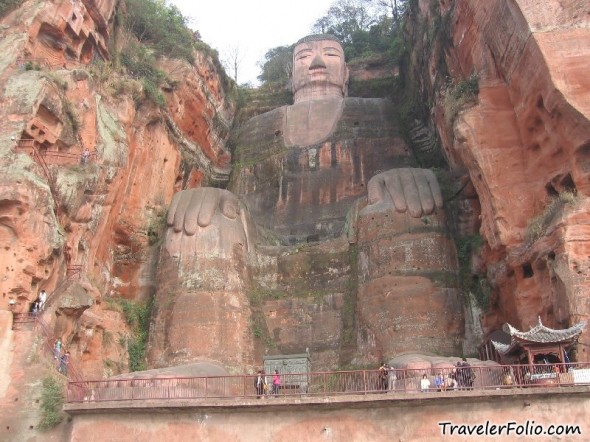 The Leshan Giant Buddha is as famous as the standing Buddhas of Bamiyan in Afghanistan which were dynamited and destroyed in 2001 by the Taliban. Picture below depicts the before and after of Buddhas of Bamiyan.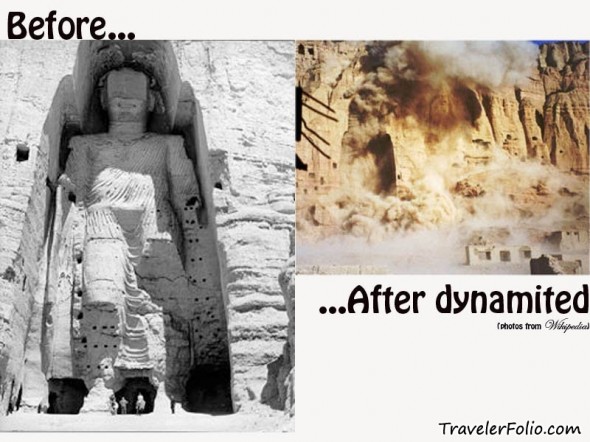 Phew! I've done mine! Now it's your turn,
list your favourite mountains in this comment box!