Taiwan is a really popular destination with Singaporeans. Almost every other month, I have friends planning to go there for holidays! The tourist haven is best known for its breathtaking coastal line, verdant landscapes, gourmet and shopping paradise. And Taiwanese are generally polite, friendly and helpful to tourists.
We had a blast in Taiwan and just came back last week! Thanks to Taiwan Tourism Board for organising this trip, we have new experiences to share with you as we travelled around Taoyuan, Hsinchu, Nantou, Tainan and Taipei. Stay tuned for the upcoming blog posts on our recent Taiwan trip.
Cingjing Farm (清境農場) @ Nantou.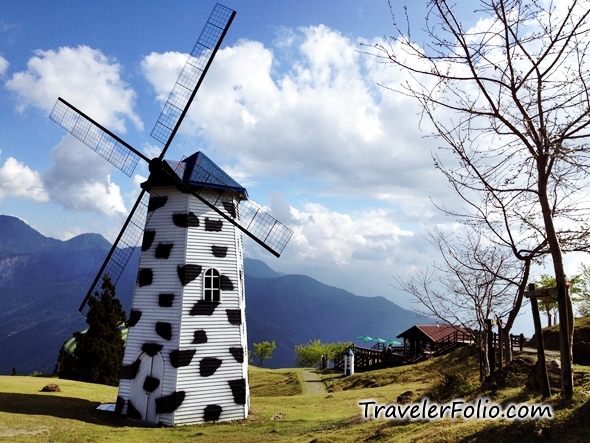 Cotton trees blooming near Linchu reservoir @ Tainan.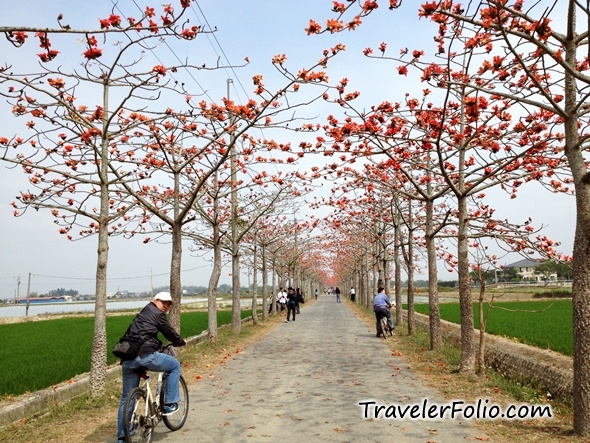 Peach blossoms at Mei Feng Farm (台大梅峰農場) @ Nantou.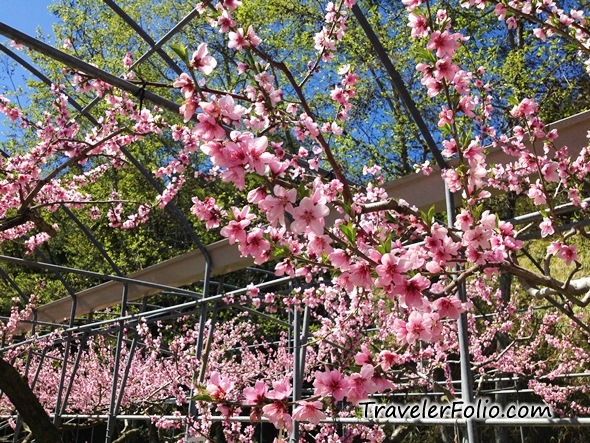 Taiwan Lantern Festival 2013 @ Hsinchu.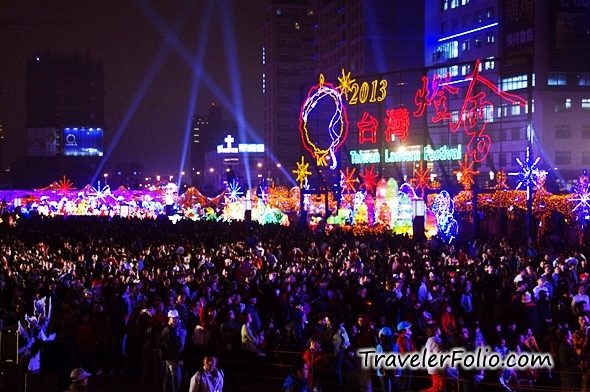 The Monster Village (妖怪村)at Ming Shan Resort @ Nantou.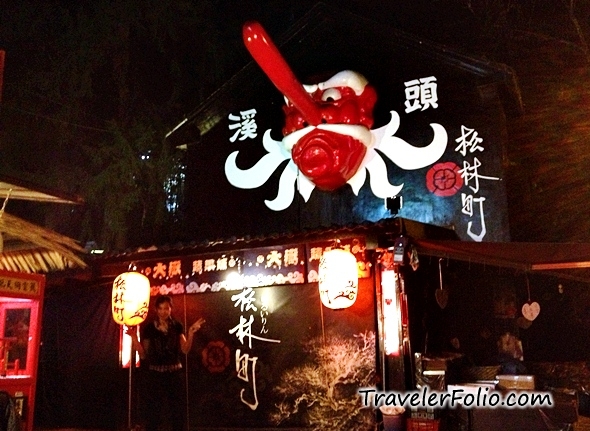 [Updated on 2019: Qiito is no longer in operation]
Planning Taiwan Itinerary
We would like to thank QIITO team for recommending our accommodations in Taipei, Taoyuan, Nantou, Xitou and Tainan. Some of these are 'Minsu', commonly known as homestay, a popular choice of accommodation in Taiwan nowadays for unique experiences in wonderful places and scenic areas. QIITO provides a secure platform for the largest collection of Taiwan Minsu booking with credit transactions available. So now you know where to book for Minsu in Taiwan.
You don't have to be resourceful if you have the right tool on hand. Every holidaymaker should check out QIITO – it's more than just a travelogue. It saves a lot of time googling while you do research on your next trip.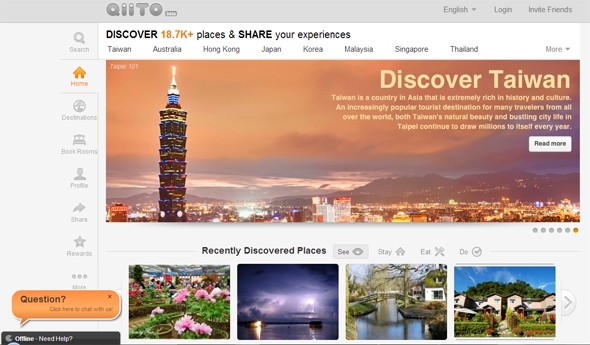 A Singapore-based startup, QIITO is a highly interactive social platform that inspires its large travel community with beautiful photos, tips, reviews and itineraries shared by like-minded users from the region. Every user can take reference to what others have recommended and shortlist various places that they want to go for fun-filled activities, sightseeing, food and accommodations. What's more? You can compile a personalized itinerary accompanied by a map that indicates all the locations clearly and build your own travelogue.
QIITO endeavours to fill in the gap between online booking and trip planning as well. You can get attractive deals while booking a flight and accommodation on the website. Share your past travel experience with the community, upload a photo, post a tip, add a comment and you earn credits that can be used to redeem gifts and discounts such as Taiwan Amusement Parks Discount Voucher 2013 worths $100 in QIITO's Reward Store.
I have created a travelogue on QIITO and embedded the widget here so that you can easily refer to the places that we visited in Taiwan and find out more travel information on QIITO.
[Updated on 2019: TransAsia ceased operations]
Singapore-Taipei via TransAsia Airways
We have been on a few trips to Taiwan but this is the first time we had the opportunity to experience TransAsia Airways – Taiwan's leading airline that operates a full service daily flight between Taipei and Singapore.
The flight duration from Singapore to Taipei(Taoyuan) takes about 4.5 hour, not too long but it would be more comfortable to take a full-service airline for spacious leg room, cushy seat, in-flight entertainment and tasty meals. Thanks to TransAsia Airways, we had very pleasant flights (with no delay) on the gleaming new Airbus A330-300 that flies on the Singapore-Taipei route.
Talking about quality in-flight service, it's a definite thumbs-up for TransAsia Airways flight attendants. Clad in dark blue uniform, they were very sweet, warm and always smiling while serving passengers on board.
Featuring both Business and Economy class cabins, the new A330-300 aircraft has modern AVOD in-flight entertainment system installed on every seat. Intuitive touchscreen makes it easy to select the latest movies, music and games.
For Business Class, service was immaculate and the seats are flatbeds – we slept comfortably throughout the flight and woke up recharged to start our little adventure in Taiwan.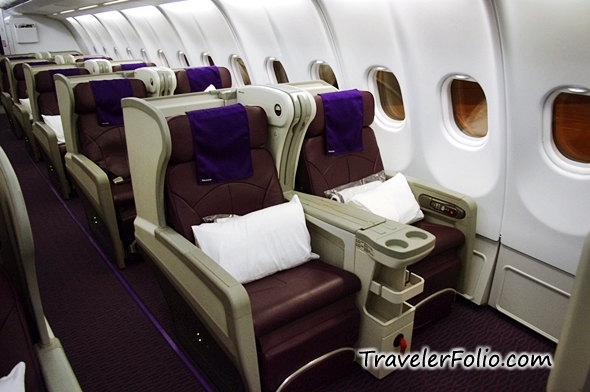 AVOD in-flight entertainment system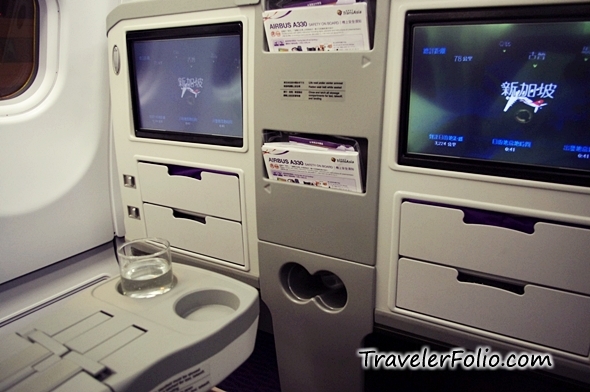 Here you see two different sets of tasty in-flight meals served at Business class cabin. I had sweet potato porridge and sides like tofu and pickles. Look simple? It's delicious! The porridge was smooth and light on the stomach during the night flight. Fresh fruits were served with yoghurt and warm croissant.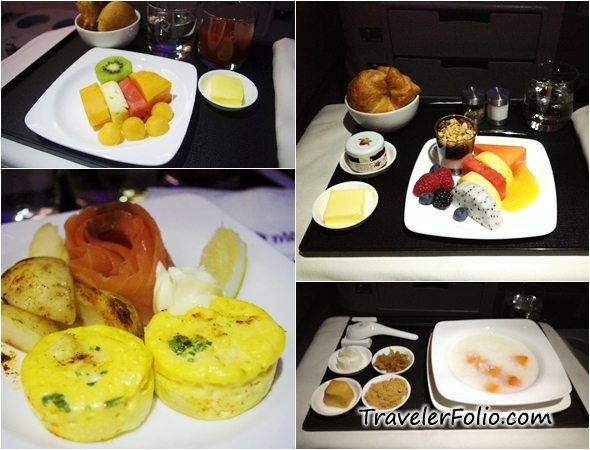 The seat configuration of the Economy class cabin is 2-4-2. Pillows and blankets are provided as well. The flight attendants made every effort to deliver great in-flight service even though it looked like a full flight back to Singapore. They often offered us with glasses of water to make sure we were not dehydrated.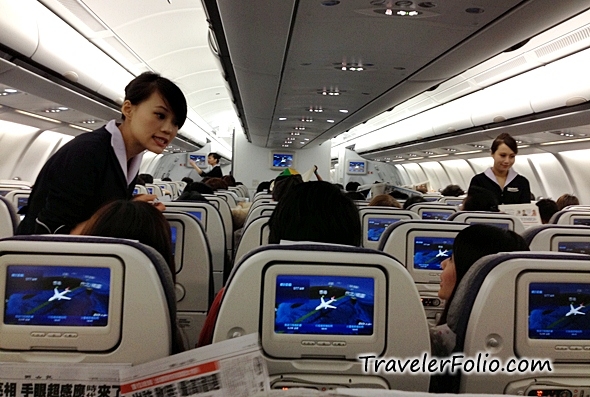 Surprisingly, the well-seasoned fried rice was cooked just right, not clumpy or soggy when we thought rice served on board is usually too soft. The slices of lotus roots were crisp and refreshing.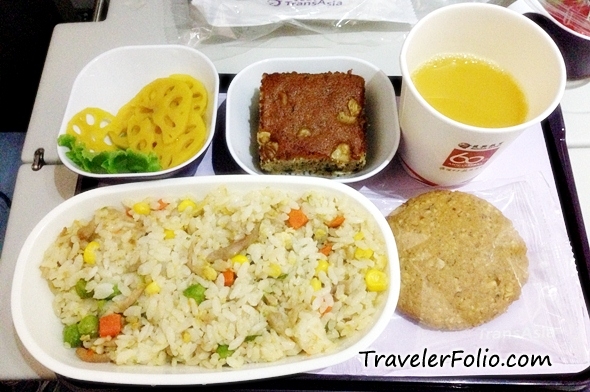 From now till 25 March 2013, TransAsia Airways is offering attractive promotional airfares to Taipei for S$485 and One for One Business Class deal at S$1320 only (all inclusive of tax and surcharge). The airline also flies to Hokkaido from Taipei with 5 immediate connections all within 2 hours, a great option for a twin-city holiday.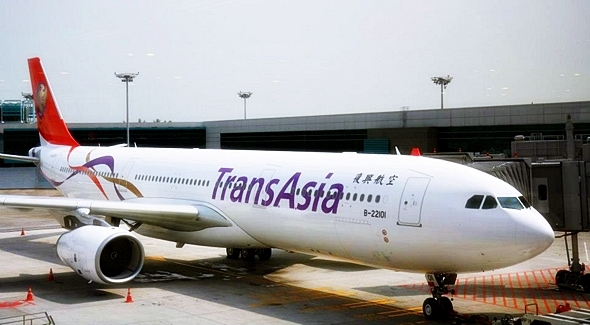 Did you know that TransAsia is the only airline in Singapore that customers can purchase tickets directly through their Facebook "Book My Flight Application"?
Read Taiwan Trip 2013 (Part 2).
[/fusion_builder_column][/fusion_builder_row][/fusion_builder_container]