NATAS Fair 2011 @ Expo Hall from 26 to 28 Aug 2011.

If you are considering a trip to Taiwan, head down to Taichung 台中 Booth No: 6H14 for attractive travel deals. Just mention that you are a reader of "TravelerFolio" or "Eunice" to get one of these free gifts. No purchase is required. No string attached. While stock lasts!

1) Cute "Bobi" luggage tag 媽祖行李牌 x 50
2) Sun cake gift pack 太陽餅 x 50
3) I ♥ Taichung T-shirt x 7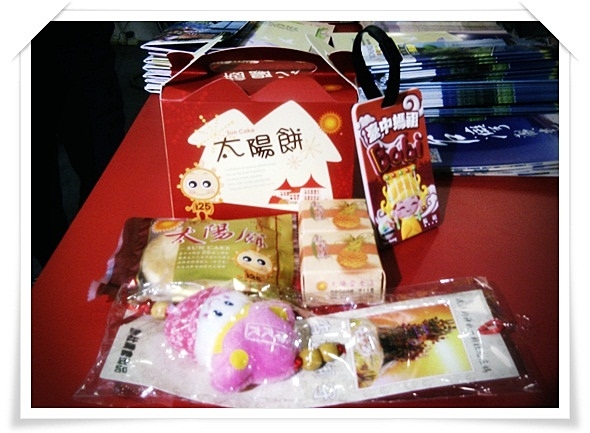 Just a couple of weeks ago, we were afforded the opportunity to tour Taichung, the 3rd largest city that lies in west-central Taiwan.
Taichung – the city of bubble tea 珍珠奶茶, sun cake 太陽餅 and the world's leading manufacturer of high-quality bicycle.
If you look forward to a respite from the hustle and bustle, embracing the crisp mountain breeze amidst picturesque landscape sprawling with orchards and farms, living like a local with friendly owners at quaint little cottages, tasting the sweetness of freshly plucked fruits, relaxing in the hot spring and experimenting creative and mouthwatering local food, Taichung has all it takes for an unparalleled holiday experience.
Agricultural holiday and Homestay experience in the backgarden of Taichung
Sin-She Township (新社區)
Sin-She is remarkably notable for its agricultural products (農特產品). Call me a city girl. I've never seen so many different types of fruit trees during a morning jaunt. Grapes, citrus, pears, longans, persimmons … these are some of the high quality fruit products for export to Japan, Singapore, Malaysia and the region. I asked what else we can't find at the orchards. Durian. Fair enough!
Sin-She is Taiwan's major mushroom production area. 70% of mushrooms sold in Taiwan are grown in Sin-She.
Ah Liang Mushroom Garden 阿亮香菇園 is one of the famous mushroom gardens in Sin-She. After an introductory on various kind of mushrooms including Lingzhi and the correct technique of picking mushrooms, we proceed to the garden for first-hand experience picking of mushrooms.
The signature salted fried mushroom 『招牌鹽酥菇』 is a must-try; it tastes like Taiwanese style fried chicken 鹽酥雞, but this is a much healthier version. I love the mushroom soup as well, with all the goodness of different kind of mushrooms that gives a natural earthy flavour.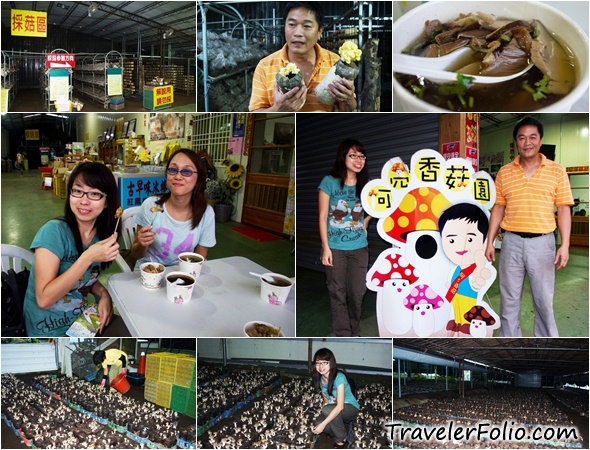 "菇園有香菇、珊瑚菇、酒杯菇、雞腿菇、平菇(鮑魚菇)、柳松菇及靈芝等,遊客可認識各種菇的種類。"
http://0425810893.emmm.tw/
阿亮香菇園 Ah Liang Mushroom Garden
台中市新社區協成村協中街131號
電話: 04-25810893
On our next trip to Sin-She, we shall go for a cycling tour around the scenic countryside. There are many point to point attractions with clearly indicated signs along the roadsides and helpful locals around to ask for directions.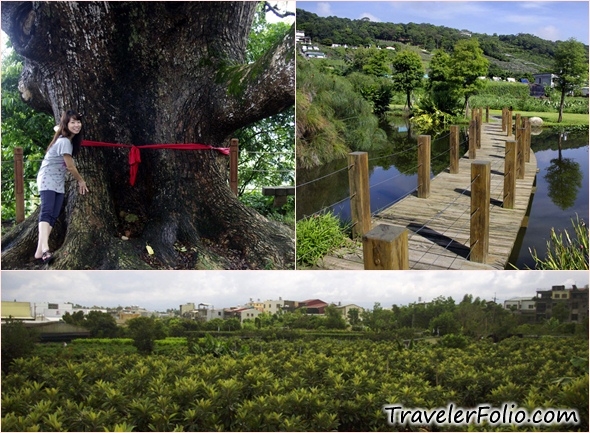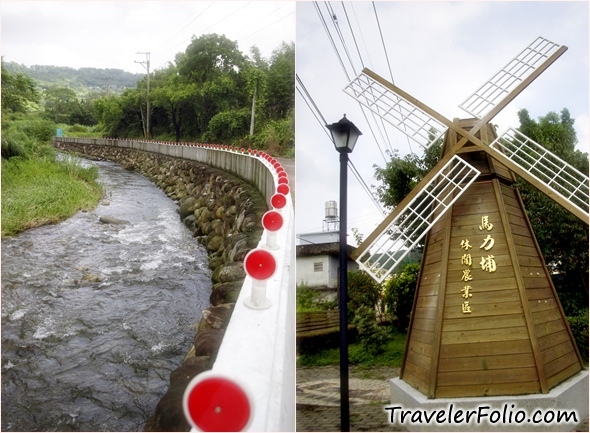 Orchid House 新社蘭亭
The owner of 蘭亭 Orchid House, Mr. Luo, started his collection 20 years ago, initially as his research in orchid exploration, discovery and innovation. Today, 蘭亭 Orchid House is home to an extensive variety of orchid, including some very rare species, collected by Mr. Luo from around the world for more than 20 years. Spend sometime in the Orchid House and you will feel that lots of love and care are showered on these delicate, lovely orchid plants.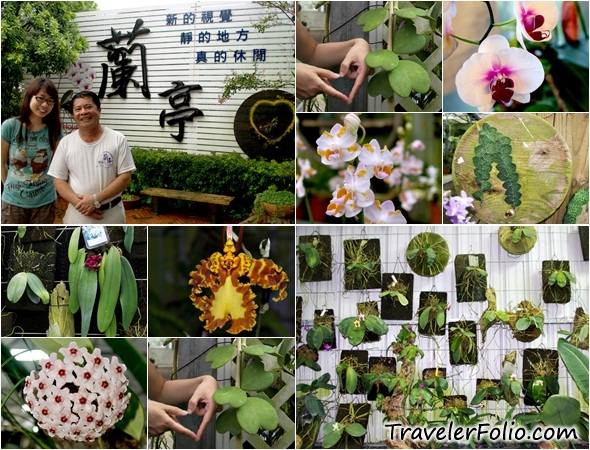 To our surprise, there is also a mini insect kingdom that houses insects like leaf insects or walking leaves, stick insects or walking sticks, geckos, elephant beetles, Hercules beetles, hairy eight-legged spider… sounds creepy? Hey, some are really cute! Like this one on the top left, look at its round, innocent looking eye… awww The other gecko on the top right has double eyelids! We can feel their skin and hold them too.
By the way, the hairy eight-legged spider feels like dog fur …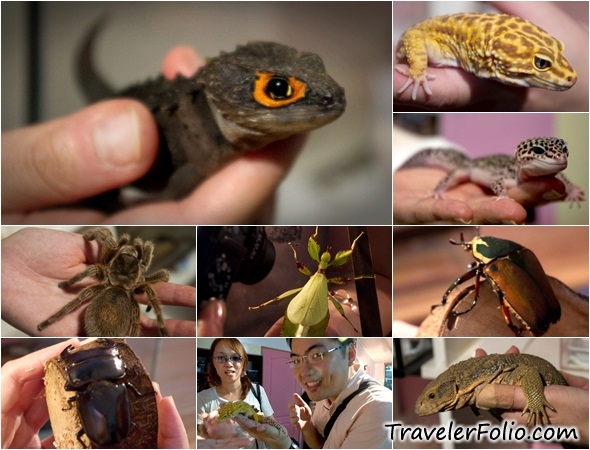 http://sw.emmm.tw/
新社蘭亭 Orchid House
台中市新社區協成里華豐街112號
電話:04-2581-2482
The Master of Mushroom 菇神 lives up to its name. Due to the many nutritious benefits of mushroom, eating mushroom hotpot has become a trend. This is especially true in Sin-She where 70% of mushroom sold in Taiwan are from Sin-She.
We had the "mushroom healthy pot" 菇類自助式養生火鍋 for dinner. Almost every delectable spread on the table contains different types of mushrooms. Mushroom sausages, mushroom kimchi, mushroom meat balls and other mushroom yummies – we have never chowed down so many mushrooms in a day. The flavourful mushroom soup base is slowly cooked to perfection. If you are craving for a sumptuous yet healthy meal, the "mushroom healthy pot" fits the bill.
"猴頭菇、巴西蘑菇、杏鮑菇、香菇、草菇、金針菇、美白菇、酒杯菇等菇蕈均是天天鮮採,而湯頭則以巴西蘑菇等菇類細燉熬煮,湯香、味美。"
In addition, the restaurant overlooks a breathtaking view of Taichung city from the top of the hill. It's an attraction in its own right.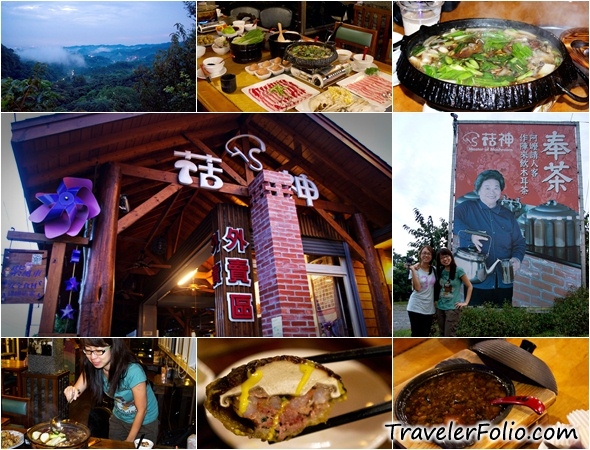 http://0425822585.tai-chung.com.tw/
菇神觀景複合式餐飲 Master of Mushroom
台中縣新社區協成村協中街287號
電話:04-2582-2585
The Mdss Vacation Villa 木佃軒 is a tropical themed homestay in Sin-She. Greeted by the gracious lady owner of 木佃軒, we entered into an enchanting garden with lush pine trees and exotic plants. The Balinese furniture and decorations adorning the common area and restaurant create the warm and cosy vibes that promote relaxation.
We stayed at the kind of dream honeymoon villa hut so romantically appointed with cute plush toys, a hanging chair, a lounge chair and a warm, snugly bed. The bathroom features a Victorian bathtub and an automated toilet bowl.
A much needed escape from the bustling city life, it was a night of deep slumber in a home away from home.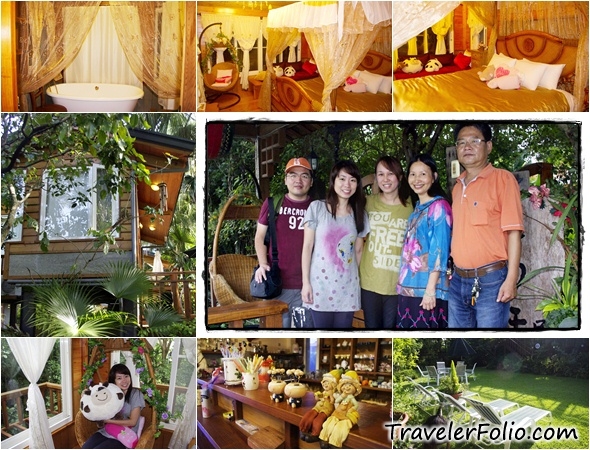 http://www.mdss.com.tw/
新社 木佃軒南洋渡假休閒民宿
台中縣新社鄉中和街一段6巷9號
TEL:(04)2581-0777
---
Shi-Gang Township 台中石岗
Shi-Gang Square 石農廣場
You can't miss this. Literally known as the Lover Wood Bridge 情人木橋, 40m long and 3.5m wide, the wooden bridge spans across the crystal clear stream 食水嵙. Built without pier support, the bridge can withstand an earthquake of up to 7 magnitude.
On the side of the bridge, you will see the largest water mill in Taiwan. The water mill has a diameter of 9-metre. A relaxing place to spend a lazy afternoon in an idyllic location, we chilled out at the cafe where freshly brewed "S.long" coffee 石農咖啡 is served.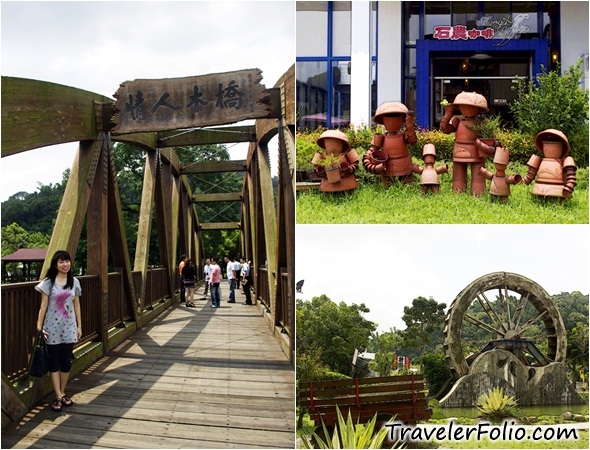 If you are afraid of bees, this is the right place to overcome your fear! At the Honey Ecological area, we came up close and personal with honey bees. The bee with a red dot is the Queen bee. You can also taste honey freshly collected from the artificial honeycomb.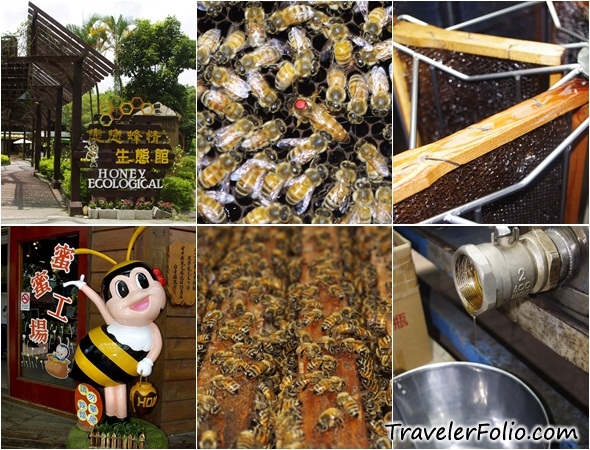 http://mmweb.tw/886/
情人木橋
台中市石岡區豐勢路 881 巷的食水嵙溪上
YOU AND ME (優恩蜜) is a very unique and innovative orchard using multi-dimensional multi-layered cultivation method. Unlike most tomatoes which are grown near the ground, this multi-layer approach enables the tomatoes to be grown at low, medium or high level, hanging down from the supports so that it's easy for visitors to pick the fruits.
The tomato varieties in this orchard include Japan Momotaro, cherry tomato, golden tomato and red beauty tomato.
"日本桃太郎、香氣十足的櫻桃番茄、甜美多汁的黃金番茄、聖女番茄、紅美人番茄、茄紅番茄、嬌女番茄、金桔番茄、甜度最高的金蜜番茄、獨特色彩的巧克力番茄。"
Besides tomatoes, they also have cabbage 高麗菜, Chinese cabbage 小白菜, garland chrysanthemum茼蒿, lettuces 萵苣, strawberries 草莓, bell peppers 甜椒, fruity corn 水果玉米 and mini cucumber 小黃瓜.
Apart from the the usual green, red and yellow bell peppers that are commonly available in the market, there are bell peppers in varying colours of black, creamy white, chocolate, apple green as well. We tried some and they were really tasty, sweet and juicy.
Guide 101: How to rip off a ear of corn
Use one hand to hold the top of the stalk and the other hand to push down the corn, twist it and rip it off from the stalk. Shuck the husk off it and you can straightaway taste the sweetest, juiciest, freshly plucked Japanese sweet corn.
All plants are pesticide free as the owner employs biological pest control method that won him an honourable award. 「吉園圃安全蔬果」模範產銷班的榮譽。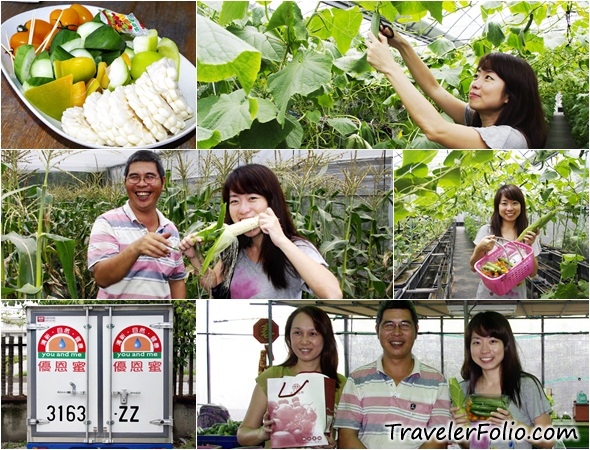 http://you-ame.myweb.hinet.net/
優恩蜜溫室休閒觀光果園 You-and-me
台中縣石岡鄉豐勢路391之10號
電話:04-2582-6058
---
Dongshi Township 東勢區
柿集小站
At this stop 柿集小站, it's one of the earliest orchards in Taiwan for growing persimmons. The humble owners received us warmly and we had a tea session on top of the hill overlooking the breathtaking mountain range. The owner also showed us around and we had first-hand experience of plucking big apple-pears from trees. Needless to say, they were sweet and juicy.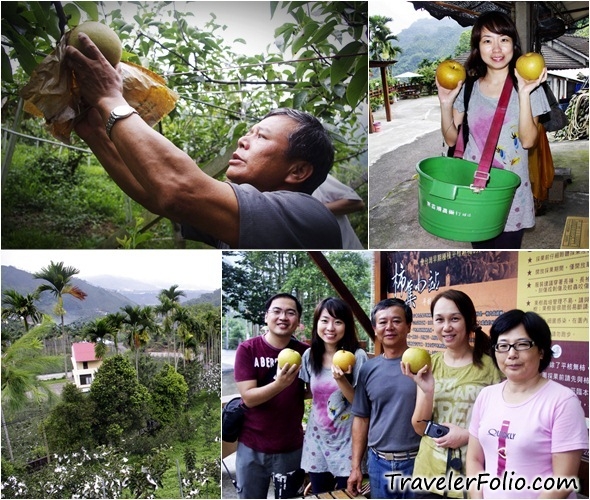 The harvesting period of persimmons at the orchard is from September to November.
http://blog.roodo.com/shi2008
台中縣東勢鎮慶福里慶福街41-1號
電話:04-25773417/04-25852695
Tai Po Hakka Cuisine 「大埔客家菜」
The aroma of wine fills the air of Sweet Charm Farm Winery. What impressed us most at this place is the home cooked authentic Hakka cuisine, simple yet distinctive and delicious, and the warm and unpretentious owners. 客家好客。
If you are a wine lover, remember to check out their wine cellar for the specially made wine that contains 70% alcohol! It's definitely too strong for me but the aftertaste is smooth and elegant without the feeling of dryness.
http://sweetcharm.smartweb.tw/
Sweet Charm Farm Winery
台中縣東勢鎮東蘭路196-65號
"銀魚花生, 阿嬤炒米粉, 梅干扣肉, 懷舊菜脯蛋, 風味油雞, 黃金炸豆腐, 薑絲炒大腸, 客家小炒, 高麗菜干湯。"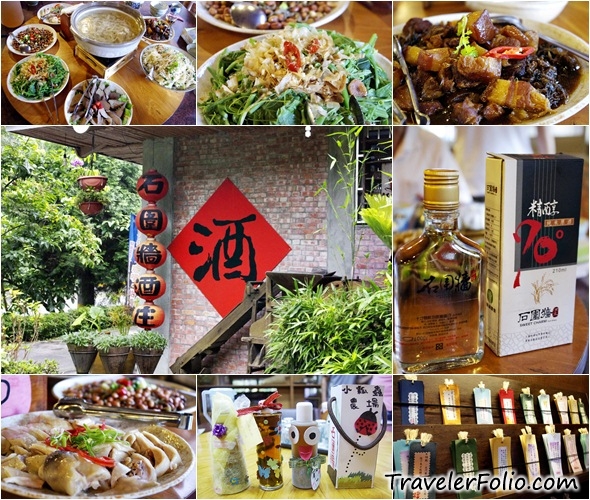 More travel information on Taichung: http://tt.taichung.gov.tw/county/eng/index.jsp
Next update: A meeting with Mayor Jason Hu @ Taichung City