The highlight of our trip in Taichung is to meet a Very Important Person…
Meeting Mayor Hu @ Fengjia Night Market 逢甲夜市
What an honour! We had a session of chat, food tasting, gift exchange and fun with the beloved Mayor Jason Hu Chih-Chiang 胡志强 right in front of Feng Chia University at Fengjia Night Market.
The Taichung City Government arranged for the meet-up session with the bloggers from Singapore to promote Taichung on social media platforms and travel blogs. TravelerFolio is honoured to be invited as the pioneer travel blogger for this initiative.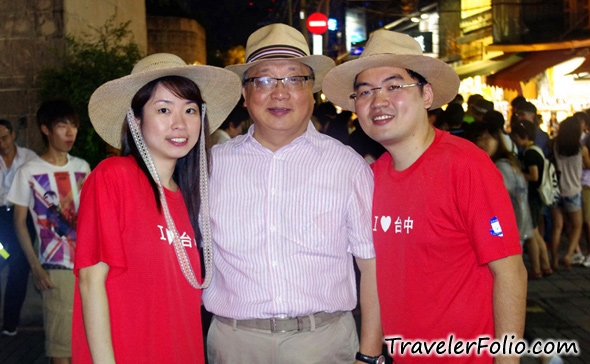 Before the trip to Taichung, when we learnt that the Mayor would meet the bloggers for tea, we were nervous! I was wondering what to say if I met the Mayor … So, the three of us, Muiyee, Jacky and I, donned in bright red Tees printed with "I heart 台中" (Taichung) were all ready to meet Mayor Hu as he arrived at the night market.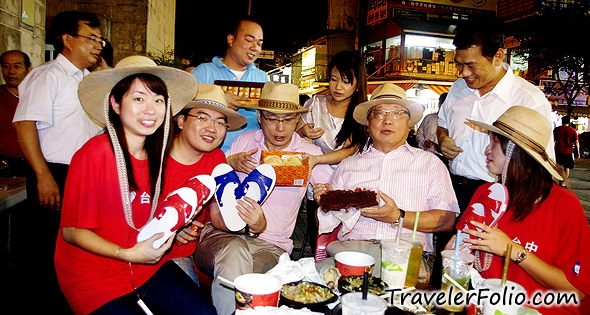 We were introduced to a variety of popular dishes and snacks that can be found at Fengjia Night Market such as blood pudding 猪血糕, mala stinky toufu 麻辣臭豆腐, stewed innards 卤味 and other lip-smacking good Taiwanese gourmet food. Taiwanese snacks are so very creative and irresistible; I especially like 大肠包小肠 – Taiwanese version of hot dogs with glutinous rice.
And, did you know that the all-time favourite Bubble tea / pearl milk tea 珍珠奶茶 and sun cakes 太阳饼 are originated from Taichung city?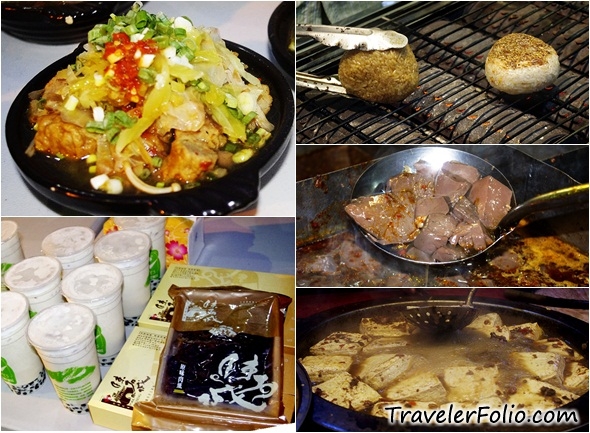 Taichung sun cakes and pineapple tarts are popular gifts to bring back home for families and friends.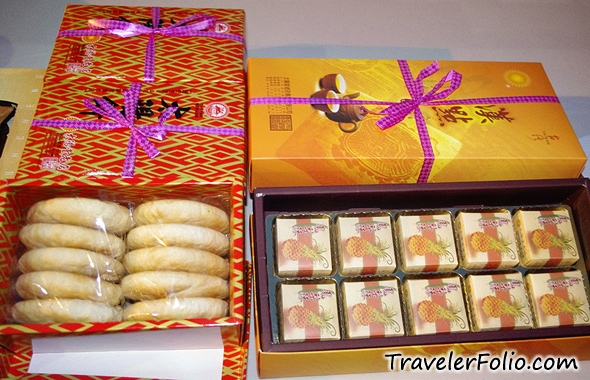 With Mayor Hu in sight at the night market, many passers-by flocked to him, asking for photo shoots. He is very warm and chatty, and a friend to everyone. Like a fatherly figure, he's close to people's heart.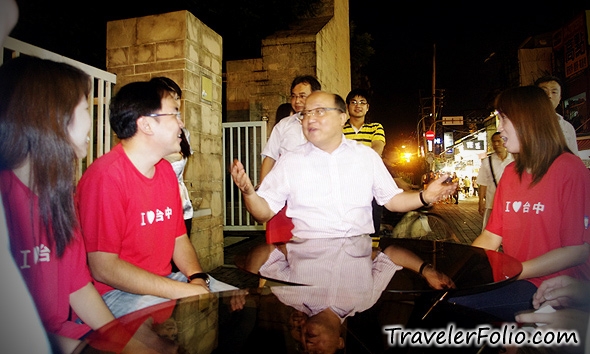 Fengjia Night Market is so huge, we didn't have enough time to walk through all the streets and try out more delicious local food and snacks.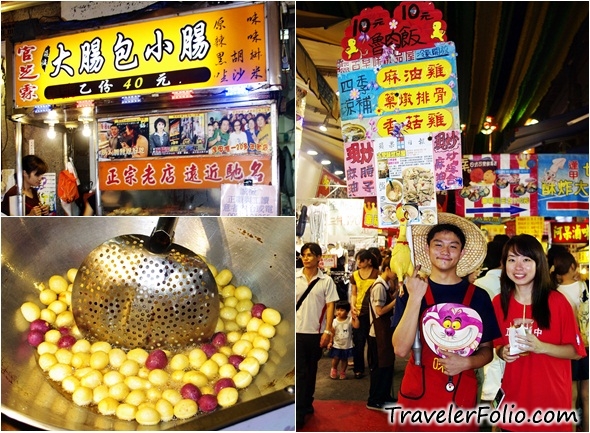 Fengjia Night Market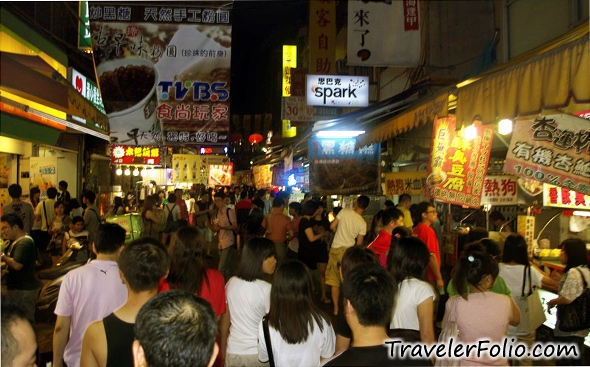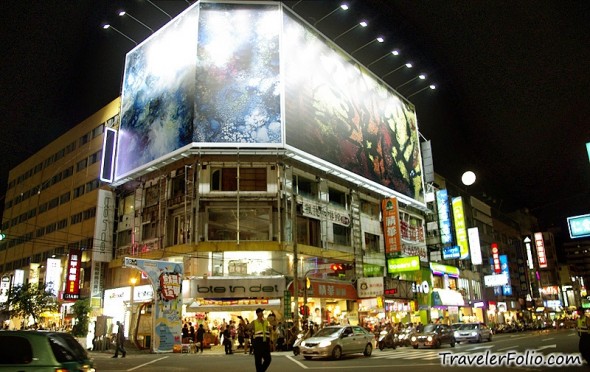 Together with the Taiwanese friends we met during the trip, we took a group photo in front of Le Parker International Hotel situated right smack in the heart of Fengjia Night Market in Taichung city.
Anson, the guy in white shirt standing at the right end, was our driver guide throughout Taichung. He is a professional guide with excellent driving skill and familiar with popular attractions and those off the beaten path as well. If you are planning for a free and easy trip, you can email Anson for more info: yy1899@yahoo.com.tw
Holiday Inn Express Taichung Park
Contemporary, hospitable, convenient location and Free Wi-Fi Internet access are what we like about this hotel in Taichung city. Take a stroll at the historic Taichung Park next to the hotel or head down to Yi Zhong Night Market that is just 15-min walk away. Taichung bus and train stations are nearby to connect you around Taiwan famous attractions such as Sun Moon Lake. In addition, we enjoyed the sumptuous complimentary breakfast at the Great Room.
TAICHUNG PARK
NO. 94, TZE YU ROAD SECTION 2 TAICHUNG , 400 Taiwan
Hotel Front Desk: 886-4-35059898 Hotel Fax: 886-4-35050598
http://www.taichung.hiexpress.com/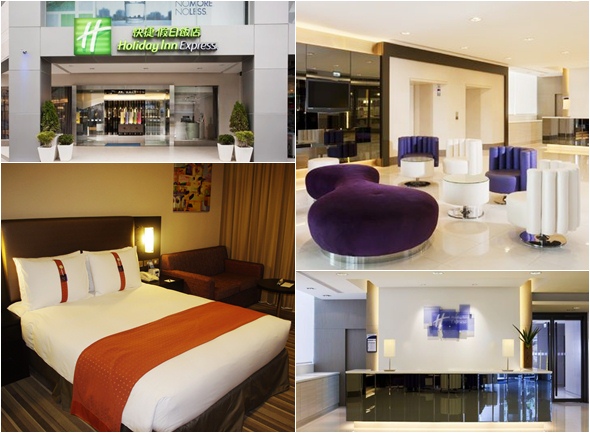 Photo credit: Holiday Inn Express Taichung Park

---
In the previous post, we shared about the Agricultural holiday and Homestay experience in the backgarden of Taichung. During the 4 day tour in Taichung, we also visited some national parks and Taichung City for sightseeing and attractions.
Heping District 台中市 和平区
Basianshan National Forest Recreation Area 八仙山国家森林游乐区
Hike through the lush green, warm temperate coniferous-broadleaf mixed forest that is home to a diverse variety of colourful birds, animals and medium altitude species. If you are lucky, you might spot its exotic residents such as the white-lipped tree frog, blue magpies 蓝鹊 endemic to Taiwan, dazzling butterflies like the great orange tip and the painted Jezebel, and the Reeves's Muntjac among other common mammals.
Famous for its pristine mountainous area, with Basianshan Main Peak standing at 2,424-metre, the forest reserve was one of Taiwan's three major logging centres bustling with commercial activities during the Japanese Occupation. The remnants of the logging past are sections of the forest railway and transportation equipment.
Depending on your time and stamina, there are two hiking trails within the Forest Recreation Area – the easier one takes half a day and the more challenging trail takes one whole day to complete. What you can see on the trails are the Plant Specimen Garden, Jinghai Temple, the Ecology Classroom, the Shinto Shrine ruins, Cherry Blossom Forest and the Eight Scenic Spots Monument.
Basianshan National Forest Recreation Area lies at the confluence of Shihwun and Jiabao creeks. Here you can enjoy picturesque views of crystal clear creeks with natural beauty of rock deposition.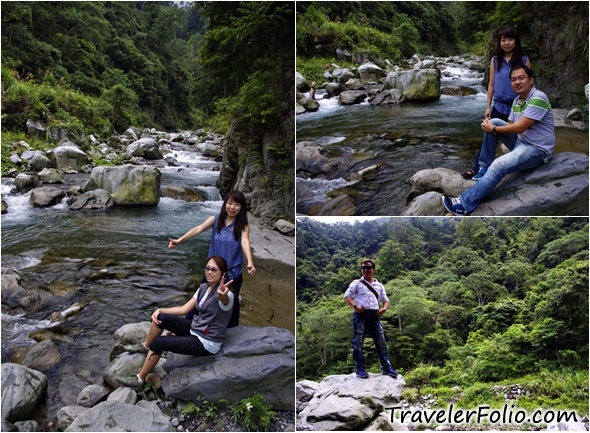 http://recreation.forest.gov.tw/RA_En_JP/0300002/RA_En-01.htm
22, Pingsian Lane, Sec. 1, Dongguan Rd., Heping Township, Taichung County
Tel: (04) 2595-1214
Guguan Hot Springs 谷關溫泉
Located just a few kilometres from Basianshan National Recreation Forest, Guguan Scenic Area is one of the attractions in Taichung where hot springs were discovered here and it has been popular since the Japanese-occupation period.
We experienced a hot spring soak at Utopia Holiday Hotel where we put up for a night. There are also a number of hot spring hotels in Guguan which you can consider for booking:
1)Shuei Wu Guguan 水舞谷關
台中市和平區博愛里東關路1段115號
TEL:(04)2595-0099 WEB: http://www.swmall.com.tw/store.php?store=6
Remark: Chic and tastefully appointed hotel rooms. Good for couple and honeymooners. The ginseng porridge for breakfast is delicious!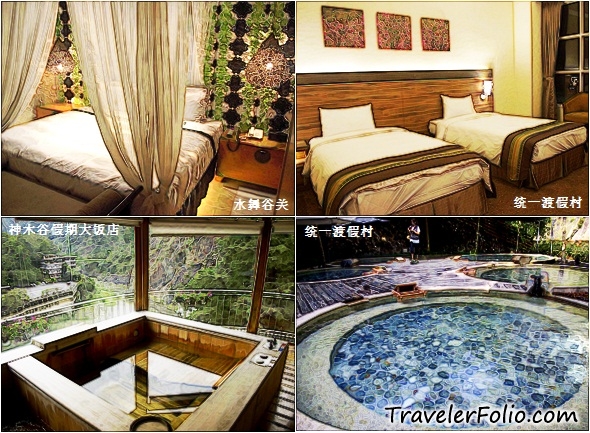 2) Utopia Holiday Hotel 神木谷假期大饭店
TEL:(04)2595-1511 WEB: http://www.agoda.com/asia/taiwan/taichung/utopia_holiday_hotel.html
Remark: The hotel is surrounded by scenic mountains. Some of the hotel rooms feature private spa bath as well.
3) Uni-Resort 统一渡假村
TEL:(04)2595-0011 WEB: http://www.uni-resort.com.tw/eng.htm
Remark: The hotel rooms are contemporary designed and there is a variety of outdoor hot spring pools within the premises. You can also test your aim at rifle shooting and archery at the recreation area.
More travel info on Guguan 谷关 scenic area: http://www.trimt-nsa.gov.tw/eng/unit_04_1_2.aspx?subsiteID=7&hotID=177
The Tayal aboriginal tribal area
Close by Guguan 谷关, Mt. Malun 馬崙新山線步道 lies in the Tayal aboriginal tribal area 泰雅族原住民部落区 where nature lovers and hikers can enjoy a stroll along Sihkeba Walking Trail 斯可巴步道 through the enchanted forest with old, towering pine trees and breathtaking views of the surrounding mountains.
The Tayal tribe is one of the largest tribal groups in Taiwan. "Sihkeba" literally refers to "hand" in Tayan, which hints that the homeland was constructed by the labour work of the Tayal aborigines.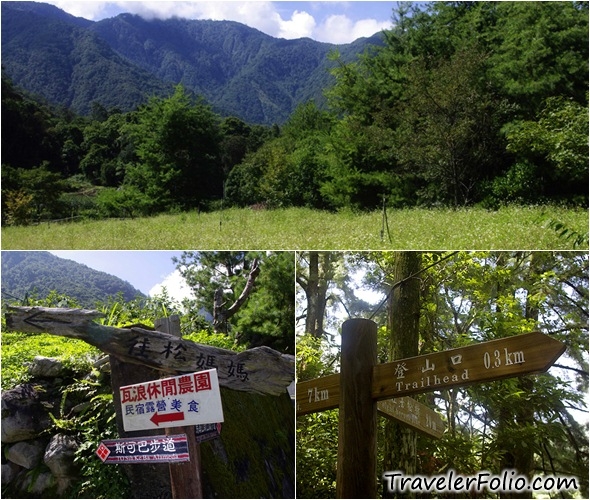 Lovely views of the surrounding from the mountain road.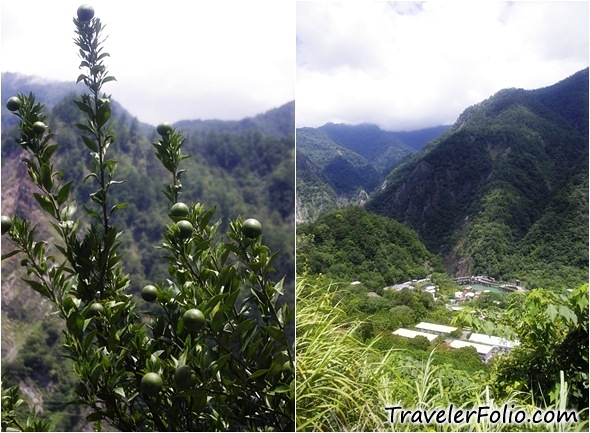 ---
Taichung City 台中市
Taichung's Rainbow Village 彩虹眷村
Mr Huang Yung-fu 黃永阜, affectionately known as "Rainbow Grandpa", is the Picasso of Chun An Military Dependents' Village [春安眷村]. The 89-year-old art lover transformed this part of the urban city into a colourful "Rainbow Village" by painting graffiti of fanciful imagery all over the walls and alleys.
Some time ago, this little Rainbow Village faced a challenge by an urban reform project that would result in the demolition of the village. People who hope to preserve the village launched an online petition and garnered thousands of supporters within a week. Thankfully, the village was spared.
Walk through the alleys and soak in the whimsical atmosphere where celebrities, animals, flowers, words of blessing and anything beyond imagination were seamlessly painted all over the houses and paths.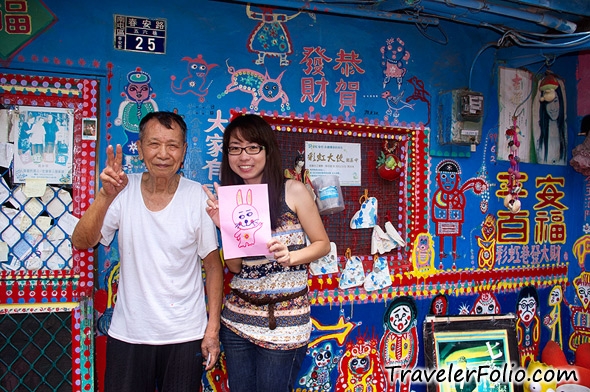 When Jacky put some money into the donation box that was meant for Rainbow Grandpa 彩虹爷爷 to buy paints for his art work, Rainbow Grandpa suddenly came out of the house and gave us this cute drawing of a rabbit and posed a peace sign for a shot!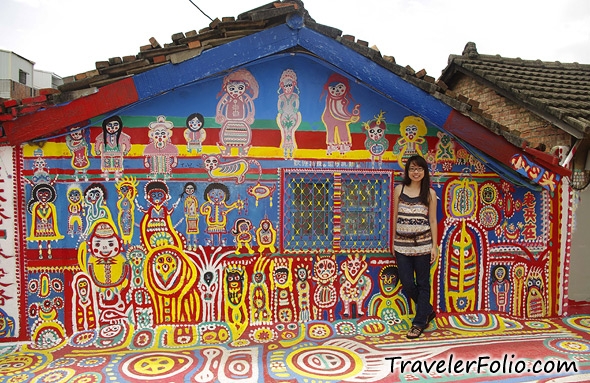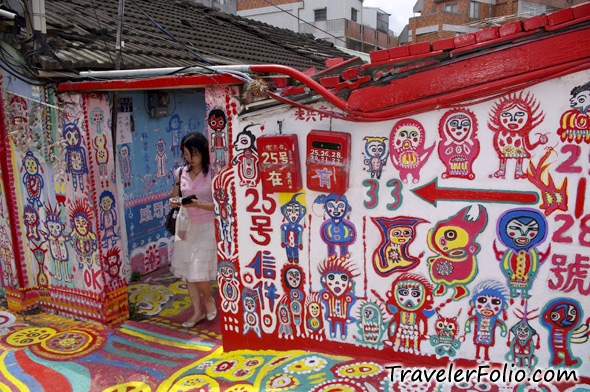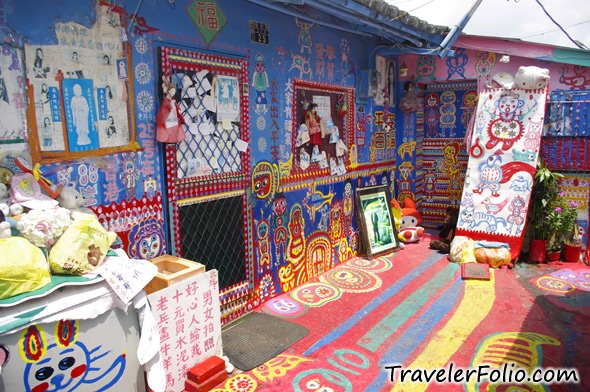 When you enter the Rainbow Village, please keep the noise level low as there are tenants in the houses. The village is closed from 12pm to 2pm for noon break.
http://blog.artlib.net.tw/author_page.php?act=view&ename=rainbowpapa
Address: 台中 南屯 春安路56巷
If you are on a self-drive holiday in Taichung, consider staying at a motel, one like MoonRiver Motel that is touted as a "top-class paradise" in Taichung. The luxury rooms are very spacious and tastefully appointed with modern amenities.
More information on http://moonrivermotel.com.tw/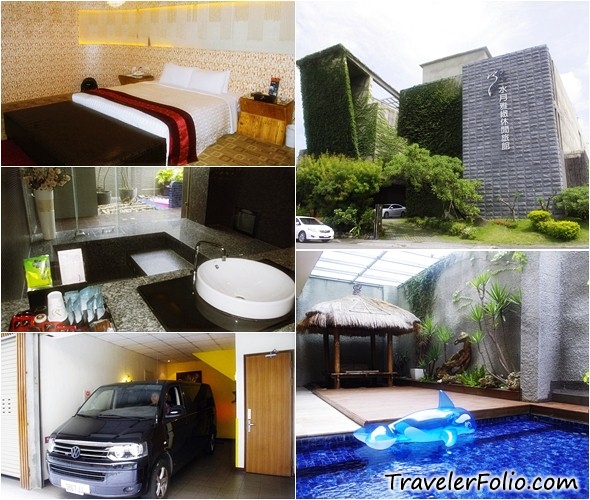 Fans of Mala steamboat (麻辣火鍋), don't give this a miss if you are in Taichung. 麻辣人家 (ma la ren jia) has attracted many famous celebrities and even Mayor Hu to patronize this well known restaurant.
Fret not if you can't take spicy food, there are four types of soup base to choose from: chicken, vegetable, herbal and mala (with peppercorns). Each steamboat can add two types of soup base, so you can choose one mala and the other non-spicy soup base. Dishes of fresh meat and vegetables are spread across the table and you can choose what you like to add into the steamboat and simply relish!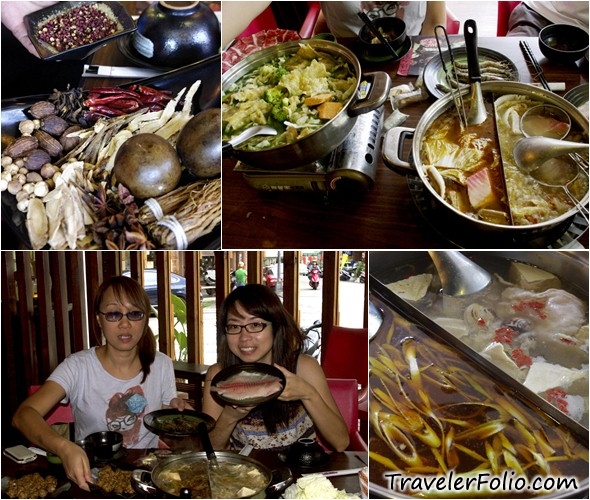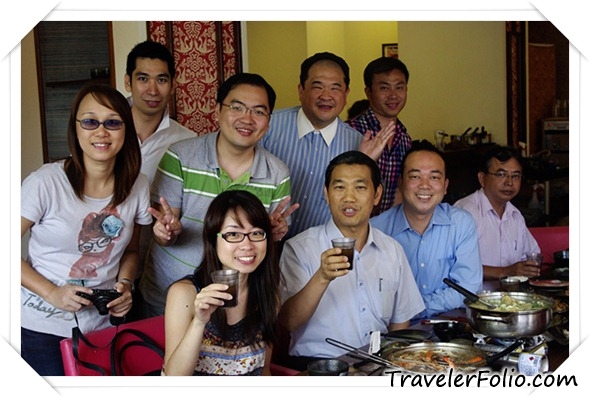 That was our sumptuous farewell lunch before we flew back to Singapore.
麻辣人家
台中市梅亭街292号(五常街口)
TEL: (04) 2202-2346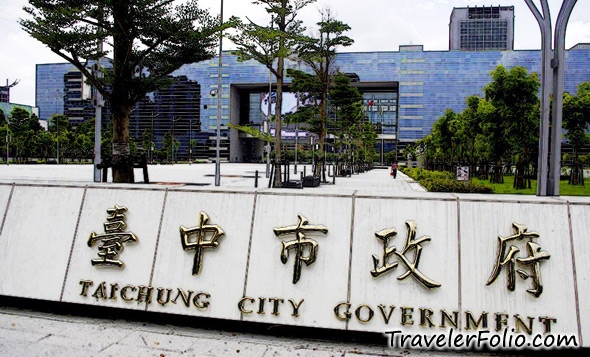 Special thanks to Taichung City Government Tourism and Travel Bureau, Agoda Int'l and Marshal Travel Services for this memorable trip in Taichung.
If you are planning for a holiday to Taichung, visit these official websites for:
Travel information on Taichung >> travel.taichung.gov.tw/english/index.asp
Smarter hotel booking >> www.agoda.com/
Travel services >> www.marshaltour.com.tw/
Happy Travelling!