We absolutely love the food in Israel! Many thought that we would be eating lot of grilled meats in the Middle East. That's so not true. Most of what we had were not too oily and salty, lot of salads and greens, and the ingredients are so fresh.
Israel has immigrants from all over the world and we get to taste world-class authentic and fusion cuisines in this small country. From quality fresh seafood at Uri Buri, Akko and Tishreen's traditional Arabic delights in Nazareth to Italian-French gourmet at Port 24 in Haifa, we indulged heartily on the gastronomic journey.
A BIG Thank You to Limor Lavon, the editor of Israel's leading restaurants portal – restaurants.co.il, who got in touch with our dear Keren-Or and recommended us to experience the best restaurants in Israel.
Here are the recommended restaurants to add on your list of 'Where to Eat' in Israel.
Port 24 @ Haifa
The people I met in Israel are some of the most hospitable in all my travels. We were very grateful to Dan. With his positive support of the itinerary that Keren planned for us, we had the privilege to join the tours led by professional Israeli guides in Tel Aviv, Jerusalem, Galilee, Haifa, Nazareth, Akko and Narihaya.
Top right: Dan, Keren-Or, me and Limor Lavon.
Bottom right (2nd person from right): Zivit Sari is our guide in Haifa. She was really nice to show us around Haifa and we had a great time chatting in the restaurant. You can contact her via zivitsar@netvision.net.il for travel info and services in Haifa.
Port 24 combines rustic Mediterranean charm with fine dining. The extensive menu offers a mouth-watering variety of French delicacies with influences of Italian and the Mediterranean. Every time the cheerful server appeared, we would gawk at the beautifully plated food and be trigger-ready for serious food porn!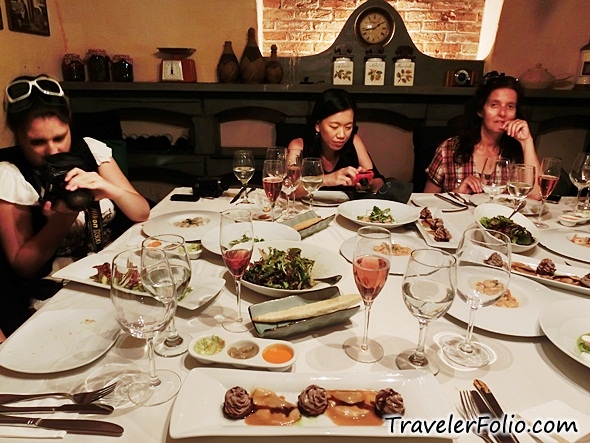 If you decide on a meatless meal, the al dente Potato Gnocchi with mushroom sauce tastes pretty good.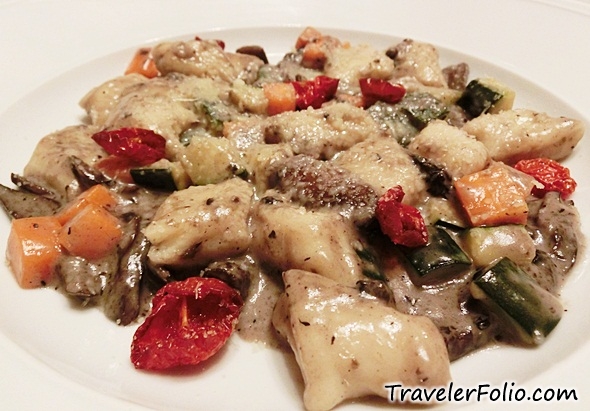 Ham and fresh fruit with Parmesan cheese.
For those with a sweet tooth, be sure to leave room for visually pleasing and yummilicious desserts. Valrhona chocolate brownies, toffee ganache and Kahlúa crème brulée, almond pastry and chestnut mousse in brandy, just to name a few.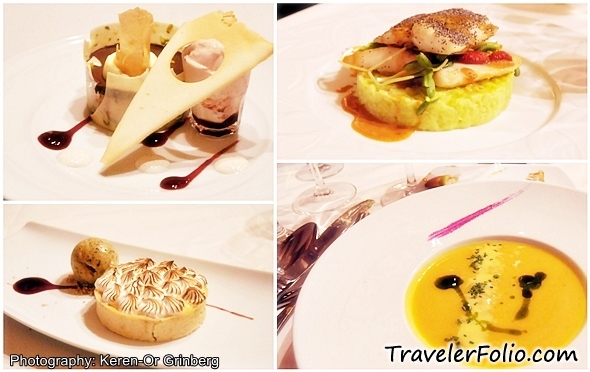 Can't get enough of chocolate? Ball of chocolate with nut crumble and ice cream can satiate that choco craving.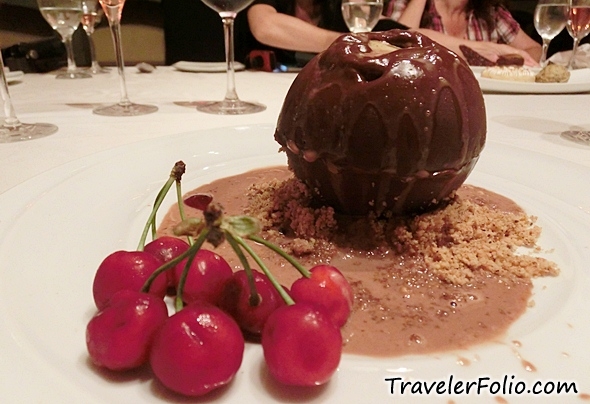 Address of Port 24
Hanamal Street
Website: http://namal24.rest-e.co.il/
Uri Buri Fish Restaurant @ Akko
We met Uri like old friends! He came across as a humble man who is willing to share his experiences and insights on culinary. Oh yes, the long bearded man is very well-known in Israel. People we met along the way all have heard of him.
At the rooftop of Uri's Efendi Hotel in Akko.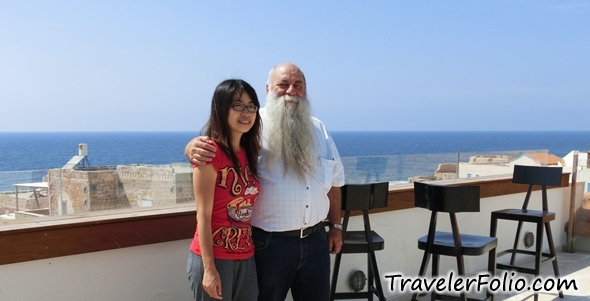 If you are in Akko, it's definitely worth to dine at Uri Buri Fish Restaurant. Many agree that it's one of the best seafood restaurants in Israel. The historic Ottoman building overlooks the beautiful Mediterranean Sea in the port city of Akko or Acre, so diners get a view.
At first, I was quite taken back as the restaurant looks shabby with peelings on the walls. But then that's a unique rustic style!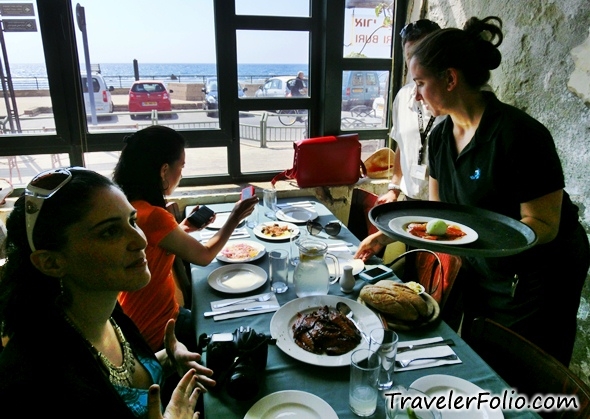 The restaurant serves exceptionally fresh seafood selected by Uri on the same day in the market. Well-travelled across the world, Uri's menu reflects diverse flavours and exquisite fusions that excite everyone's taste buds. The legendary master chef also published his recipes and culinary tips on a cookbook, with traditional cooking methods and details on how to prepare fish and seafood.
We tried a variety of fish and seafood cooked in different methods. They were so fresh, moist and delicately seasoned that every single bite was heavenly.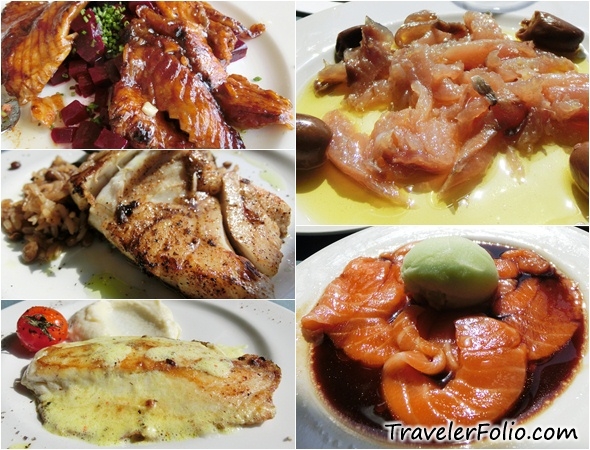 I could still remember vividly the delicate taste of the steamy, buttery rice with salmon. So good you won't mind that extra carb. And don't leave without the 'grand finale' – the toothsome desserts were killer!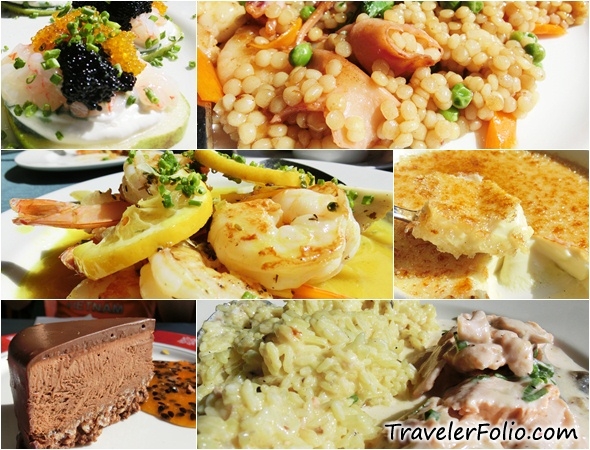 Address of Uri Buri Fish Restaurant
Akko / Acre, Light House Place / Tel: 04-9552212
Want to taste some home made ice cream? Uri showed us to his ice cream parlour, Endomela, that is just a stone's throw away along the stretch from Uri Buri Fish Restaurant.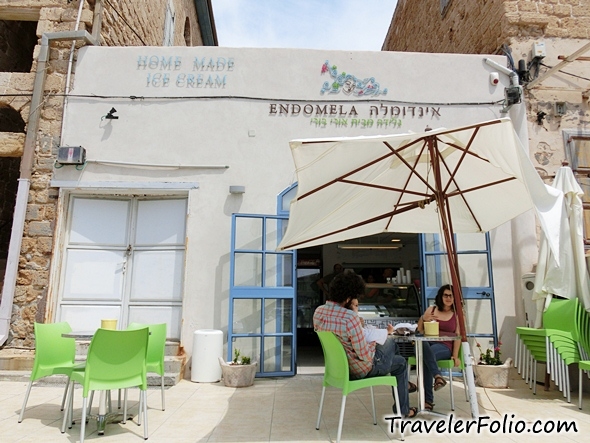 Uri offered us some lip-smacking good ice cream of different flavours – nutty, fruity or simply chocolatey. Any flavour is the perfect remedy for warm weather!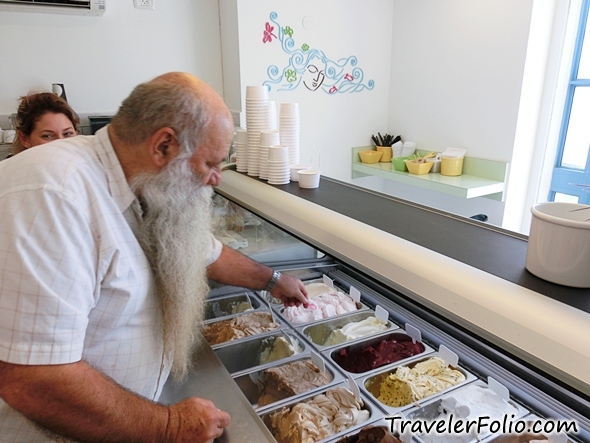 We had a little tour at Uri's new boutique hotel, the Efendi hotel, that's only a few minutes walk from the fish restaurant.
The Efendi hotel was meticulously reconstructed from ancient houses that date back centuries ago. You will feel like you've just entered into a palace that's an attraction in its own right. The interiors were carefully restored by Italian artisans and the well-preserved fresco of the city of Istanbul created in 1878 could still be found at the hotel.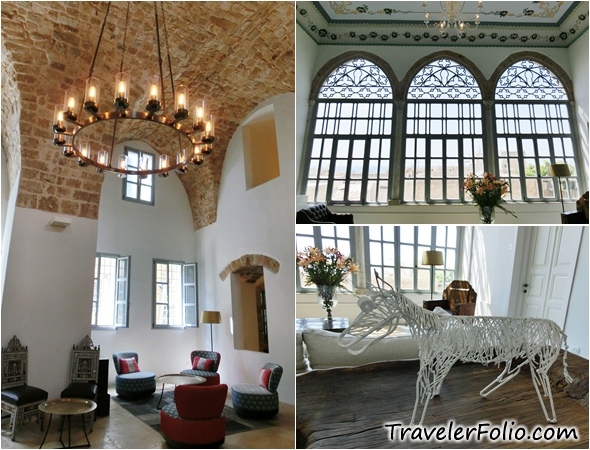 I was captivated by the beautiful ceilings and the arch windows. Each guest room is exquisitely designed with a perfect blend of ancient and modern style. The views of the Mediterranean Sea from the windows are simply breathtaking.
Top right photo: Keren, Uri and the giant chess board!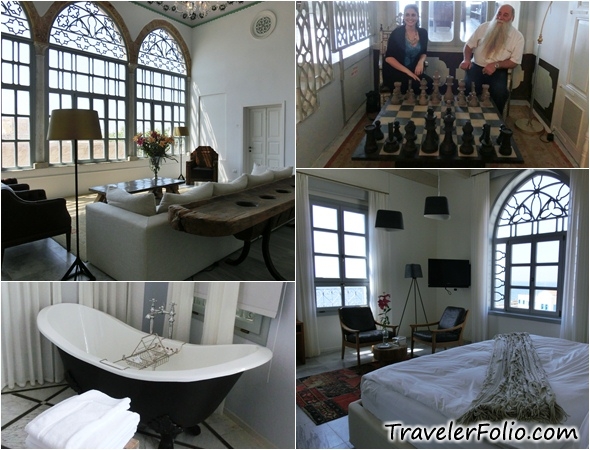 The lounge area of the boutique hotel offers a vantage point of the old charm of Akko and the azure Mediterranean sea.
Akko / Acre, one of the oldest cities in the world. Website of Efendi Hotel: www.efendi-hotel.com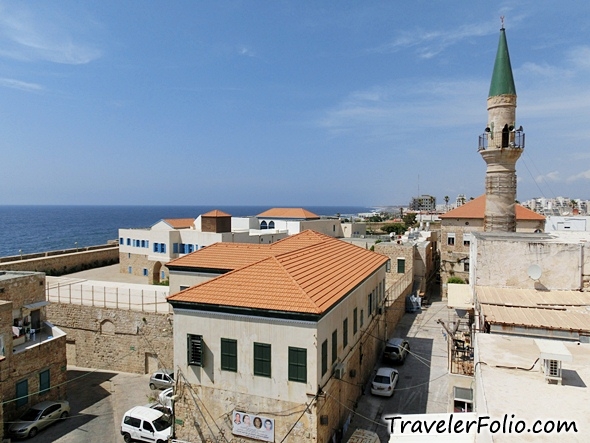 Tishreen @ Nazareth
Just go for the gorgeous Mediterranean and Arabic food in a warm and cosy setting at Tishreen. Service was great and we met one of the owners, Musa, who later toured us around Nazareth after dinner!
Left: Photo with Musa at Tishreen, tucked in a historic building that was built in 1868.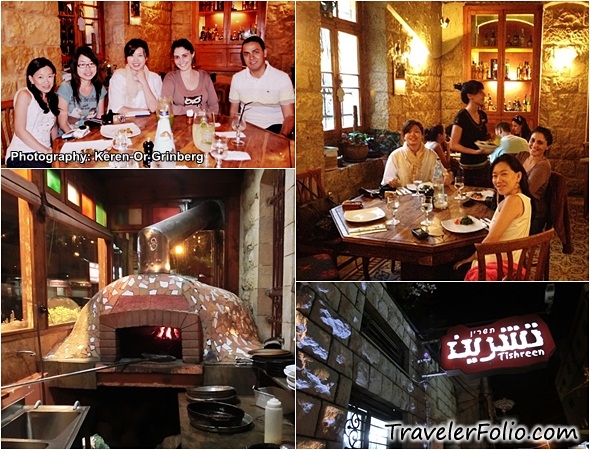 Left: Juicy lamb from the wood oven. And the service-oriented waitress serving us dish after dish of deliciousness.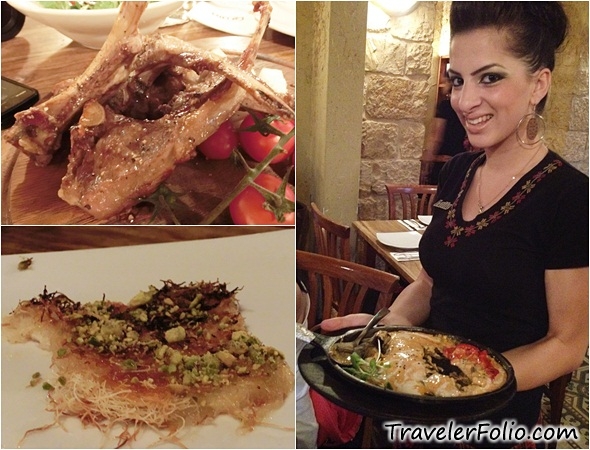 Sometimes hungry stomachs can't wait to wallop mouth-watering dishes that are so visually pleasing. Who could remember the names of these dishes when everyone was busy tucking away!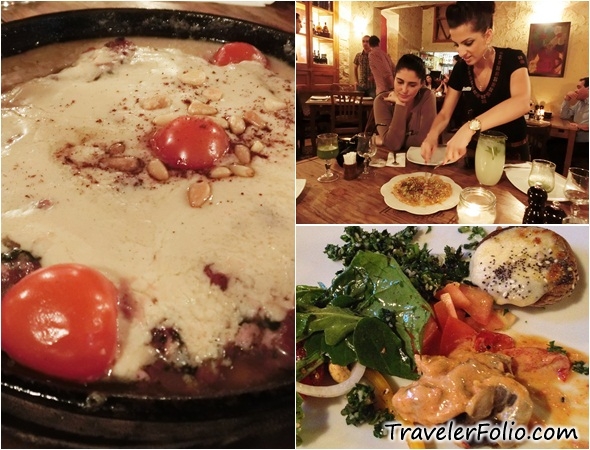 Address of Tishreen
Address: 56, Spring Street. Near the Church of the Annunciation and the Old City.
Website: http://tishreen.rest-e.co.il/
Sabah w Masa @ Nazareth
Musa's brother runs Sabah w Masa (Tel: 04-6555210) that's located right at the square in front of the Greek Orthodox Church of the Annunciation. We had a wholesome Arabic breakfast before setting off for sightseeing in Nazareth on the following morning. Dine indoor or al fresco to soak in the morning sun!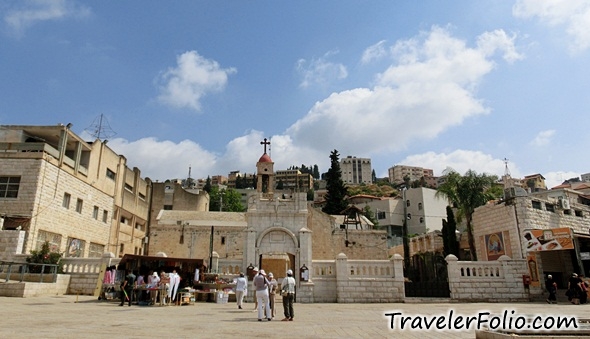 Keren was showing us how to eat pita in the most delicious way! Spread the hummus and sprinkle some spices and add a little olive oil on top of the pita. Simple yet yummy!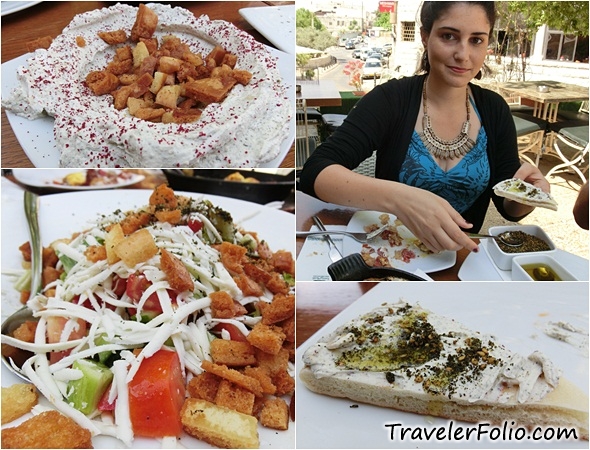 Breakfast in hot pan, sunny-side up with a dash of spices and fried cottage cheese.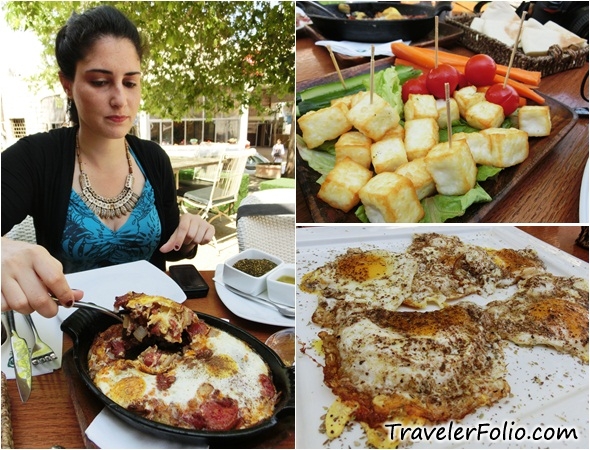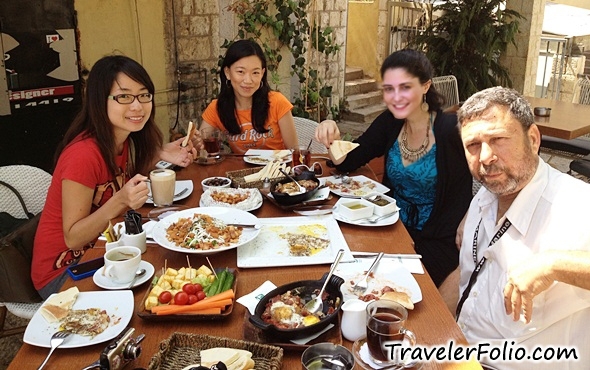 About restaurants.co.il, it's Israel's leading restaurants portal with the most updated information on restaurants, cafes, bars and kosher restaurants in Israel. The online guide has an extensive database of thousands of Israeli restaurant business listings.
Stay tuned for more updates on Israel!
Read all posts on Israel.