Recently, I had the privilege to embark on a charter flight to Okinawa with Commonwealth Travel Corporation Services (CTC Travel), Singapore's leading full-service travel agency. During the 5-day trip, we were well-taken care by the professional guides from Okinawa Tourist Service.
Day 1
After a 4-hr direct charter flight from Singapore, we arrived in Okinawa and were warmly welcome by the tourism board – Okinawa Convention & Visitors Bureau.
Okinawa 冲绳岛! Hawaii of the East! I've long heard of this subtropical paradise of eternal summer, a popular destination for honeymooners, marine lovers and visitors attracted by the diversified cultural assets, gastronomic delights, Ryukyu traditional crafts, history and so much more … oh yes, Okinawans are very friendly and hospitable!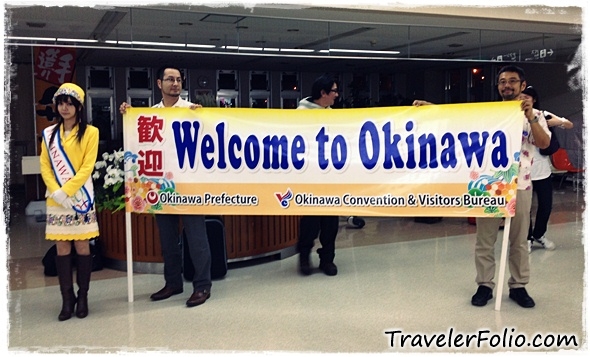 Day 2
The World famous Churaumi Aquarium
Anyone who knows about Okinawa would ask me about the Churaumi Aquarium. 'That huge fish tank! Wow! you're going to see it!" Frankly, I heard about the Churaumi Aquarium first before Okinawa. I couldn't believe it that I would see it one day right in front of my eyes.
I think I was standing at one of the most photographed spots at Churaumi. What you see here is the Kuroshio Sea tank with WHALE SHARKS, manta rays and other marine life gliding past vivaciously across a large acrylic glass panel that was once the world's largest when the aquarium was opened in 2002. Amazing!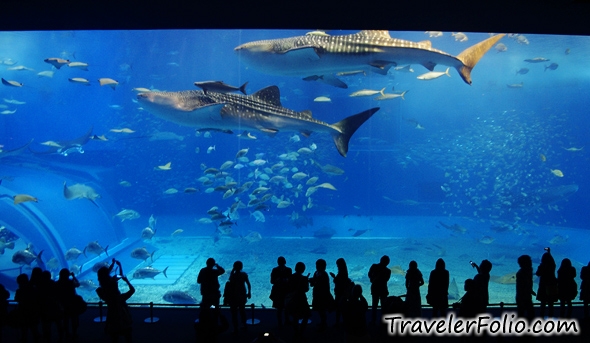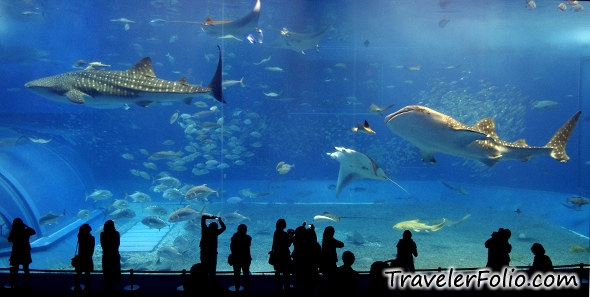 Giant Manta Rays! They are like birds gracefully flying over us.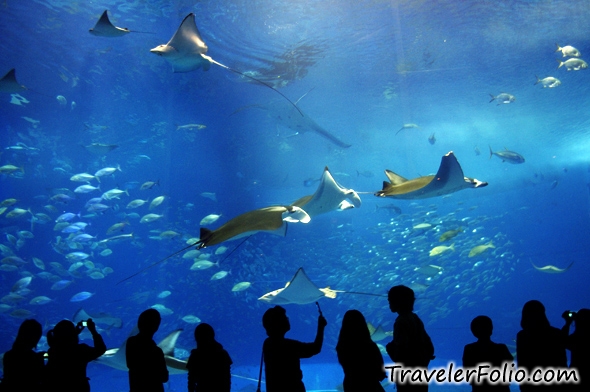 There are three Whale Sharks in the sea tank.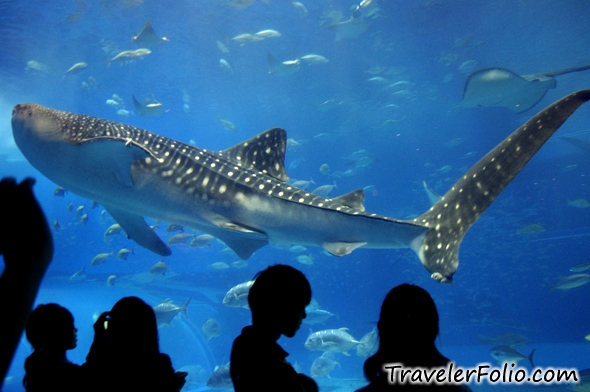 We were so engrossed and intrigued by the world famous sea tank that we spent quite a long time trying to capture better shots with all three Whale Sharks together. I only managed to get that with a couple of them, together with the fascinating Manta Rays and fishes.

Look at the huge underbelly of the Whale Shark!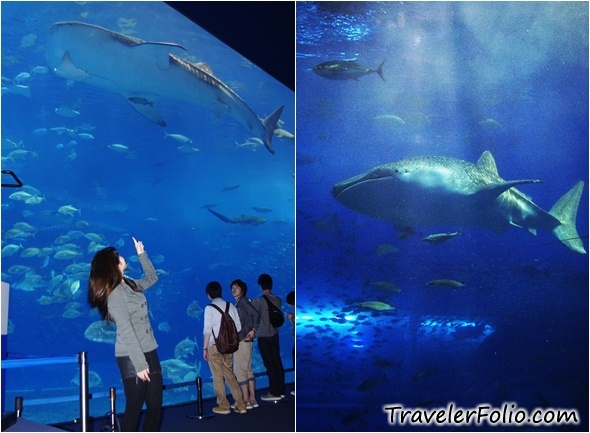 Beside the Kuroshio Sea tank, other tanks exhibit deep sea marine life, colourful corals, fish and sea wonder.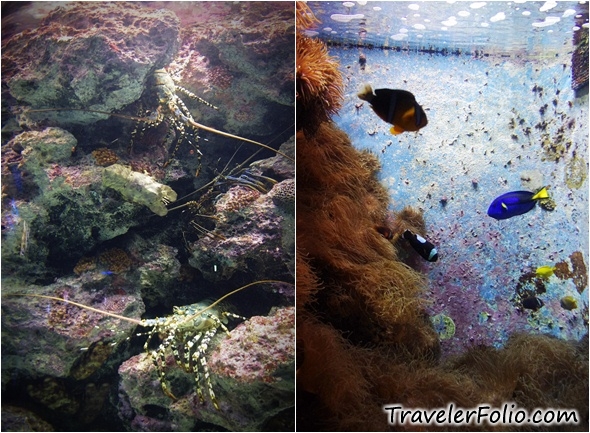 Tropical fish and turtle.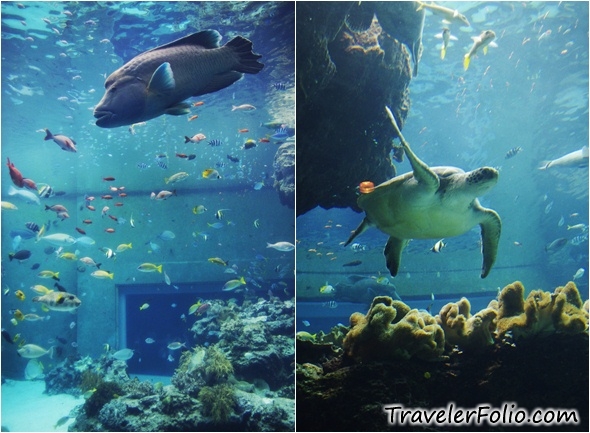 In some areas, visitors are allowed to touch and feel the starfish and sea creatures.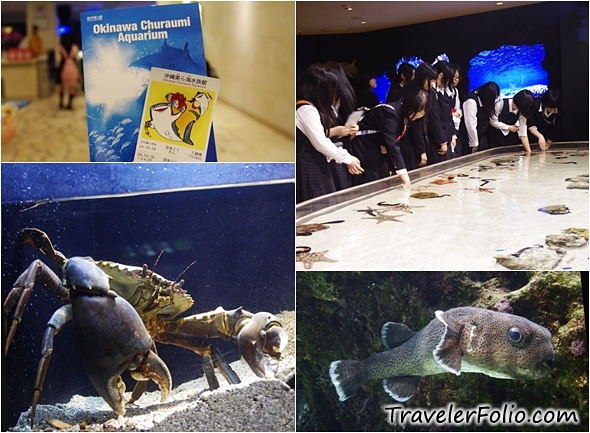 There are dolphin shows near the Aquarium at scheduled timings.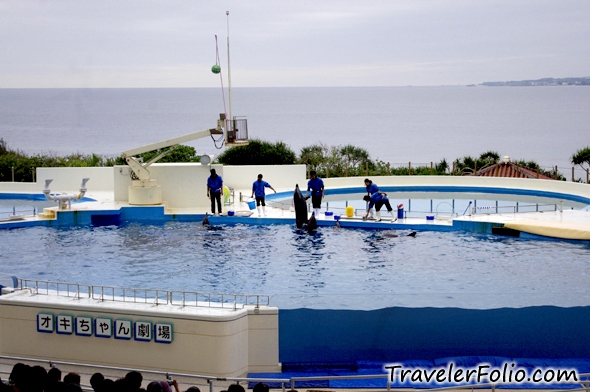 The world class Okinawa Churaumi Aquarium is, without doubt, the best aquarium that I've ever visited.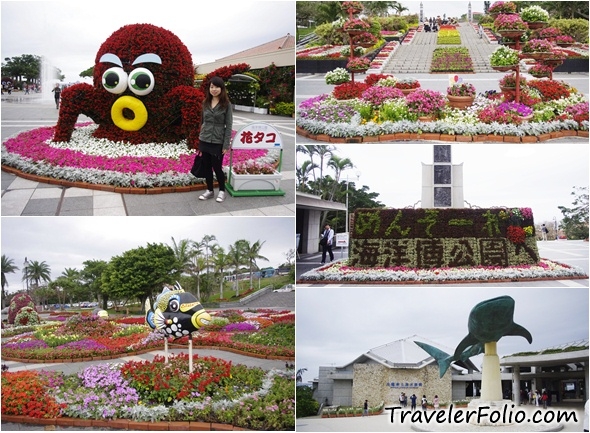 Random shot while bussing along the coastline.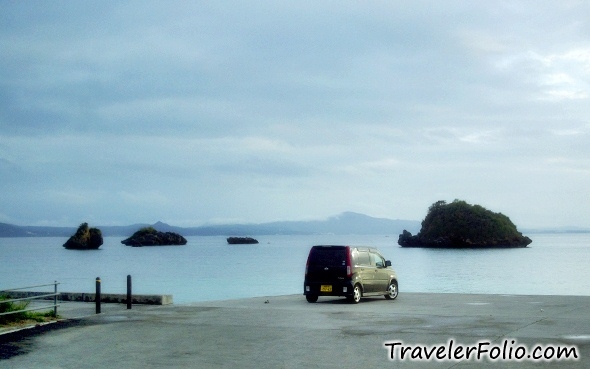 Cape Manza
Test your imagination! Do you see an elephant trunk?
Cape Manza is one of the main highlights in Okinawa. Picturesque cape with steep cliffs, turquoise waters and lapping waves are enough said to pay it a visit. Photos can't do justice to the scenic spot due to an overcast sky that day.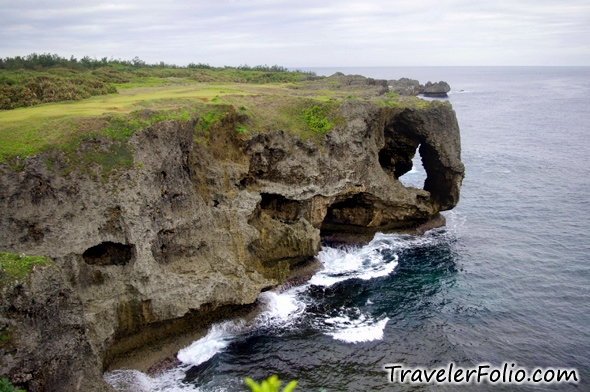 Nature is its own ingenious sculptor on Cape Manza that resembles an elephant trunk.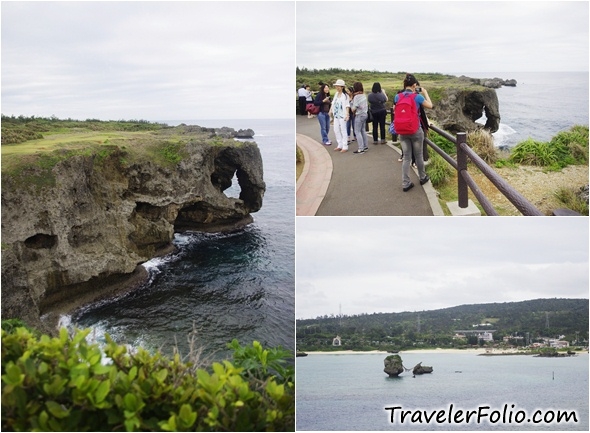 Ohigimi Village
We know the Japanese have long lifespan. Did you know that it's Okinawa in Japan that has more centenarians than any other countries in worldwide?
We headed to Emi no Mise (eatery) at the Ohgimi Village. City dwellers like us would very much want to immerse ourselves in the village of longevity, trying to get some tips on how to 'live longer' and healthy. LOL
Oh my, not surprisingly, the folks look so healthy and radiant! They even danced and sang for the guests. Not shy at all! The man was playing Sanshin Lute, a musical instrument with only 3 strings and the stretch of the sound chamber, once made of the skin of a poisonous snake found in Okinawa, is made of python skin and synthetic leather nowadays.
The lady in the centre is in her 90s!
We had 'longevity' lunch at Emi no Mise.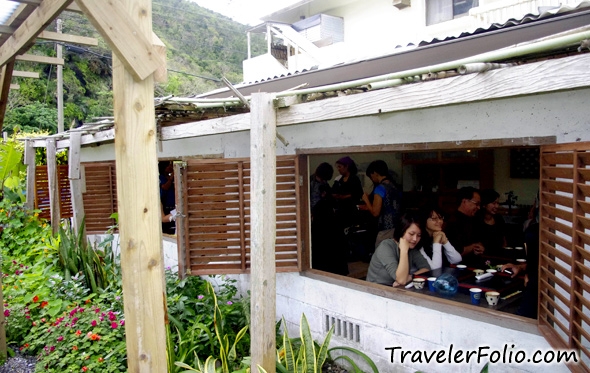 Here is our longevity lunch bento! I learnt that the Okinawans like to eat bittergourd which is known to have anticancer properties. The fried tofu reminds me of our homecooked dish!
At the village of longevity, rice is the staple diet with lot of greens, sea vegetables, seafood and tofu as well as a proper portion of meat and less salt. Simple yet delicious and healthy. Now these are some tips for a longevity meal!
Catherine and yummilicious food pics.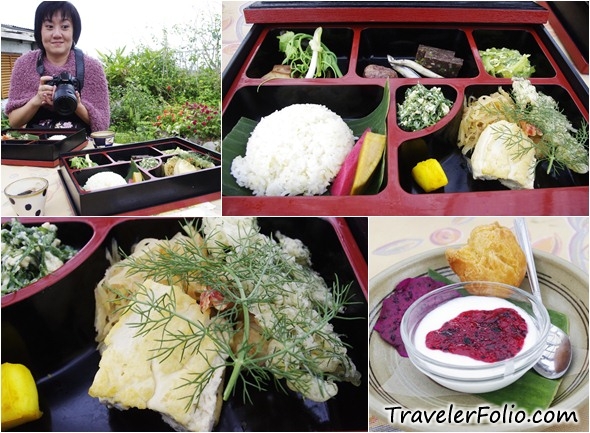 We also walked around the veggie farm that grows fresh veggies for Emi no Mise.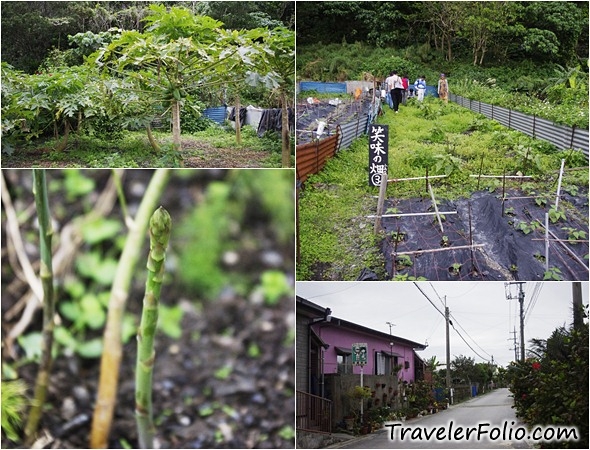 So laid back, so organic, so healthy! These are some of the factors that contribute to longevity!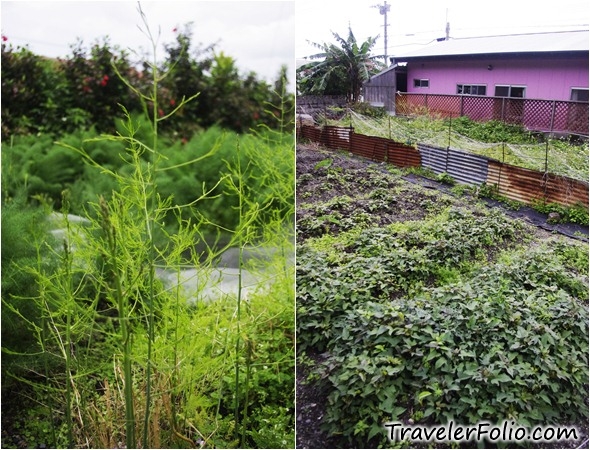 Enjoy the coach ride with breathtaking coastal views along the way.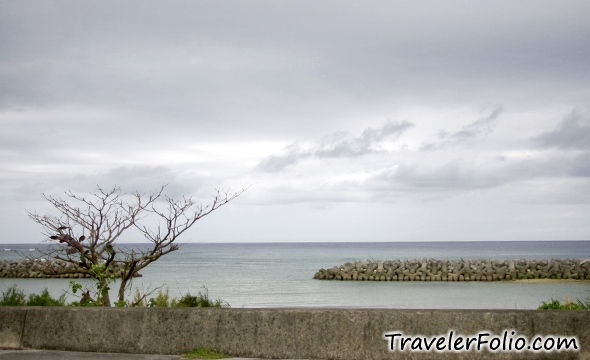 Nago Pineapple Park
Nago Pineapple Park is a theme park full of pineapple fields cultivating around 100 different types of pineapple and colourful plants. For visual and education, we hopped on to one of the fully automated pineapple carts with commentary and had a short tour around the pineapple park.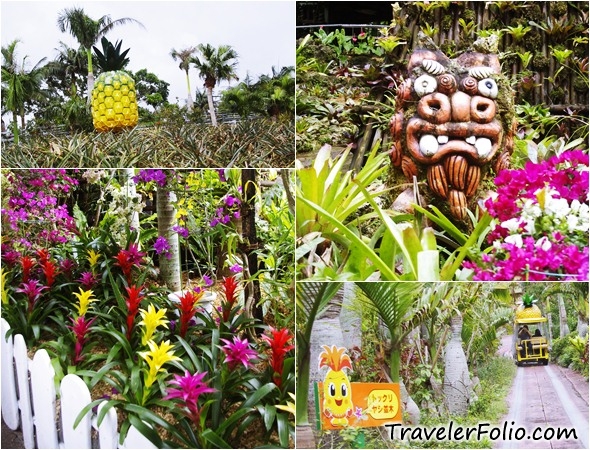 Sample all you can at the retail section of Nago Pineapple Park! This is the first time I saw such an extensive variety of pineapple products ranging from pineapple wines and juices, pineapple cakes and cookies to dried and fresh pineapples. A great place to shop for souvenirs from Okinawa.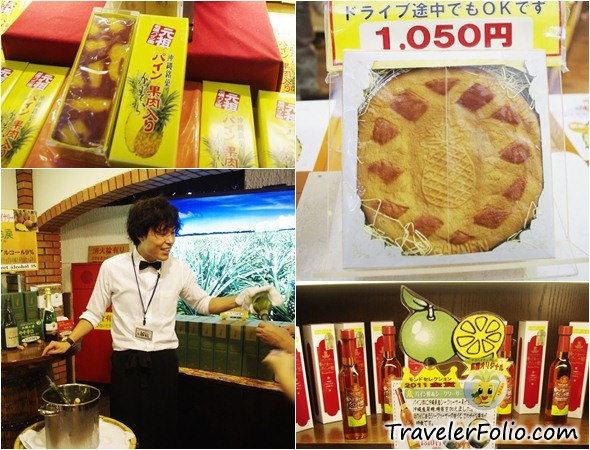 The fresh fruits section where you can sample different types of pineapples. They are sweet and juicy!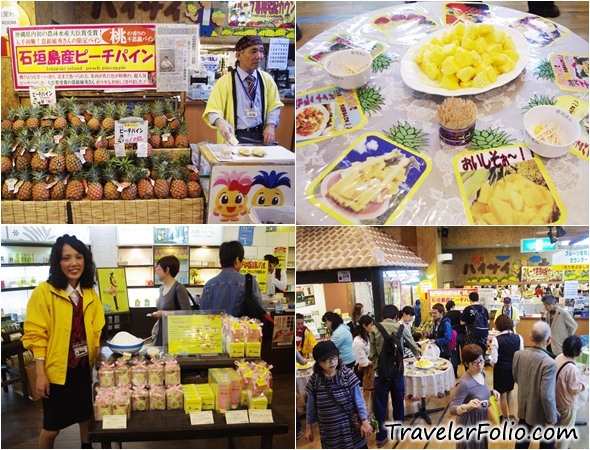 Other food items like sea vegetables and what.. spicy chilli padi??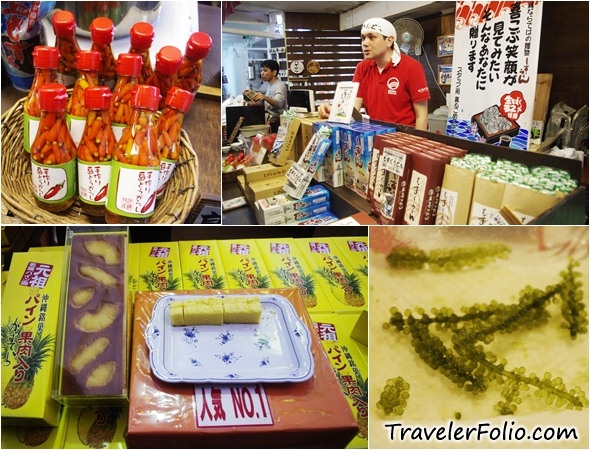 Dinner was fixed at Shabu Shabu Tei. The thinly sliced pork and lot of vegetables for the steamboat make a healthy and delicious meal.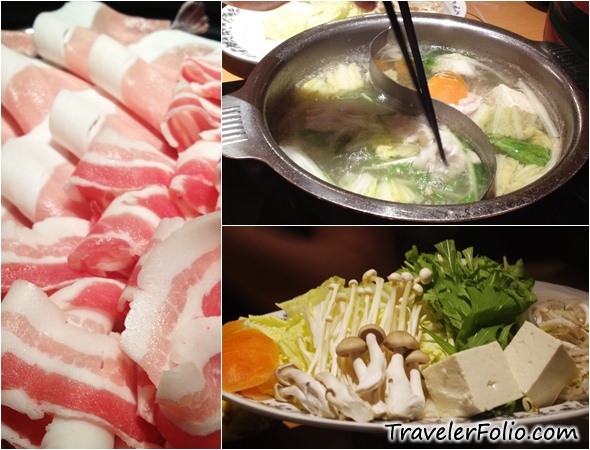 Day 2
Nagannu Island by Ferry
Nagannu island is very special. It's uninhibited and unspoilt. Look at the crystal clear water and you can see the coral reefs at the bottom. Some of us snorkeled in the sea and met Nemo! Others went for the Ocean Walk to get a taste of getting deep down under. We went for whale-watching, my first time!
It was raining that day so the sky was pretty dull. On a sunny day, I believe any point-and-shoot camera can deliver amazing shots!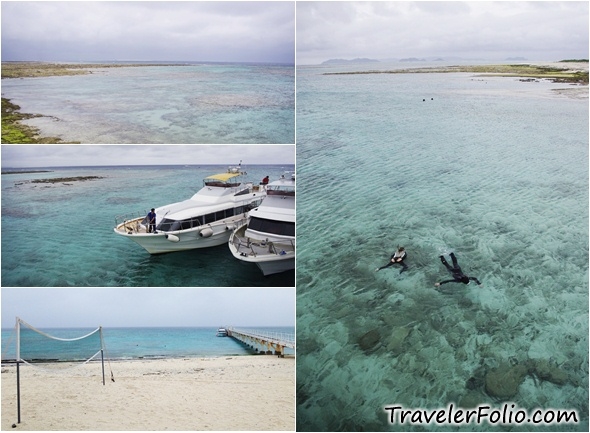 OK, if you are afraid of seasick, get prepared as the sea might be quite rough due to weather condition. Take some seasick pills, etc. before you go for whale-watching.
There is no 100% that one can see a whale in the sea, not to mention a humpback whale from Alaska! I saw glimpses of the humpback whale and it was spouting. The ferry was rocking on the sea so I only managed to snap a clearer shot of the humpback whale. Nonetheless, it's a once in a lifetime experience.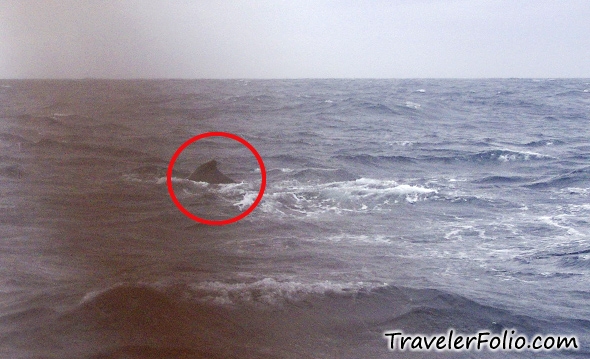 Nagannu Island with an overcast sky. Yeah we had a rainy day!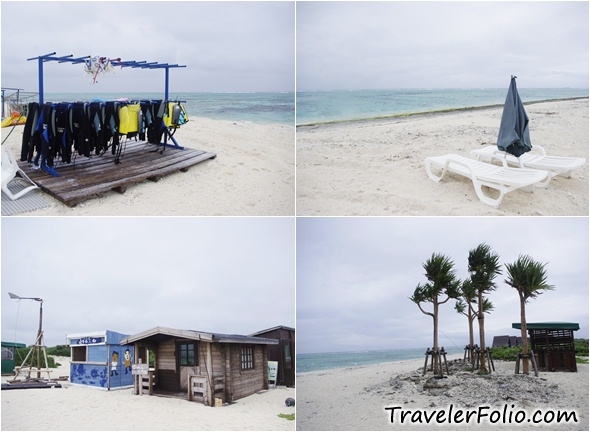 She picks seashells at the seashore. I didn't keep any seashells but they are really very beautiful. Like I mentioned earlier, this island is uninhibited, perhaps that's why the gems remained.
For memory keepsake, you can pick the seashells and decorate photo frames and souvenirs on the island.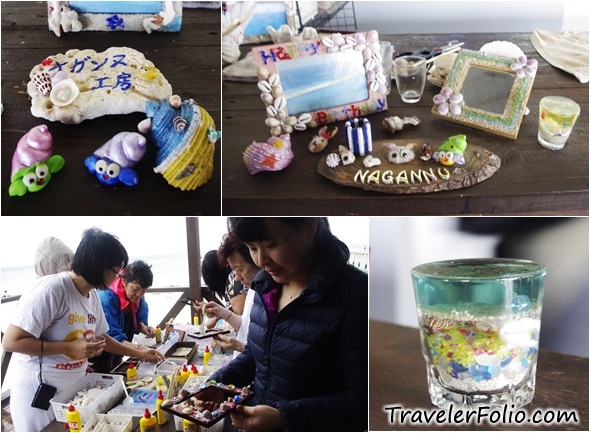 Having fun the whole morning, it was BBQ lunch prepared by the staff from Okinawa Tourist Service. Very generous portions of XXL prawns (huge!), fresh scallops, yakitori chicken, cuttlefish, sausages, beef, etc.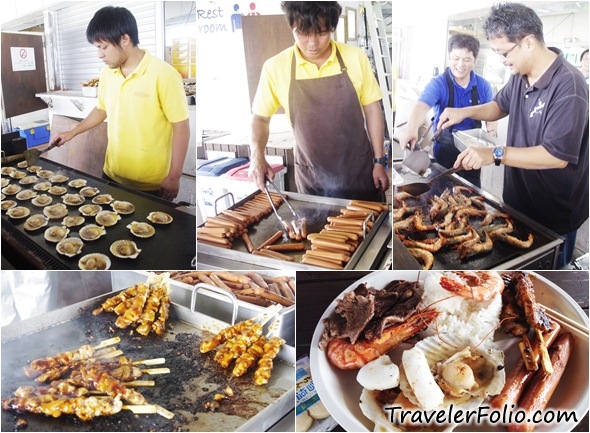 Outlet Mall Ashibina
Shopping in Okinawa is everyone's favourite, especially to the outlet mall – Outlet Mall Ashibina. I bought an Agnes B wallet that's cheaper than what we get in Singapore. At the end of the shopping spree, people carried bags of fashion goods back to the coach. We just wish for a longer stay.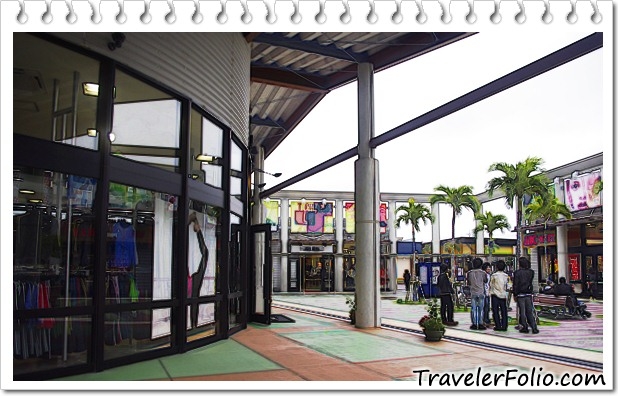 Suitenrou is located a stone's throw away from JAL City Hotel Naha (I love this hotel, very clean and comfortable and I looked forward to the hotel buffet breakfast everyday!)
Before dinner was served, there were traditional Japanese performances on a little stage in front of the dining tables. We ate dinner while seated on the floor. Another healthy meal and it was pretty good.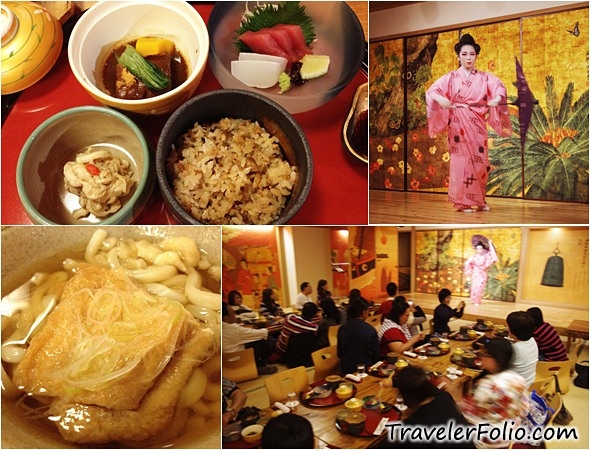 Day 3
Gala Aoiumi
They say it's 'a place to excite your five senses with fun experiences'.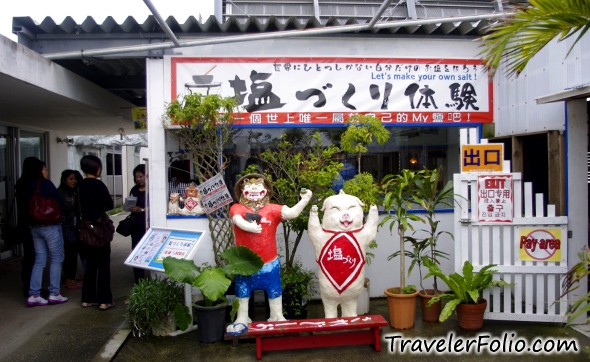 I can cook rice and porridge. OK. This is the first time I made my own salt and it's like stirring porridge! Quite an experience for us. At the end of the process, we'd get some Okinawan sea salt kept in a little jar as a souvenir from Okinawa.
Catherine said if you blow the sea water as you stir it in the bowl over charcoal fire, the water evaporates faster and you get the sea salt in a shorter time. It works!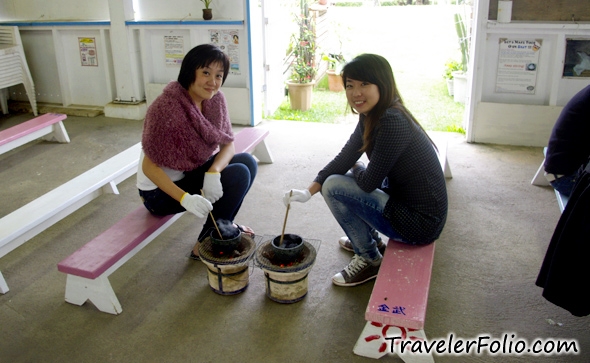 See the process of the crystallisation of Okinawan sea salt starting from top left photo.
We were offered some crackers to go with the mild-tasting sea salt.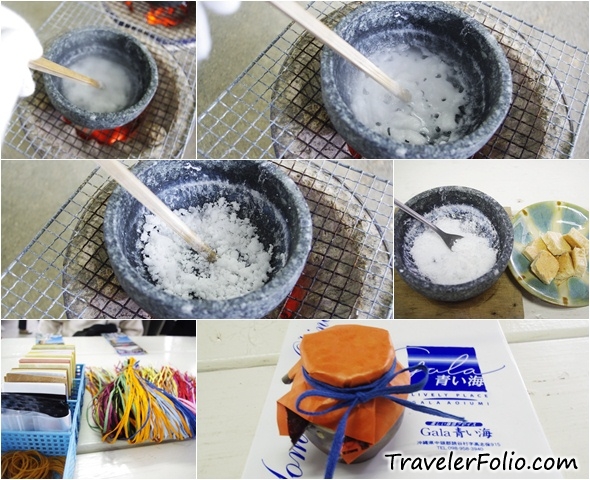 Shurijo Castle Park
To understand the history of Okinawa, pay homage to the Shurijo Castle that bears testimony to the bygone era of the Ryukyu Kingdom. The Castle was once the centre of politics, foreign affairs and culture during that period. With its unique culture, stonework and architectural design, Shurijo was inscribed on the List of World Heritage Site in 2000.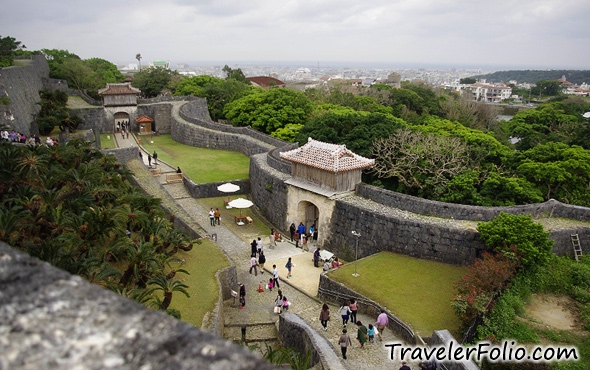 Walk through the different Gates of the Castle like the guests of the royal family. The photo on the top right is the main square of the Castle. The bottom right photo shows one of the places of worship, Suimui Utaki, "a sacred place created by Gods".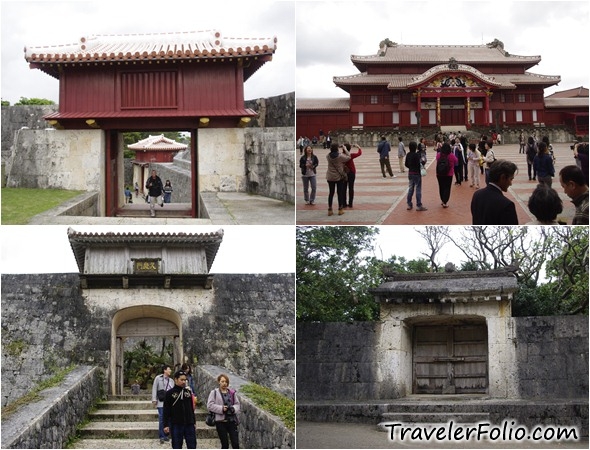 Top left: Usasuka, the raised stage in the centre, was the seat for the King while he conducted official ceremonies.
Bottom left: Seal of the King of Ryukyu kingdom in the 17th century.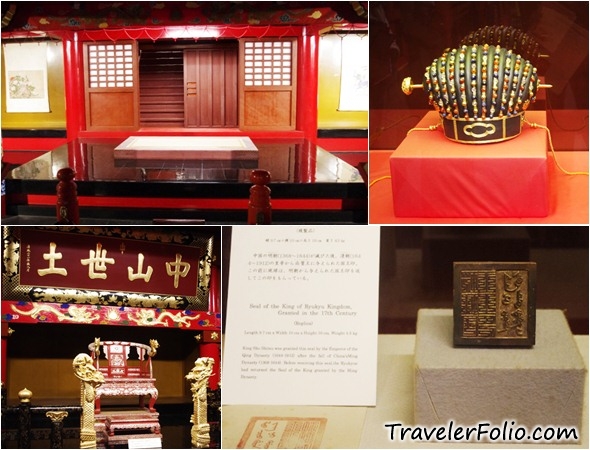 Cute little ones spotted at the Castle! Er hmm.. not me I know. I like to pose with people wearing traditional costumes.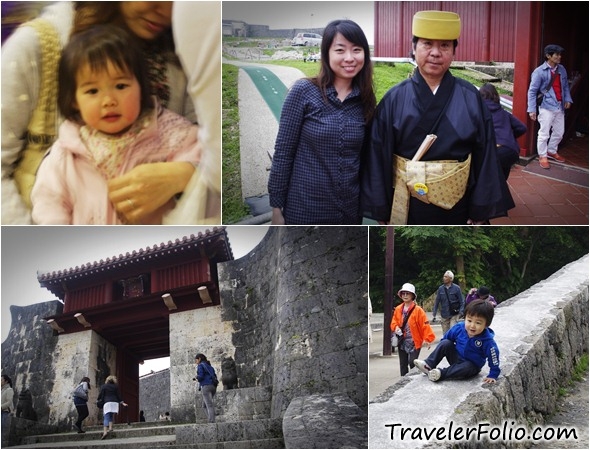 The guard of the Castle, I presumed.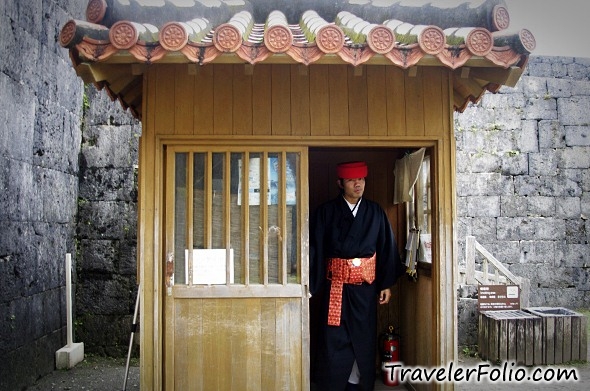 Kadena Air Base
After the end of World War II, the US Armed Forces took control of Okinawa for 27 years before returning the islands to the Japanese government in 1972. The US Armed Forces still maintains military bases on the islands and one of them is Kadena Air Base.
There are many photography enthusiasts at the observation deck eagerly waiting to photograph any US aircraft zooming past at anytime. No one knows the schedule of 'cos! I managed to snap a shot of one as well! Is it an aircraft for the US Navy?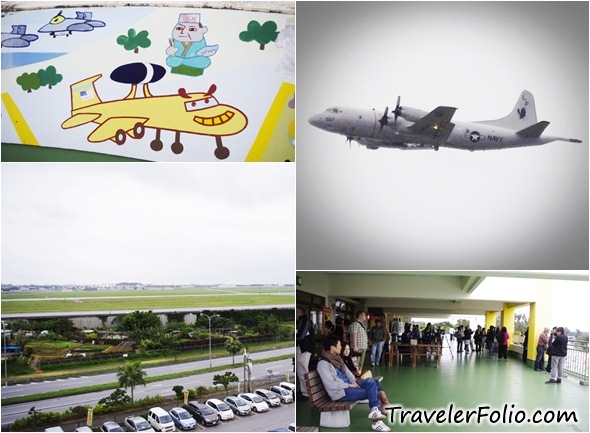 Lunch in Yakiniku style. It's grilled meats on mesh. There are other food items like sushi, Chinese food and desserts.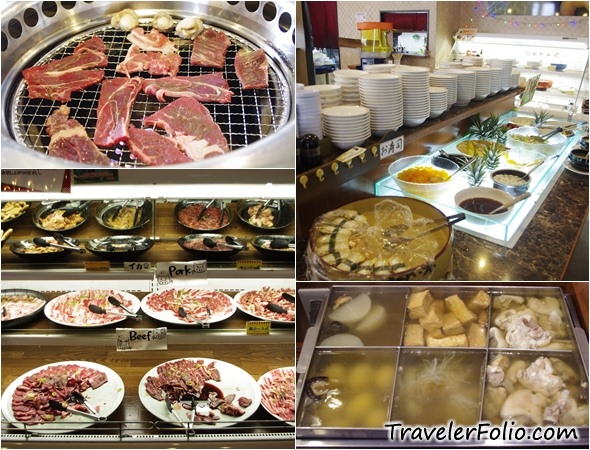 Mihama American Village
This modern entertainment area was once a US military base. You get a feel of walking down a US street lined with retail outlets, restaurants and other lifestyle establishments. The vintage-style ferris wheel is a prominent landmark.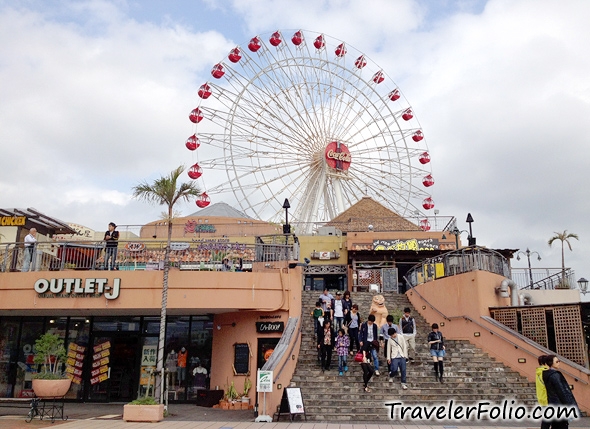 Catherine and I browsed through interesting boutiques and we bought ourselves some clothes made in Japan.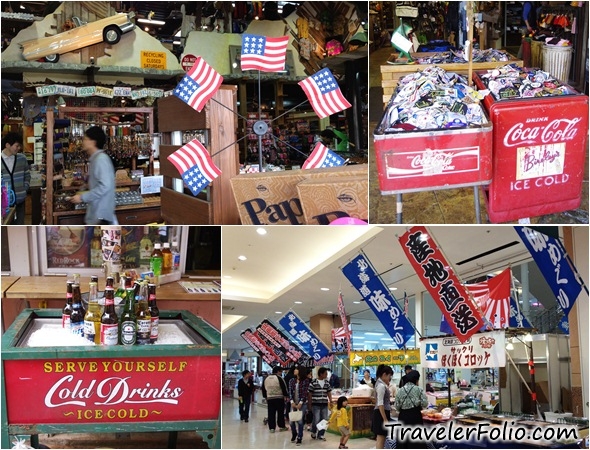 Kawaii!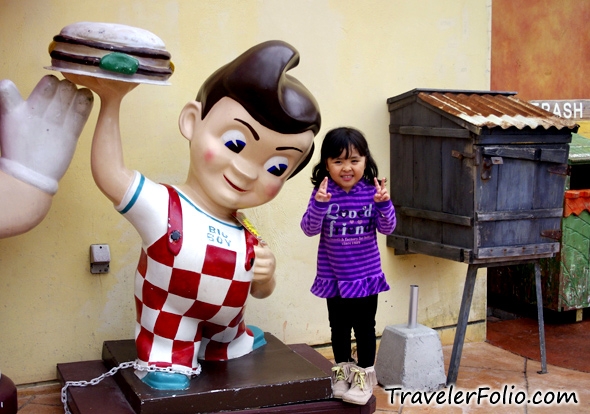 Kokusai Street
Kokusai Street is Naha main entertainment strip that stretches 1.6km, with restaurants, boutiques and souvenir shops flanking both side of the street.
As our hotel is located along Kokusai Street, every night we would walk the shopping street filled with tourists and locals alike. You can find lovely souvenirs like tiny seashells stored in small glass bottles that cost less than a dollar. Other display items include Shisa, the lion dog that guards the house for Okinawans.
Although many store assistants only speak little English, they are service-oriented, helpful and patience; they make you feel that customer is the king!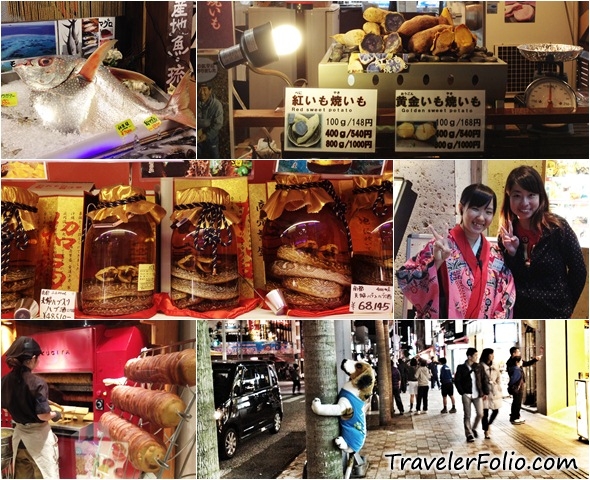 Traffic at Naha, the capital city of Okinawa.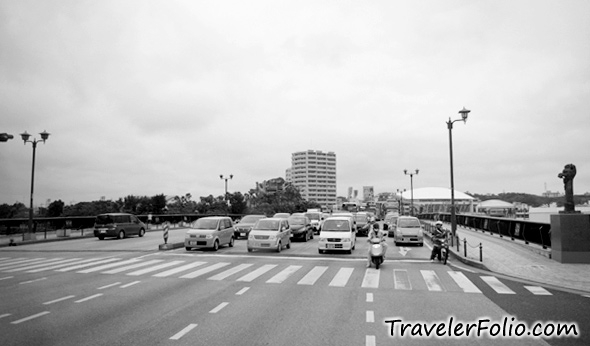 Shisa, the lion dog that guards the house for Okinawans. Can you spot one on top of the roof?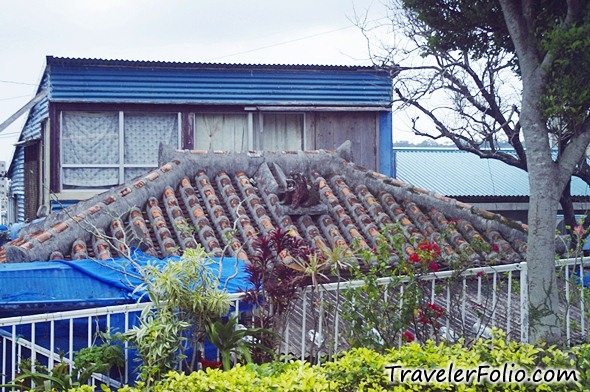 A pair of lion dogs on the roof.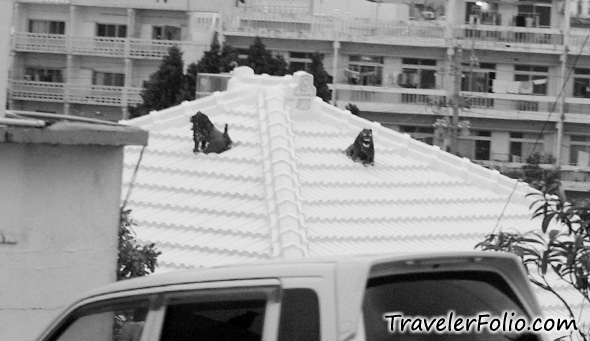 It was an eye opener for me to experience the colourful culture of Okinawa, Japan. I love Okinawan cuisine! If there's an opportunity to return for a second visit, I would wish for a clear and sunny weather! I think Okinawa is the upcoming popular holiday destination in the region.
Once again, special thanks to CTC Travel, Okinawa Tourist Service and Okinawa Convention & Visitors Bureau for being such wonderful hosts!