UPDATE: Contest has ended. Thank you for your participation! Please click Winners of Music in Love Audio Splitters to view the result.
10 MUSIC IN LOVE Audio Splitters to give away.
Spread your love! Share your favourite music with friends and loved ones with a cute heart-shaped audio splitter that integrated two 3.5mm audio jacks for two sets of headphones to be connected to the same iPod, iPad, iPhone or any audio player. If two is never enough, you can even blast songs via more connected splitters to speakers!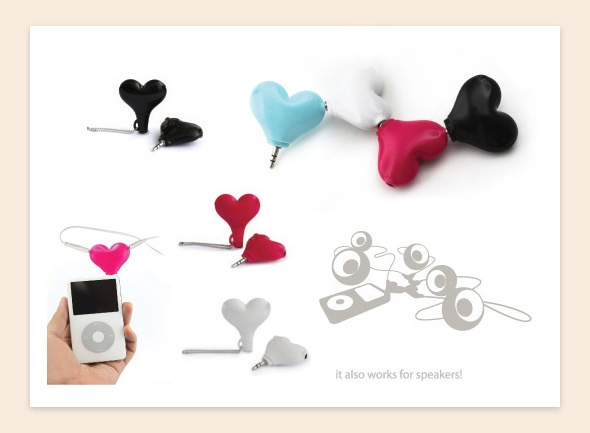 TravelerFolio partners with MONO YONO to give away 10 MUSIC IN LOVE Audio Splitters to our Facebook Fans.
How to win?
Step 1: If you are not our Facebook Fan yet, click both the "Like" buttons to become one.
Step 2: To double your chance of winning, simply leave your comment below stating "I want the MUSIC IN LOVE Audio Splitter". Remember to use your Facebook name and provide a valid email address… That's it!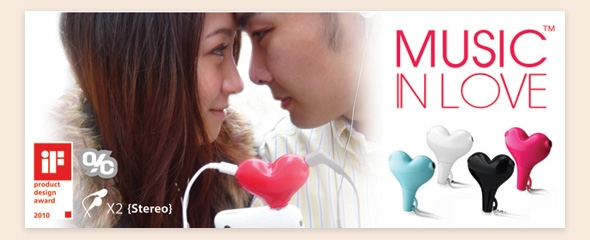 This giveaway ends on 6 April 2011 (2359 hours Singapore time). 10 Winners will be picked randomly by MONO YONO. The result will be published here. The winners need to provide valid Singapore postal address for prize delivery.
You are encouraged to subscribe to TravelerFolio RSS / Facebook / Twitter for any upcoming giveaway.
The MUSIC IN LOVE Audio Splitter received iF Product Design Award 2010 in recognition for outstanding design quality.
Features: Audio Splitter, 1 in 2 out, stereo, Glossy UV coating
PRODUCT SIZE: 47 x58 x 19 mm
PRICE: S$19.90
About MONO YONO
MONO YONO Gifts & Lifestyle Store is a leading branded specialty retailer of gifts and lifestyle merchandize, including Executive Gifts, Fashion Accessories, Home Décor, Furniture and the quirkiest novelties sourced from all over the world.