I'm going to Tasmania on 19 Jan!
Thank you for all your useful recommendations for my itinerary planning and please continue to leave any good suggestions on places to visit and things to do that is unique to Tasmania in the comment box by 18 Jan'10. The top 3 recommendations will be rewarded with awesome Tasmanian mini hampers!
GOOD NEWS! I've more Freebies to give away! It's easy peasy!
– 3 mini hampers will be given away to readers who JOIN Eunice's Fanpage and SHARE on Facebook to promote the campaign (3 lucky winners will be selected).
– 2 mini hampers will be given away to readers who FOLLOW Eunice on Twitter and RETWEET to promote the campaign (2 lucky winners will be selected).
Simply refer to this microsite >> https://travelerfolio.com/devilishly-tasmania/ for more information.
Hang on! The best is yet to come. There is something about the Grand Prize…
You too, can win a 6 Days / 4 Nights self-drive trip to Tasmania! It's a no-brainer. Simply follow me as I blog about my Tassie experience daily during the trip, and answer some questions at the end of my journey in Tasmania on the microsite.
The one who can answer all the questions correctly will stand a chance to win a 6 Days / 4 Nights self-drive package that's worth S$3,500 by Chan Brothers Travel!
Details of the prize:
– 1 return air-ticket to Tasmania
– 4 nights accommodation
– 4 days car rental (standard)
– 1 National Holiday Park Pass
– Travel by 30 Jun 2010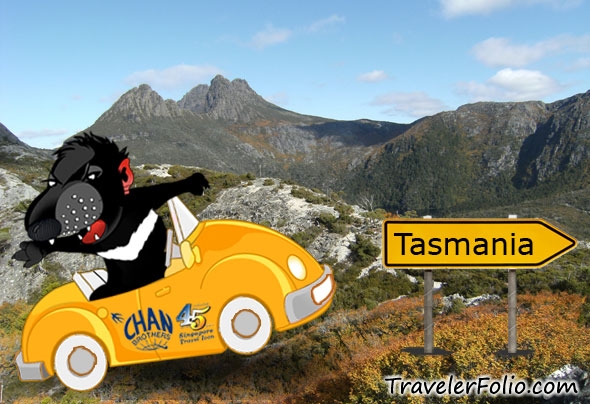 I've just collected my travel documents from Chan Brothers Travel. This travel agent is one of Singapore's largest and they have a wide selection of great travel destinations. It's really a convenient one-stop shopping that saves me a great deal of time when the travel agent sources the best airfares and lodging for my Tasmania trip, providing the kind of flexibility to fulfill my travel needs as listed in the itinerary. (Chan Brothers Travel can assist to plan the itinerary.) That's the way to go! Less stress for me as I can let the travel expert handle every aspect of my trip while I count down to my Devilishly Tasmanian adventure in 6 days' time!
I've got lots of devilishly useful information from DiscoverTasmania, a very informative site produced by Tourism Tasmania. You can download maps of Tasmania and plan your routes first before you set off. The list of special attractions and holiday ideas is particularly useful to me; that's where I get really excited when I read about them while planning for my Tassie trip. And it comes in handy when DiscoverTasmania also provides great tips and useful advice for a great holiday in Tasmania.
Check out this travel blog again for more updates about my trip to Tasmania!