Today I met up with one of the six Changi Millionaire finalists – Ms Mara Cusick. The 55-year-old Australian is an accounts administrator of a telecommunications consultancy in Melbourne.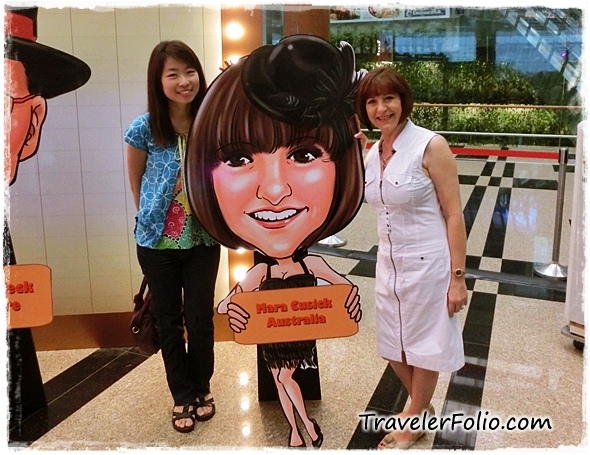 As you may know, 'Be a Changi Millionaire' Draw is Singapore's biggest retail draw, a grand prize of S$1 million is the largest cash prize ever given in a local retail promotion or by any airport in the world. To participate in the Millionaire Draw, passengers and visitors simply needed to spend a minimum of S$30 in a single receipt, shop or dine at the public and transit areas of Changi Airport
The qualifying period for 'Be a Changi Millionaire' 2012 was from 12 May to 11 November 2012. One finalist was drawn each month for participation in the Grand Draw. Guess what? Ms Cusick only spent ~S$200 on Chanel beauty products at the Perfumes and Cosmetics store at Terminal 3 Departure Transit Mall in October 2012 and she became the last finalist of the Millionaire Draw! Together with her husband, Ms Cusick had a 3-hr layover at Changi Airport while on their way home from a fantastic 5-week holiday in Italian cities like Milan, Rome and Sicily.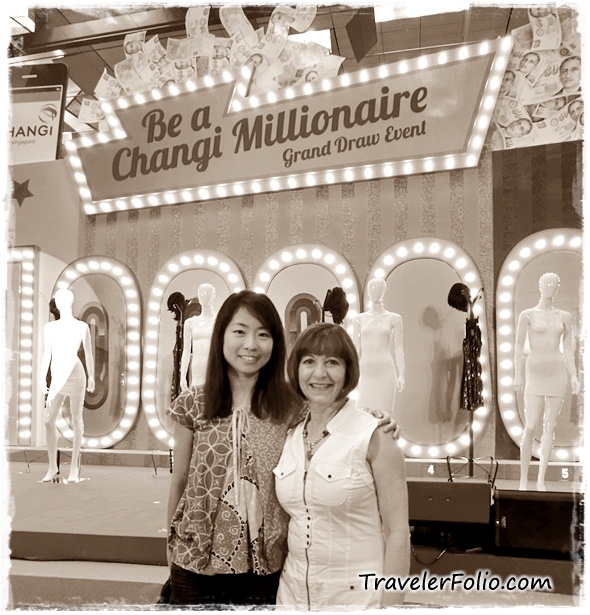 We had a great chatting session over coffee at Terminal 3 Coffee Club. Mara and her husband are very excited now. They almost forgot about entering into the Millionaire Draw. Initially, the couple thought it was a lucky draw hoax! Gerald jokingly said they might not be able to sleep tonight before the final showdown tomorrow.
In the past, the couple only transited in Singapore and this time, they are going to tour around the city in the following week. They would love to try the local food fare and shop for good bargains.
Oh, now it's just FIVE Changi Millionaire finalists – Mr Chen from China was unable to attend the Grand Draw due to personal reasons. All Changi Millionaire finalists are already winners in some way – they will receive S$5000 in cash and win a three-night stay at Crowne Plaza Changi Airport, with airfare provided for non-Singapore residents.
The Changi Millionaire Finalists with their cute caricatures.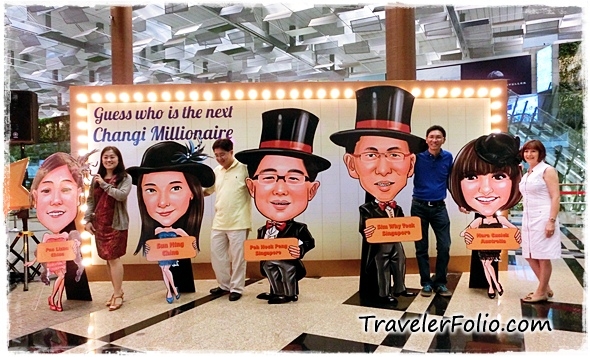 The Grand Draw on 20 January 2013 will be open to the public, and there will be fun-filled activities including:
1) Guess the Winner contest – where members of the public can guess which one of the 5 finalists will win (to submit their guess entries at a box next to the finalists' caricature installations). After the grand draw, one lucky member of the public who guess correctly the winner will stand to win S$500 in Changi Dollar Vouchers.
2) The first 300 audience members to register will receive a free Angry Birds Space plush toy
3) Free sweet treats like popcorn and candy floss for audience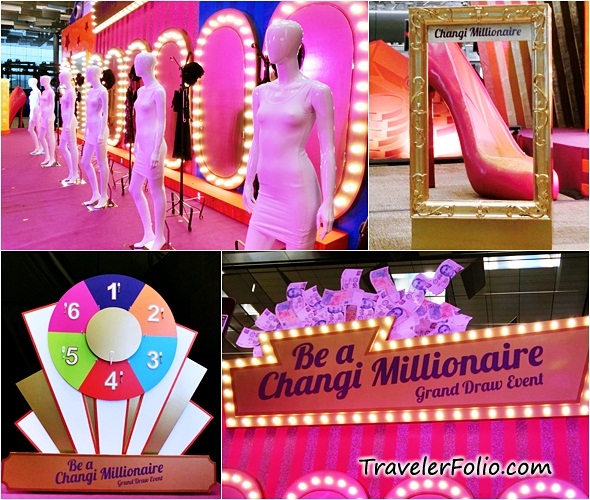 At the Grand Draw, there will be four rounds of exciting games during which the finalists will vie for S$1 million.
1st round: Dress up mannequins (non-elimination round)
2nd round: 10 dancers wearing top hats – choose the lucky top hat (with a symbol inside) (eliminates 1, 4 to proceed to next round)
3rd round: Life-sized tower blocks – pick the lucky block (with a symbol inside) (eliminates 2, 2 to proceed to the next round)
4th round: Spin the wheel for a numbered key to open the door of the same number (6 doors altogether, one is the winning door)
Let's see who will be crowned the 3rd Changi Millionaire tomorrow at Changi Airport!