Bali is world famous. The top island destination in Indonesia is synonymous with exotic travel, luxury spa resorts, idyllic beaches, picturesque mountain scenery, great food, shopping, party and all fun-related activities. The tourist haven is known as the 'island of a thousand temples', with over 90% of Balinese are Hindus.
Probably one of the most photographed temples in Bali, the 11th century Uluwatu Temple is perched on top of the cliff overlooking the sea. Here is where you can catch the magical sunset at Uluwatu at the southern end of Bali.
Uluwatu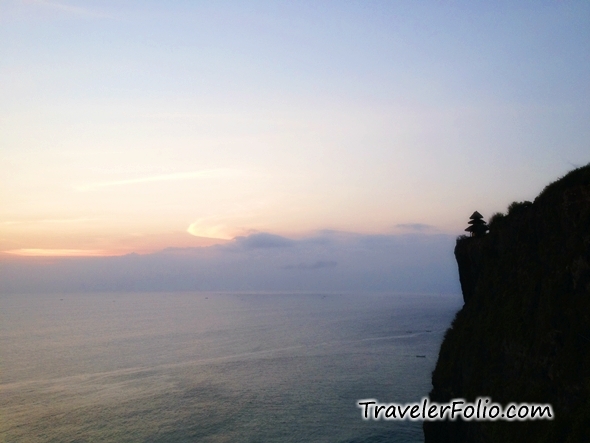 And we were at Uluwatu to catch the 'Kecak Ramayana & Fire Dance' – popularly recommended to Bali visitors. Earlier on, we watched the similar 'Ramayana Ballet Prambanan' in Yogyakarta. The Balinese show is a faster version with performers dancing around fire and men continuously chanting 'cak… cak… cak…' The atmosphere is highly charged up and the main characters would prance onto the spectator area to 'intimidate' the tourists. The show was actually quite funny!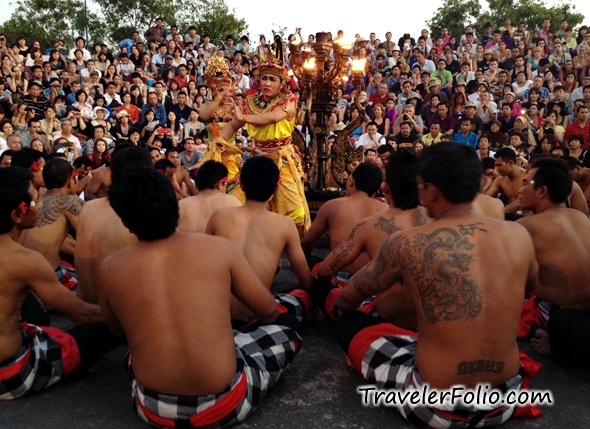 See? I told you it was funny. This 'Demon' suddenly jumped in front of me to camwhore!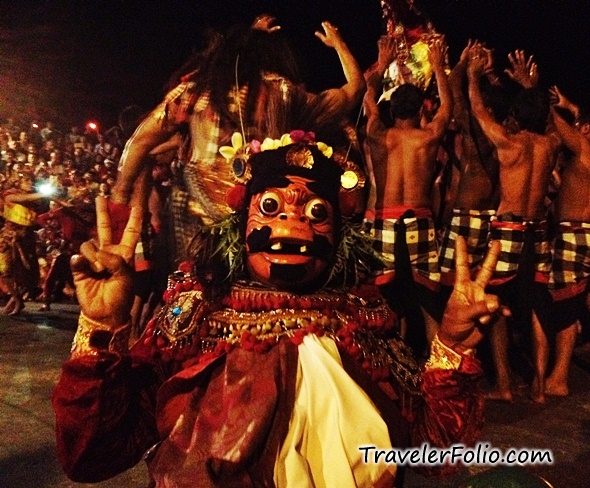 The performers are either dressed in elaborate costumes or simply go topless! The show culminated with the white monkey being set up on fire and later escaped.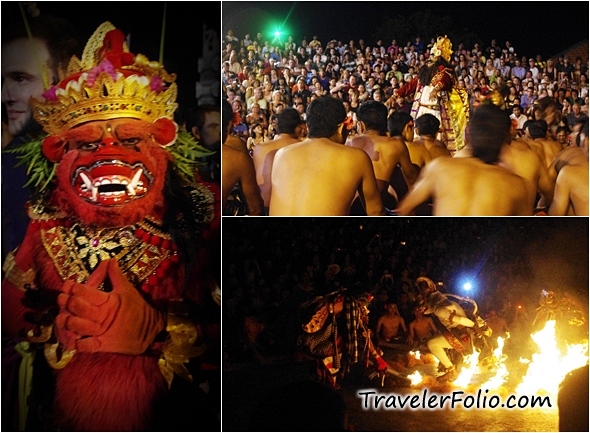 Ubud
One of my favourite part of the Bali trip is to stroll leisurely along Ubud to discover little surprises and snap at interesting sights. Colourful flower arrangements, huge statues, artworks, quirky shops and cafes can be found along the streets and alleys of Ubud.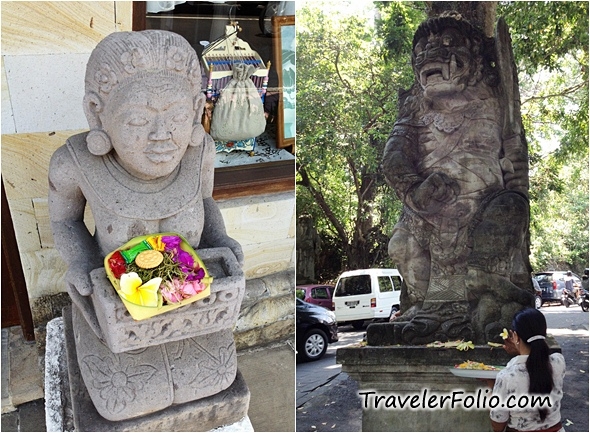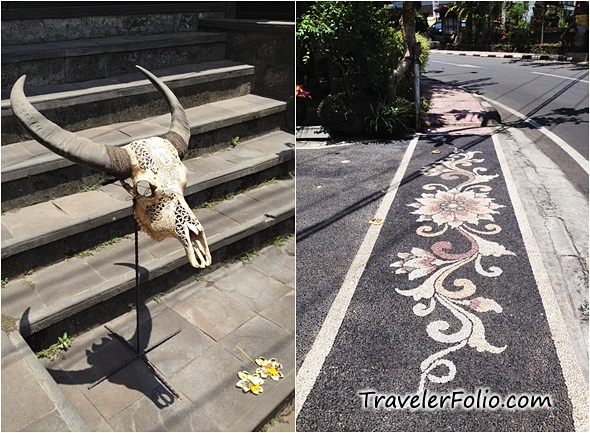 Masks of demons and a ginormous sandal that fits all sizes!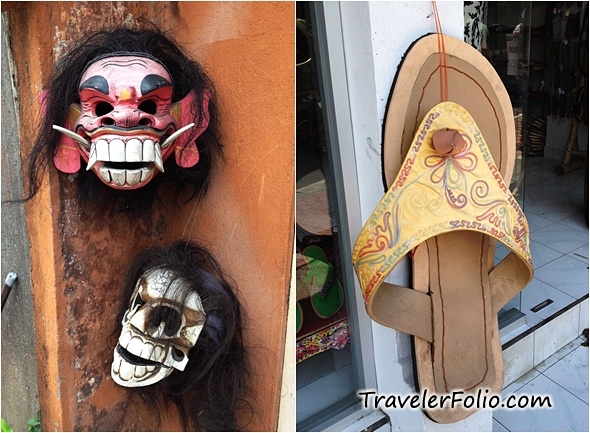 The demon masks maybe good for Halloween as well!
A typical sight of pretty, colourful flower arrangement in Bali.
A Balinese Hindu praying with offerings at a huge tree in Ubud.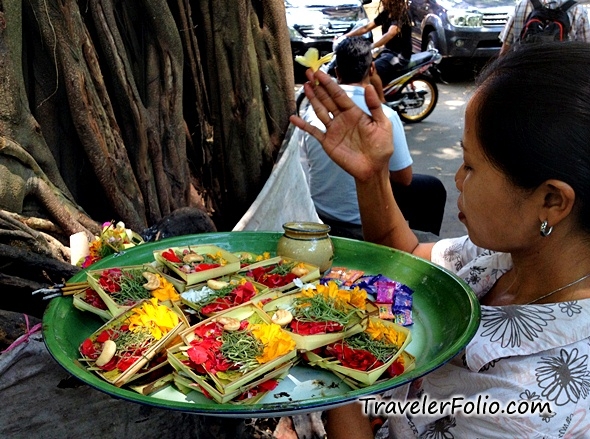 I was attracted to the prayer offerings that are usually placed on the path by the roadside. Leaves are wrapped in different shapes to contain the prayer offerings like flowers, joss sticks and food.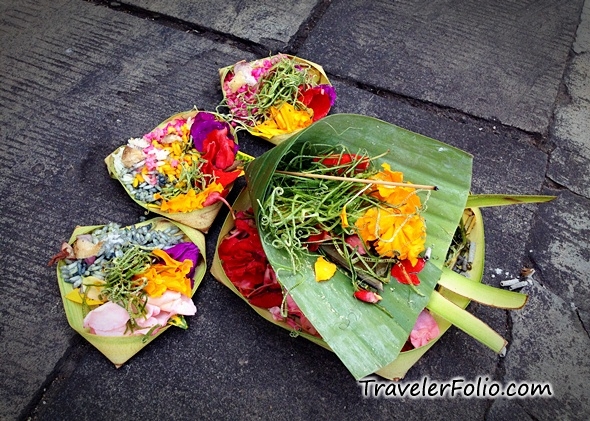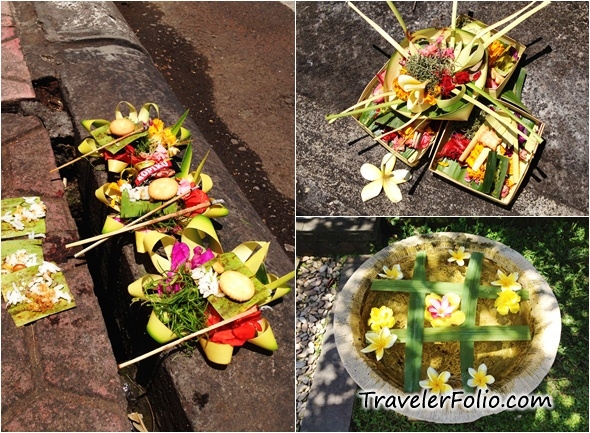 Purple lilies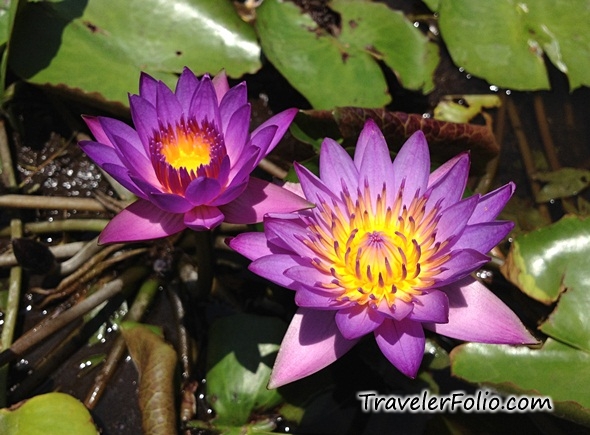 Monkey lovers will love this park – Ubud Monkey Forest. Long-tailed macaques are the residents here and they don't seem to be afraid of visitors. You are into their territory and they come close to you. I saw one jump onto a little girl's back but I guess the mum was quite amused as she continued to take candid shots of her daughter.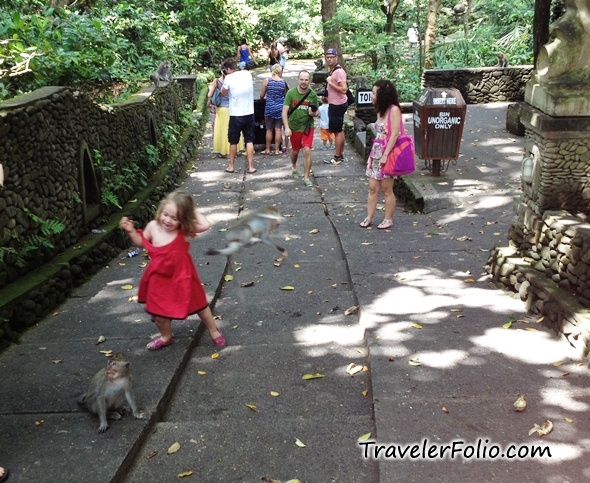 Statues of monkey-like figures.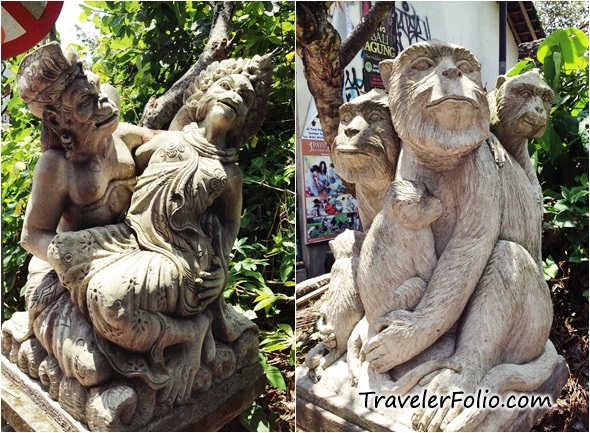 And the cheeky monkey that winks!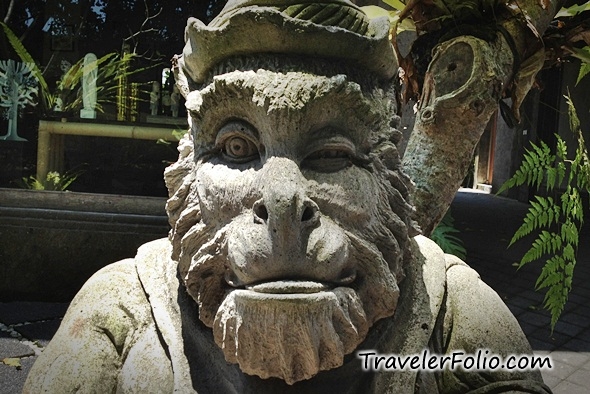 Slow down, find a chill-out place along Ubud and rest your tired feet. I had two cups of yummy cuppaccino and nachos at one of the cafes in Ubud.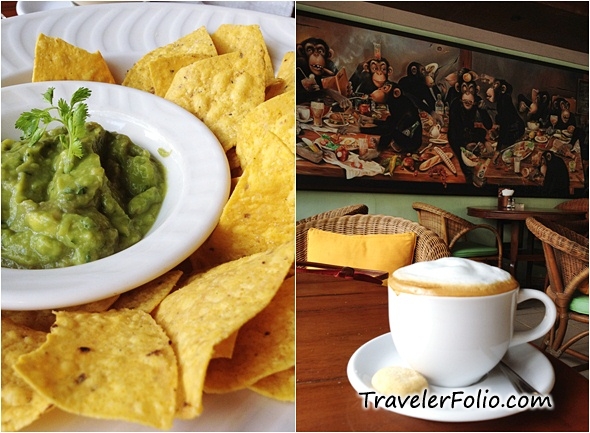 The street of Ubud with little flower artworks on the path.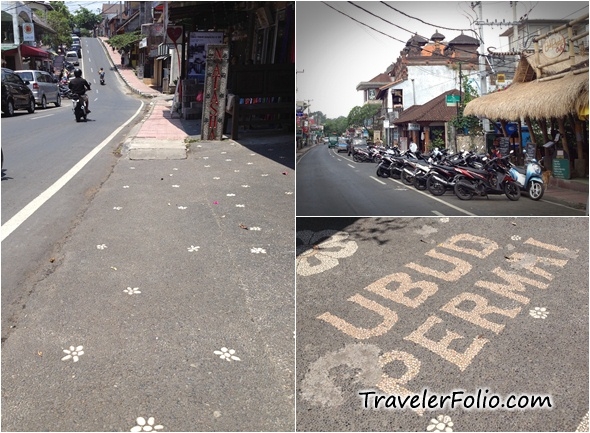 Kuta Beach
They say if you have not visited Kuta Beach, you can't tell people you have been to Bali. The beach offers water sports such as surfing. There are plenty of retail malls and restaurants in the area. A touristy place.
Left: A typical Balinese architecture as seen all over in Bali – candi bentar, the split gate.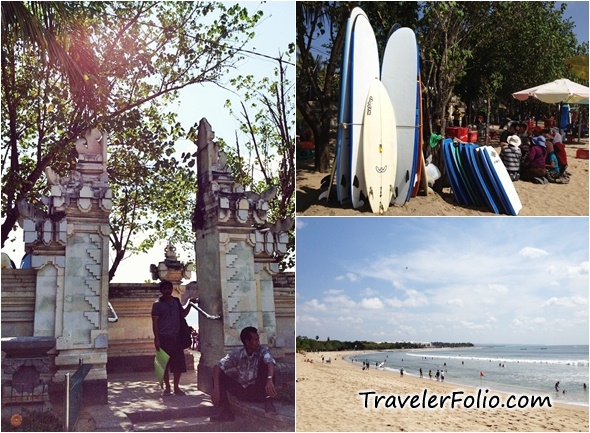 Tanjung Benoa
We had an exhilarating time at Tanjung Benoa. The beach is popular for water activities and we tried parasailing high up into the sky, flying fish and banana boat. It was fun!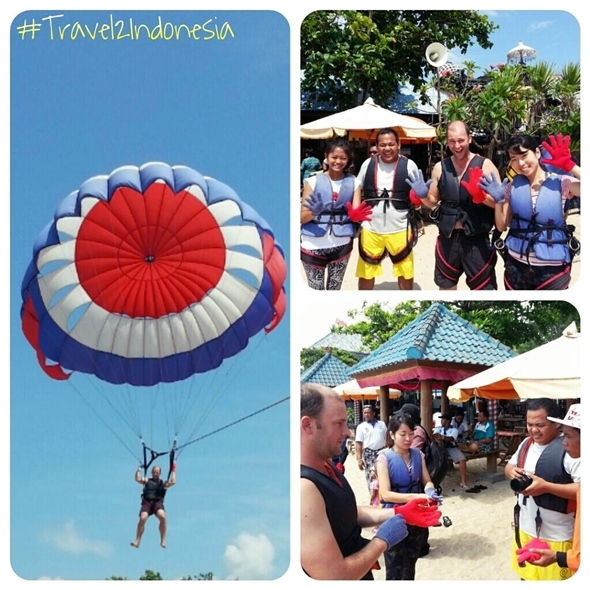 We put up 3 nights at Kokonut Suites in Bali. What I like most is the warm hospitality and prompt service of the hotel staff. It's like a home away from home in a very relaxing environment.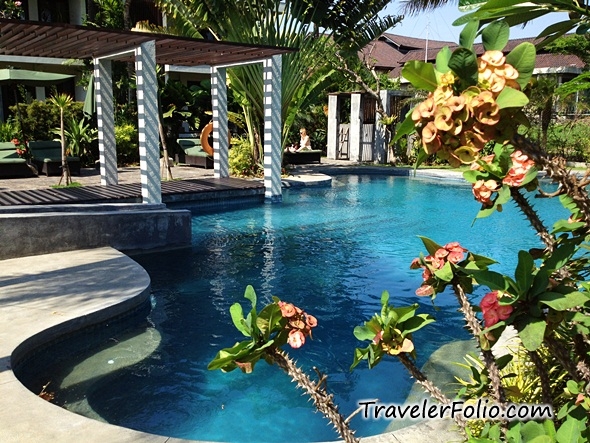 Have you tried Kopi Luwak (Civet Coffee) before? Look at Kopi Luwak in poop form – defecated coffee beans! I got a pack from Kokonut Suites… yet to try it.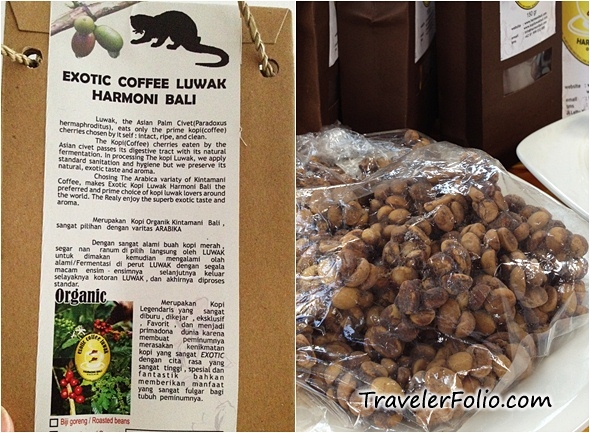 A golden rice paddy field that's almost ready for harvest.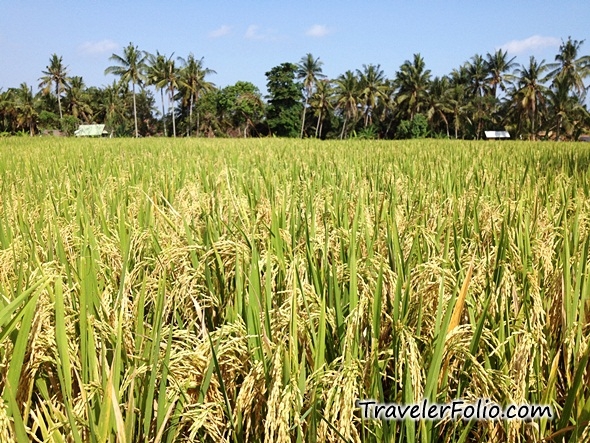 Stay tuned for my next post on sunset and farewell dinner at the Potato Beach Club in Bali.