Amongst the many modern and luxury hotels in Singapore, Raffles Hotel prominently stands out as a historically rich landmark dating back to 1887. It encapsulates the old world charm of the British colonial era with exemplary hospitality, a calm oasis amidst the bustling city.
Recently, we were invited for a 3D2N staycation at Raffles Hotel over the weekend. We knew it was an opportunity not to be missed – the hotel is internationally acclaimed. Many illustrious personalities including Nelson Mandela, Queen Elizabeth II, Michael Jackson and of lately, Prince William and Kate stayed here before.
A name that needs no further introduction, Raffles is one of the world's best hotels. Consider a summer staycation at Raffles to experience the timeless elegance of the one and only of its kind.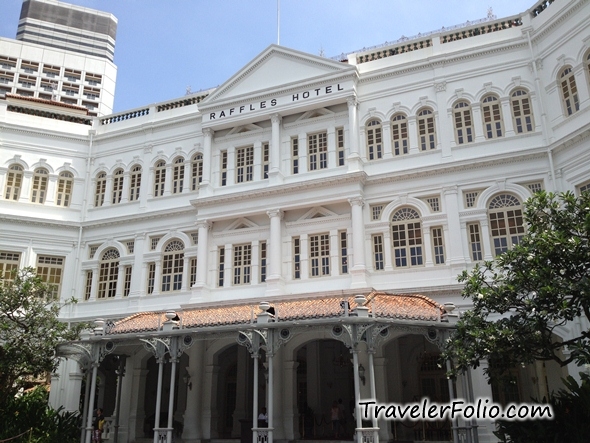 Raffles Singapore Suite Package Promo
From now until 31 August 2013, Raffles Singapore offers suite package starting from S$550++ per suite per night on any day (valid only during the weekends from 1 September onwards) and includes the followings:
Children below 12 stay and dine for free with their parents at Hotel-operated restaurants.
Welcome Singapore Slings and fruits upon arrival. Children will enjoy fruit smoothies and cookies.
Complimentary breakfast at Tiffin Room on the first morning.
Complimentary Buffet Dinner at Bar & Billiard Room or Tiffin Room.
Complimentary in-suite internet access.
24-hour Butler Service.
Complimentary S$500 Raffles Hotel Arcade Shopping Discount Vouchers.
Complimentary late check-out until 6pm.
Complimentary Parking.
There will be fun-filled activities for children with the new adventure passport that encourages them to accomplish missions: take a photo with the Doorman, take a tour with the resident historian, Mr. Leslie Danker and name the palm tree in the Palm Court to collect stamps and redeem rewards.
The special rate is extended to Singapore residents including PRs and work pass holders. Contact Raffles Hotel reservations department at (65) 6412 1244. Email: roomreservation@raffles.com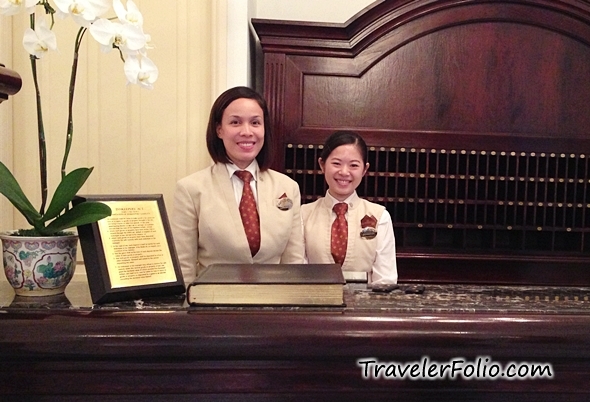 The warm hospitality experience began from the moment we were ushered to the hotel lobby. The polite front desk staff promptly helped us to check in and the butler showed us to our personality suite named after John Wayne – the enduring American icon was an Academy Award-winner.
A photo with the tall and famous doorman is a must!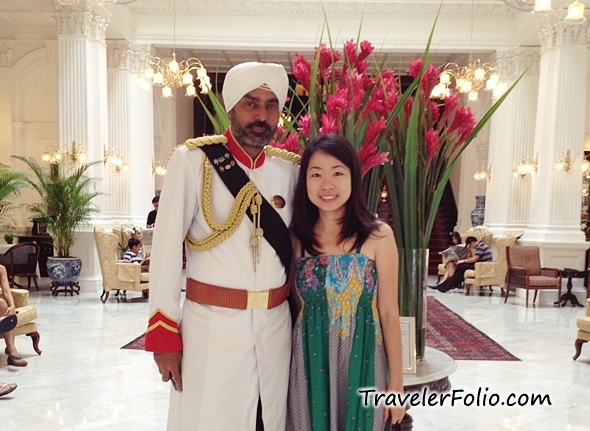 We enjoyed a mini-orientation around the personality suite we called home for 3 days. It was like a step back in time to the heyday of the colonial era. The classy period furnishings exude a fusion of Asian and European style, a quiet elegance that speaks volume. In anyway, the suite has a homey feel with a parlour, a dining area, a bedroom and en-suite bathroom.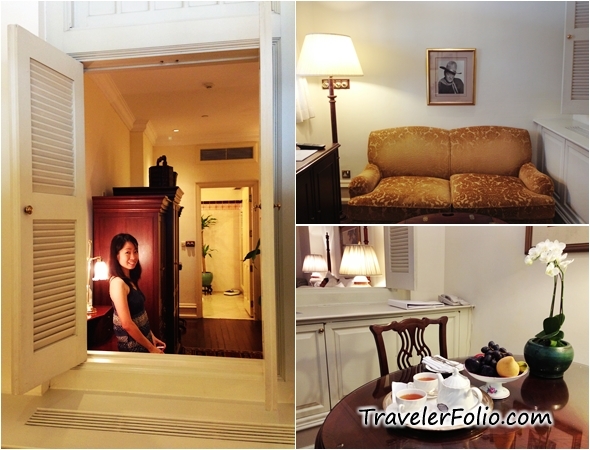 Nothing pretentious, the dressing table, wooden wardrobe, working desk, bedstead are all so elegantly vintage.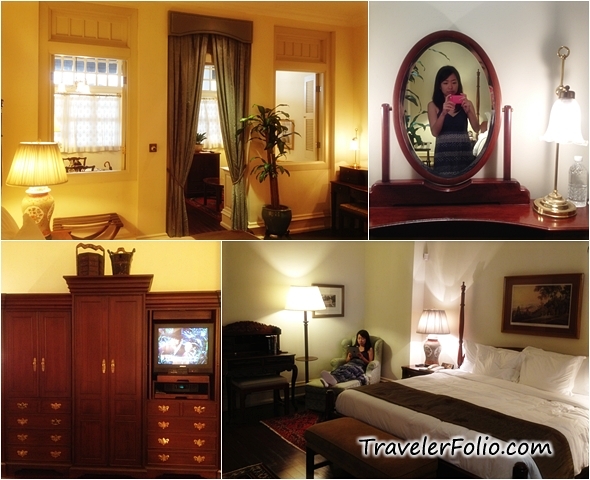 The cosy bed to luxuriate in.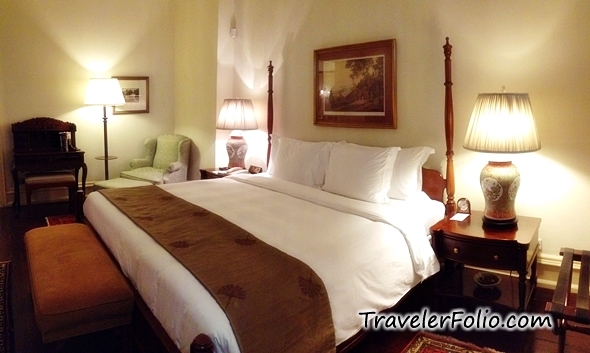 The bathroom features a bathtub, a separate shower and dual vanities fitted with vintage faucets. Even the bathroom scale is an antique.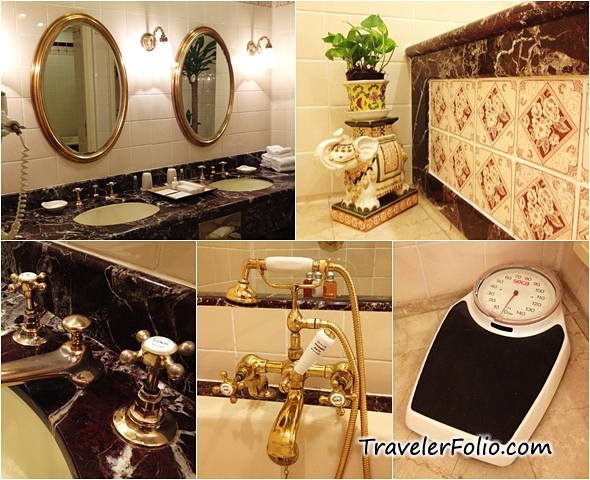 Functioning old-time switches that are no longer found in modern homes.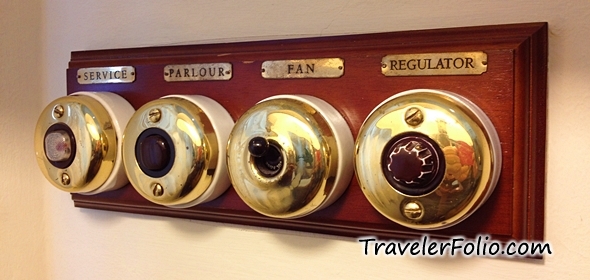 The common veranda where we can relax over a cuppa.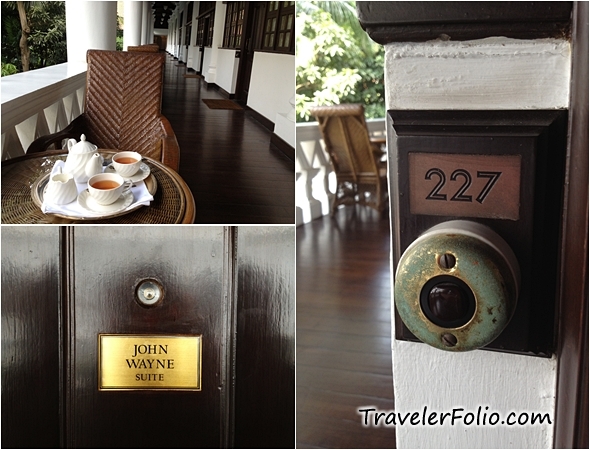 A walk-through to see photographs of world leaders and celebrities who stayed at Raffles Hotel in the past.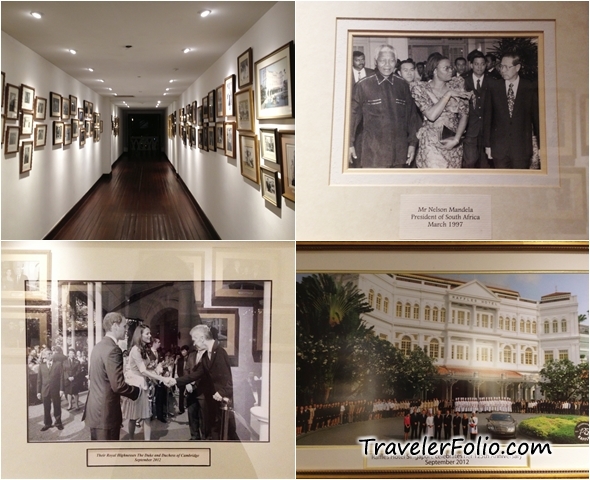 Raffles hotel was gazetted as a monument on 4 March 1987. We had the privilege to tour around the hotel with the resident historian, Mr. Leslie Danker, to relive the past colonial grandeur of Singapore.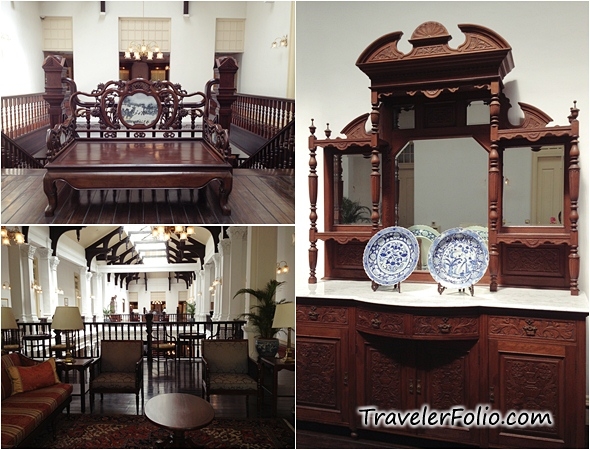 Elegant antique furniture with carvings at the lounge area on the third floor.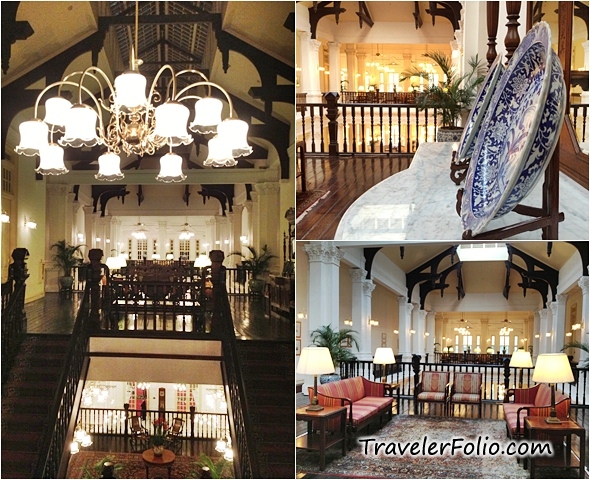 Let's take a peek into Sir Stamford Raffles Suite, one of the two Presidential Suites. It has a parlour adorned with crystal chandeliers and oriental carpets on teakwood flooring, a dining room, two bedrooms, a private balcony and pantry.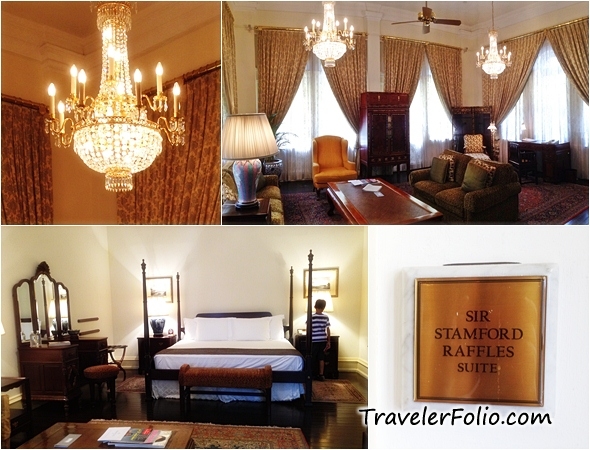 One of the bedrooms and the balcony. The Presidential Suite costs S$10,000++ per night.
Raffles Grill in its own unique setting in former colonial glory serves classic French cuisine with a modern twist, alongside an extensive wine list from the hotel's exquisite wine cellar.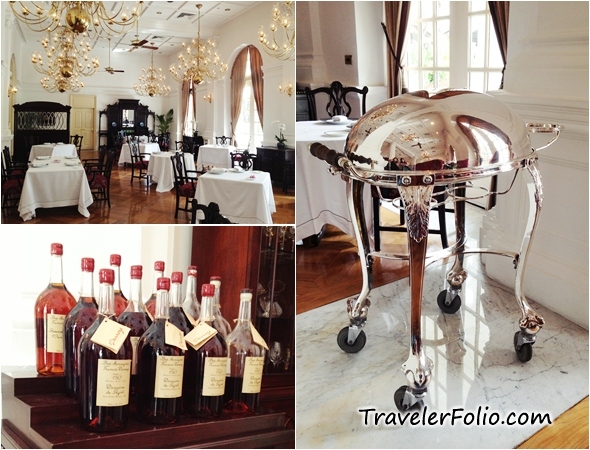 A bust of Sir Stamford Raffles.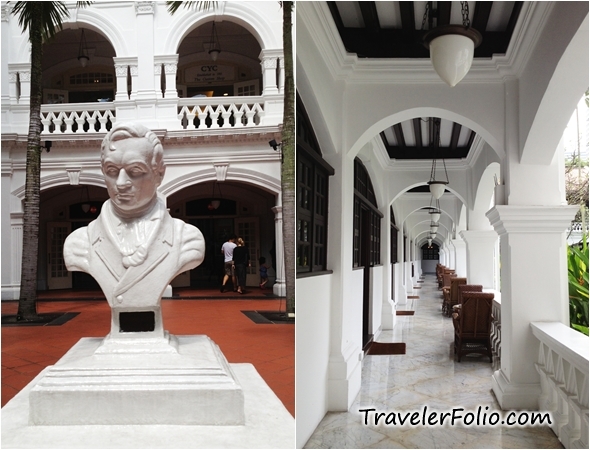 Halia, a bar on the ground level. The stylish clawfoot tub caught our attention.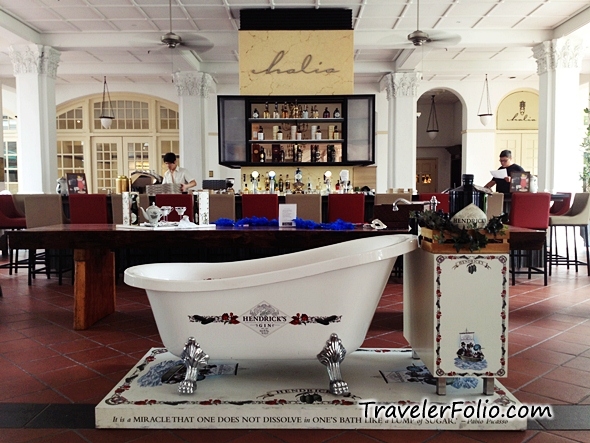 The Ballroom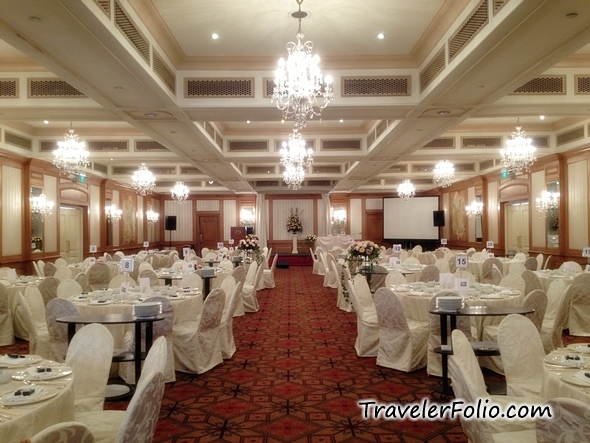 The hotel lift is another classic.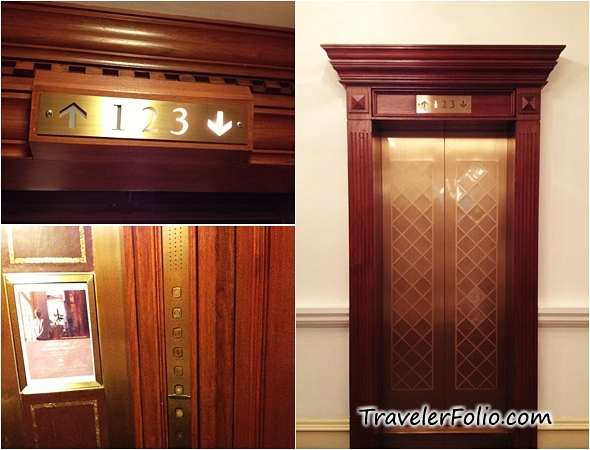 The swimming pool on the third level of the hotel.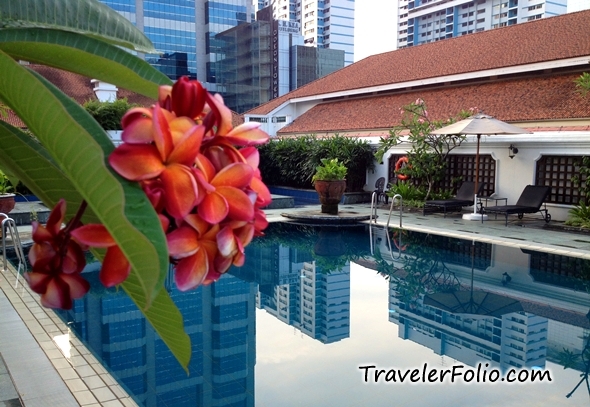 Jacky had a Swedish massage at Raffles Spa. The spa treatment combines three types of aromatherapy oils to go with the therapeutic massage. A relaxing and rejuvenating treat indeed.
Other spa treatments include Thermal Mineral Kur, Herbal Bliss and Shirodhara that involves running a stream of warm oil onto the 'third eye' followed by gentle head massage.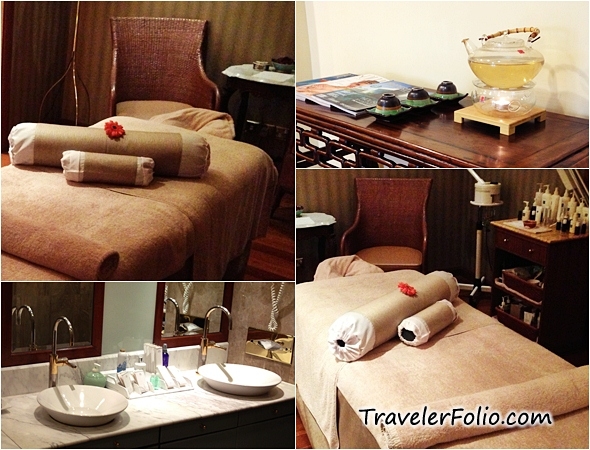 Tiffin Room
A enjoyable staycation experience means feeding ourselves well! There are bars and restaurants offering local dining options as well as international cuisines.
We had a droolicious buffet breakfast at the Tiffin Room. You can also order from the breakfast menu. My favourites are Raffles omelette with cheese and a little spices, the light crisp waffle and Eggs Benedict. Oh yes, I love their cappuccino.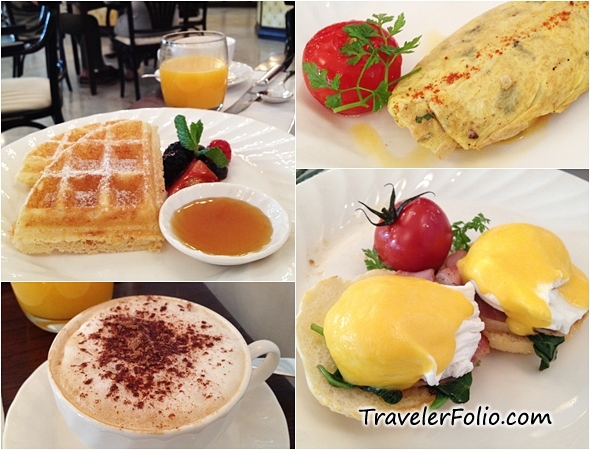 For lunch, the curry buffet at the Tiffin Room is a hit among tourists and locals alike. The spicy and flavourful curry dishes, naan and sweet desserts virtually brought me back to India.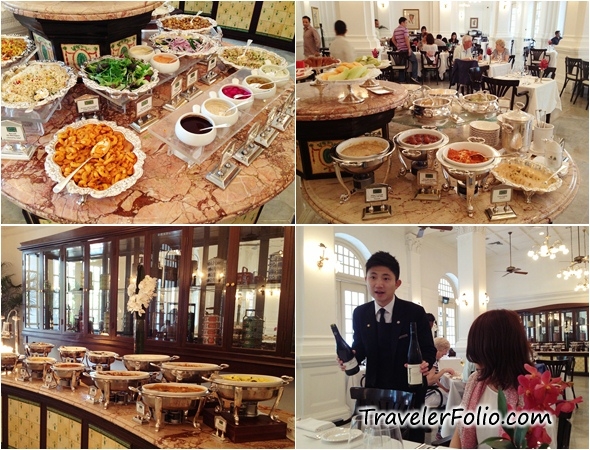 Happy staycationers – with the Ninja girls.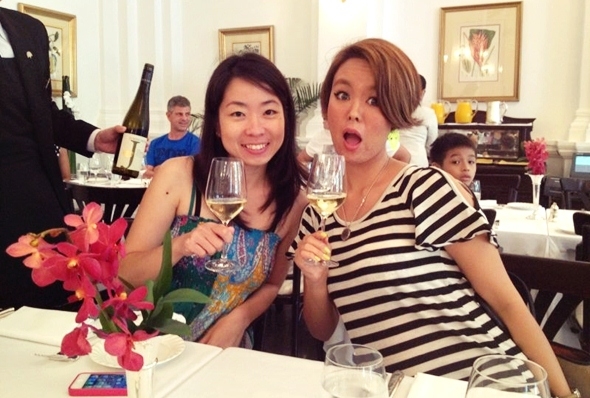 Empire Cafe
Head down to the Empire Cafe for a casual dining experience in a classic kopitiam setting. At a glance on the menu, it may seem nothing out of ordinary. We tried dim sum like steamed prawn dumplings, siew mai, jade dumplings filled with scallops and prawns, and seafood spring rolls, crab meat fried rice and Laksa. They were all so deliciously prepared and packed a punch of local flavours. In other words, it's high quality hawker food!
For dessert, don't miss the signature Gula Melaka – chilled sago with palm sugar and coconut milk. (Note: Empire Café will be closed from 15 July to 30 September 2013)
Raffles Courtyard
Dine alfresco at the Raffles Courtyard surrounded by lush green palms and plants. At the courtyard, there is a colonial cocktail bar, a traditional open kitchen, table umbrellas and music. The Raffles Courtyard dishes out authentic Italian specialities with fine wines to complement the menu.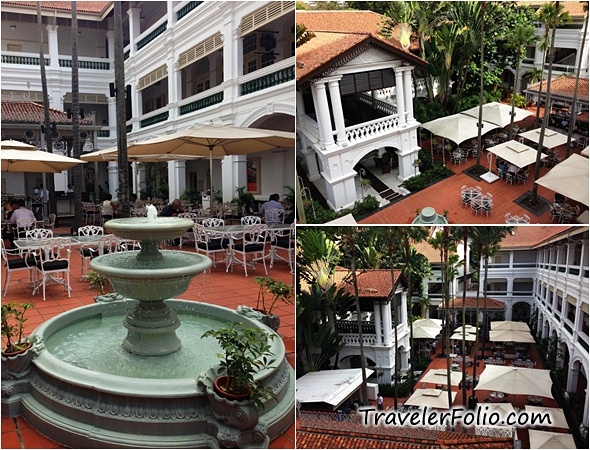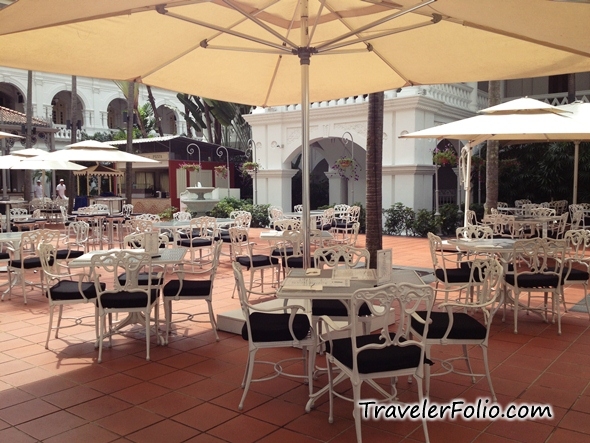 Beef carpaccio, pasta, mozzarella cheese with tomatoes and hot off the stove pizza. We also had some yummy gelato with hazelnut.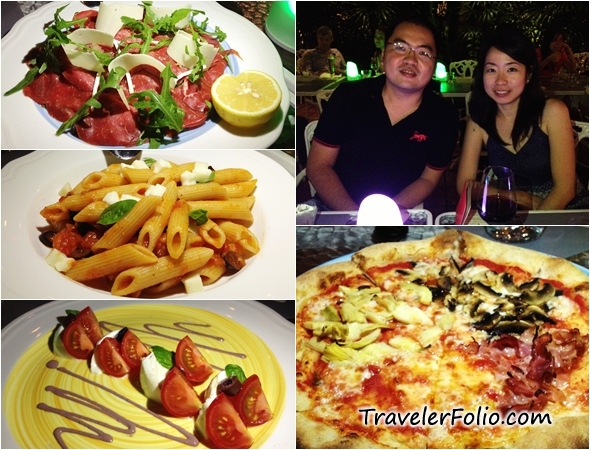 Singapore Sling
Have you tried the Singapore Sling before? The Long Bar at Raffles Hotel is the original home of this legendary famous concoction. The bar serves all kinds of alcoholic and non-alcoholic beverages as well as traditional pub favourites. A live band performs popular hits in the evening.
The bartender mixing liquors and juices for Singapore Sling and other cocktails for us that night.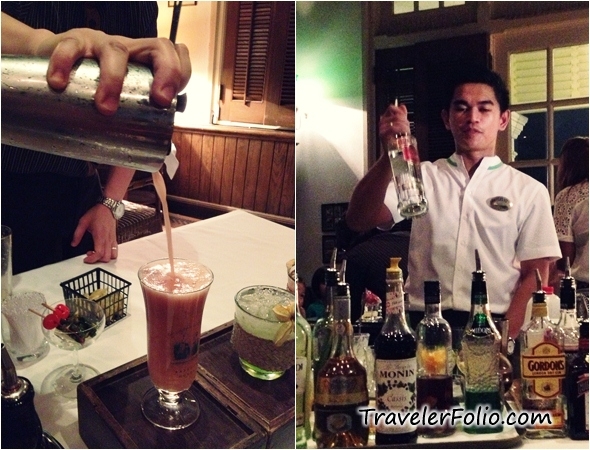 The Singapore Sling was created by Hainanese bartender Ngiam Tong Boon before 1915 when he was working at the Long Bar in Raffles Singapore. At that time, it wasn't 'glam' for ladies to be seen drinking liquor in the public. Like a fruit punch, the Singapore Sling was innocent-looking enough for ladies to consume alcohol while still maintaining 'ladylike' etiquette.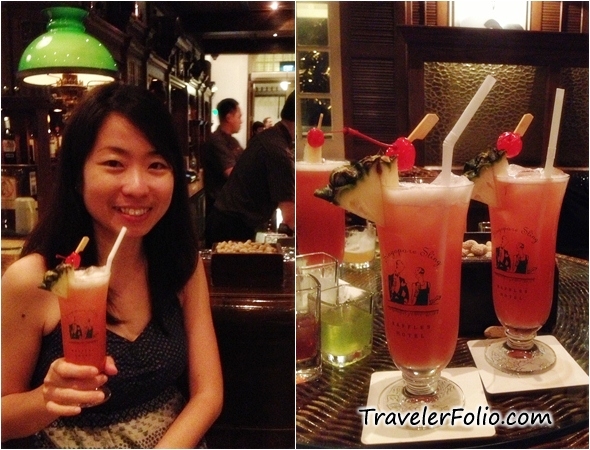 Peanuts to go along with cocktails of different colours and named after countries including Seychelles, France, Philippines, Indonesia and Cambodia. Some of these have hints of lime, pineapple and coconut.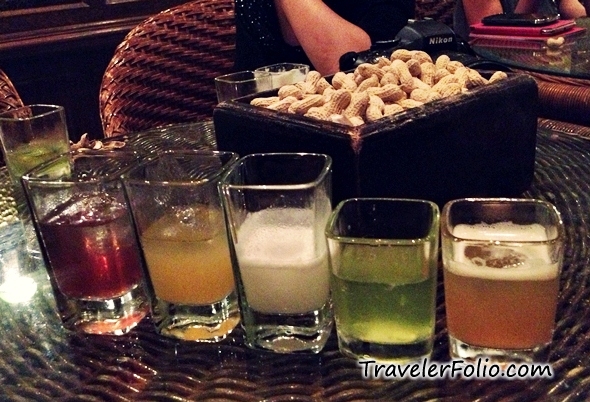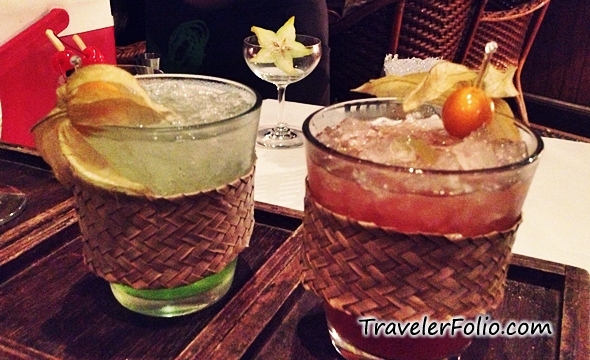 While the adults were drinking, the kids were having fun mixing their own non-alcoholic drinks at a corner.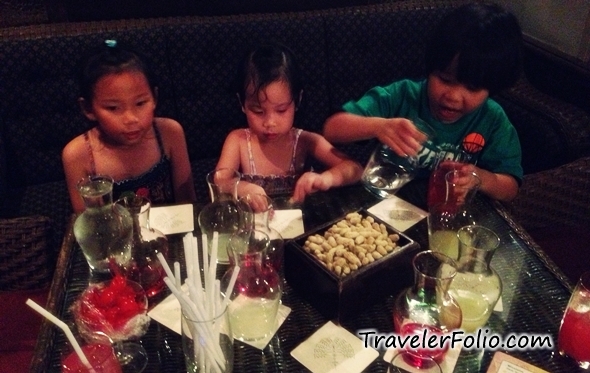 The Long Bar.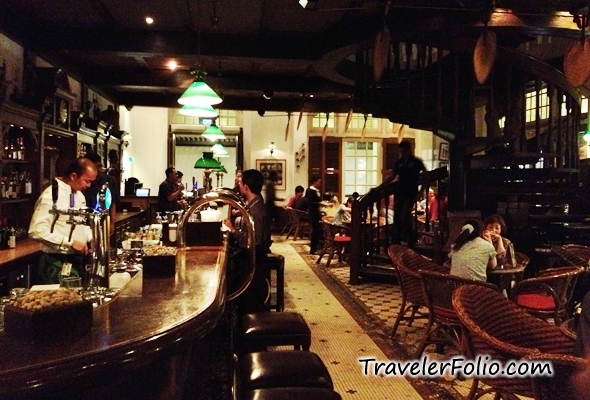 Bar & Billiard Room
A staycation at Raffles Hotel is not complete without having Sunday brunch at Bar & Billiard Room. The Carving Champagne Brunch is only offered on Sundays. With a smorgasbord of international flavours and fresh seafood, I only wish I had a very huge appetite to stomach all the lip-smacking delights.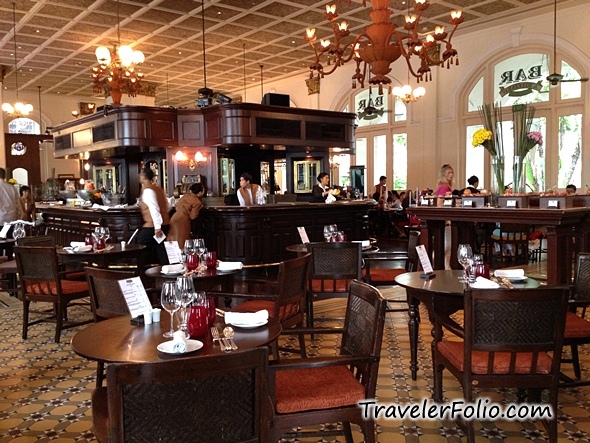 The Ribs and roast meats section, fresh salads and baked goodies.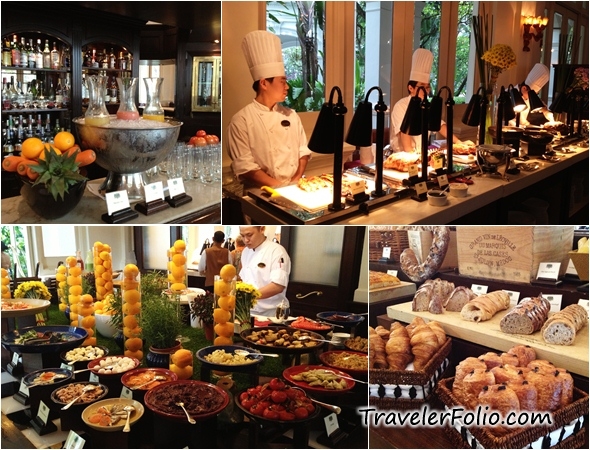 A great spread of desserts for the sweet tooth and the gourmet cheese section.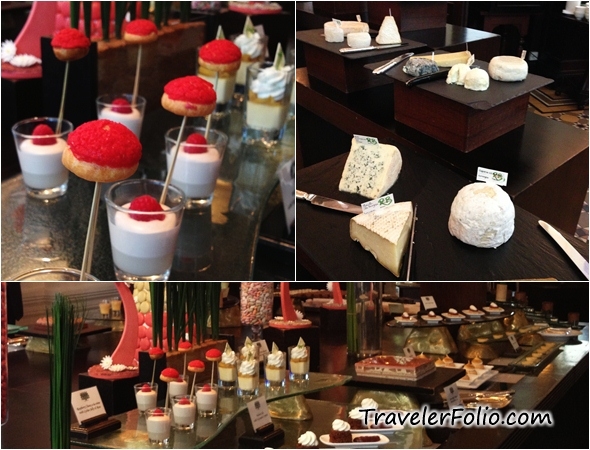 The pan seared foie gras is one of the best I've ever had. The freshly made ravioli has great al dente texture.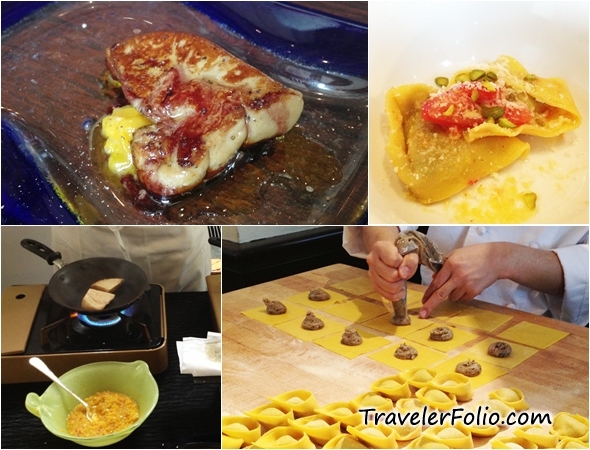 The world is your oyster.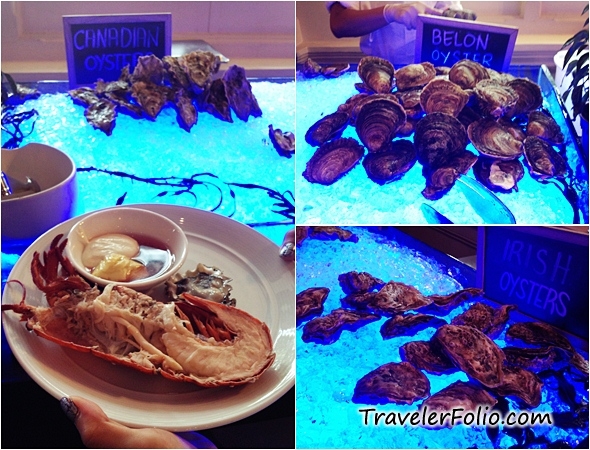 A seafood platter of different oyster varieties, lobster and crab claw.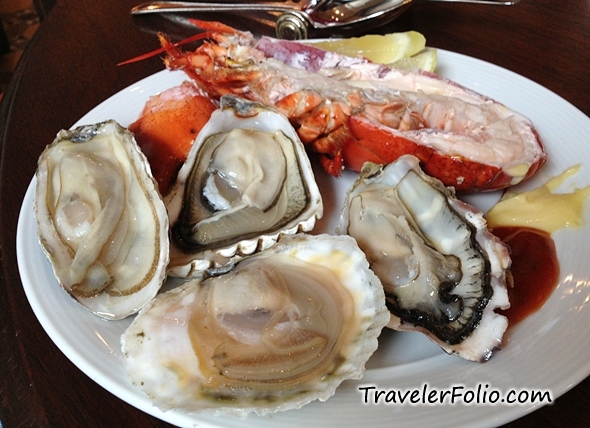 Spotted a vintage cash register machine.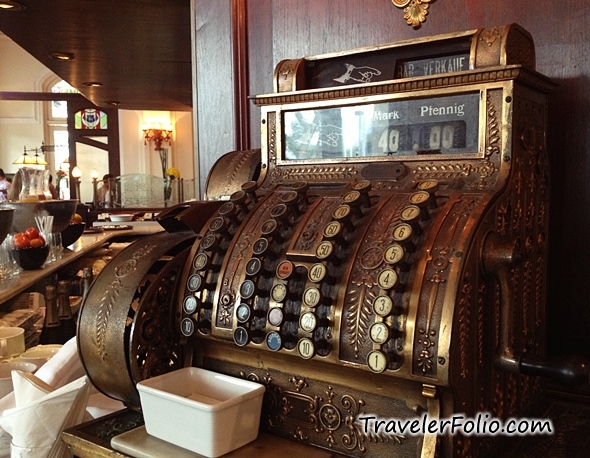 We had a fabulous staycation at Raffles Hotel. It's one of our best luxury hotel stays, a unique experience immersing in the old world colonial charm with great company, quality food and warm hospitality. If you are planning for a short break, why not a staycation at Raffles?
About Raffles Hotels & Resorts
Raffles Hotels & Resorts is an award-winning, luxury international hotel company with a history dating back to 1887 with the opening of Raffles Singapore. The portfolio currently comprises nine luxurious properties in Singapore, Cambodia, the Philippines, China, UAE, Saudi Arabia, Seychelles and Paris. (www.raffles.com/singapore)