Attention: There's something nice to giveaway for one lucky reader. You will find out at the end of this post.
Are we overwhelmed by the choices of credit cards available in the market? It may be a taboo topic to discuss about credit cards for some, unless we use it wisely… read on.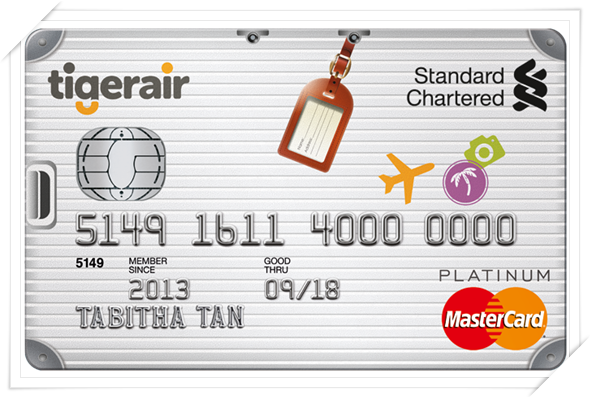 These days, we are presented with a plethora of credit cards designed to suit individual's lifestyle and needs. Recently, I attended the event for the launch of the new Standard Chartered Tigerair Platinum Credit Card. It's quite interesting to know that, according to research, travel-related spending on credit cards has increased at least 35%, and more consumers are spending on budget airlines this year. Perhaps, I shouldn't be surprised – I'm one of them.
To cater for the value-conscious travellers who travel on budget airlines, Standard Chartered co-branded with Tigerair to offer the first travel card that highlights on giving the card holder "faster ways to more holidays".
That's, two one-way air tickets (all-inclusive) upfront* to one of 11 Tigerair destinations including Bangkok, Phuket, Krabi, Hat Yai, Ho Chi Minh City, Penang, Kuala Lumpur, Jakarta, Medan, Pekanbaru and Surabaya.

Plus, the travel card holder enjoys an exclusive suite of Tigerair perks such as advance seat selection for free, priority boarding, free upgrade for check-in luggage and early access to hot fare deals and discounts.

For the 'Upfront Rewards' plan, the spending requirement is $5000 in the next 12 months; otherwise, if the spending requirement is not fulfilled, a $100 fee will be charged to the travel card. Another option is to choose the 'Future Rewards' plan to earn reward points after charging on the card to redeem tickets on Tigerair, shopping and dining vouchers.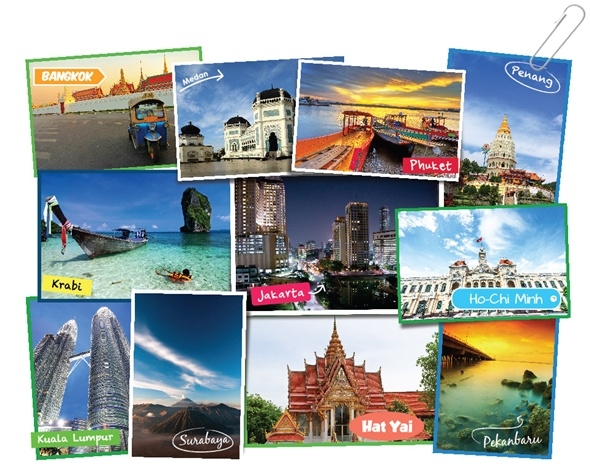 Going Bangkok
Guess what? We are (finally!) going to Bangkok for the first time. It was a pleasant surprise at the event. Some of our friends couldn't believe we haven't been there before… Oh well, please give us suggestions on where to go, makan and shopping in Bangkok! We will update our trip 'live' on Twitter and Instagram.
With friends: Alvin(ology) and Wee Heng (AspirantSG).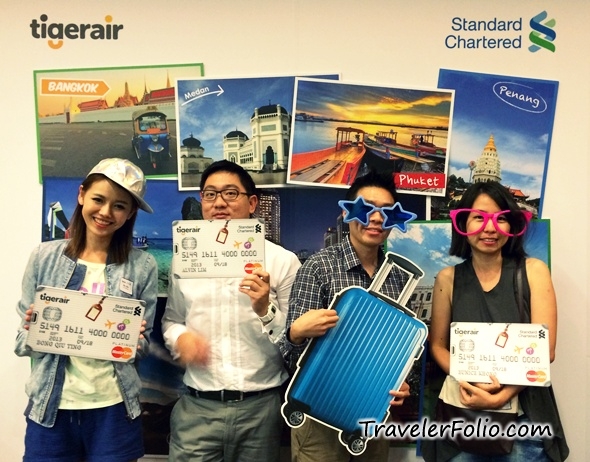 If you wish to find out more on Standard Chartered Tigerair Platinum Credit Card, visit: www.standardchartered.com.sg/promotion/tigerair/index.html
NESCAFÉ DOLCE GUSTO Giveaway
Update (24-Oct-2013): Thank you for your participation! This giveaway has ended. Congratulation to Ms. Louisa. We will send you an email soon to pick up the prize.
How to Win a NESCAFÉ DOLCE GUSTO Circolo™ Automatic beverage system
Step 1: Like TravelerFolio Facebook Page and Follow @travelerfolio on Twitter.
Step 2: Retweet and/or share this article on your Facebook.
Step 3: Tell us ONE benefit of Standard Chartered Tigerair Platinum Credit Card and state why you like it. You can share it here in the comment box, on Facebook (@Travelerfolio) and/or Twitter to include hashtag #sctigeraircard to @Travelerfolio
Contest ends on 23 October 2013. The lucky winner will be informed by email.
*Prize to be collected in Singapore only.
You are encouraged to subscribe to TravelerFolio RSS / Facebook / Twitter for any upcoming giveaway.