The main hurdle to visiting the fairyland is the dreadful roads that lead to the Jiuzhaigou valley from Chengdu. We often hear stories about big rocks flying onto the road and hit tour buses. The roads are narrow, with only two lanes for either directions. So where ever the road bends, the drivers will horn to warn any vehicles that can't be seen around the bends. Some roads has no railings too, and below the roads is the raging Minjiang River. You can imagine accidents only have two scenerios – vehicle crashes into the side of the hills or overturns into the rushing torrents below. Sometimes, one may get nausea on the bus due to long journey and higher altitude, so it's good to carry some oilment along.
But, by looking at the enchanting landscapes and snow-capped mountains along the journey, the roads don't appear horrendous, right?!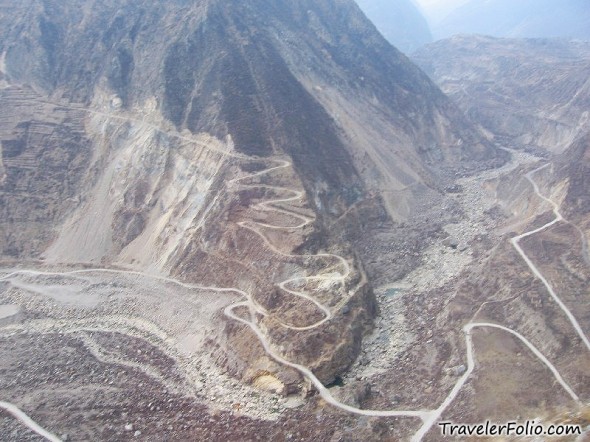 It's like a huge ancient road map appearing outside the windows of our bus!