Thank you for popping by to check out our new blog design! It's time for a change to keep up with the latest trend. We hope you like it and have no problem navigating around the site. If you have any feedback, feel free to leave a comment.
Oh yes, the new blog design comes with a logo as well! A simple logo with the letter 't' and the same letter rotated to make it appear like 'f'. 'tf' stands for 'TravelerFolio'. *Give some claps, please!*
(Go to the Homepage)
#THROWBACK
2009 ~ 2014
It was my first attempt to design a 'paper wordpress theme' after a year into blogging. This design theme had served us well for the last 5 years and received good feedbacks.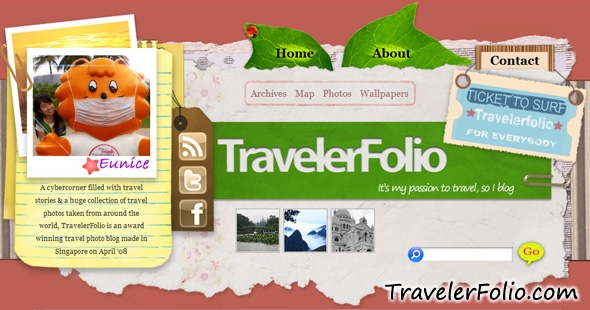 2008 ~ 2009
Our very first official blog!
In the meantime, please enjoy your stay here. Stay tuned for exciting updates!