By Kelly Khong
With thanks to the Entertainer for their dinner invitation to the Club Meatballs, it was a meat-licious night where diners can have a choice to mix-and-match between 5 types of meatballs, 5 types of sides and 5 types of sauces – a ballsy menu indeed.
Located at China Square Central, the restaurant is nicely situated facing the road and judging from the liveliness of the crowd that night, it seems like a pretty ideal place to hangout after work. Club Meatballs has a bar, serving cocktails, wines and beers on tap, the place is comfortably spaced out, which even have an enclosed room if you need private hosting.
We started out with a Gin Basil Smash ($17), with lemon, and the light citrusy cocktail already whetted our appetite. The pulled pork with chili and purple sliders ($13), which was our first serve of the night was delicious. A slider is like a small bun, which takes off the guilt of eating a full size burger. Pulled pork was flavorful, and the chief had cleverly added a tint of chili to whip up the taste, plus, the chopped purple cabbages added colour and texture into this dish.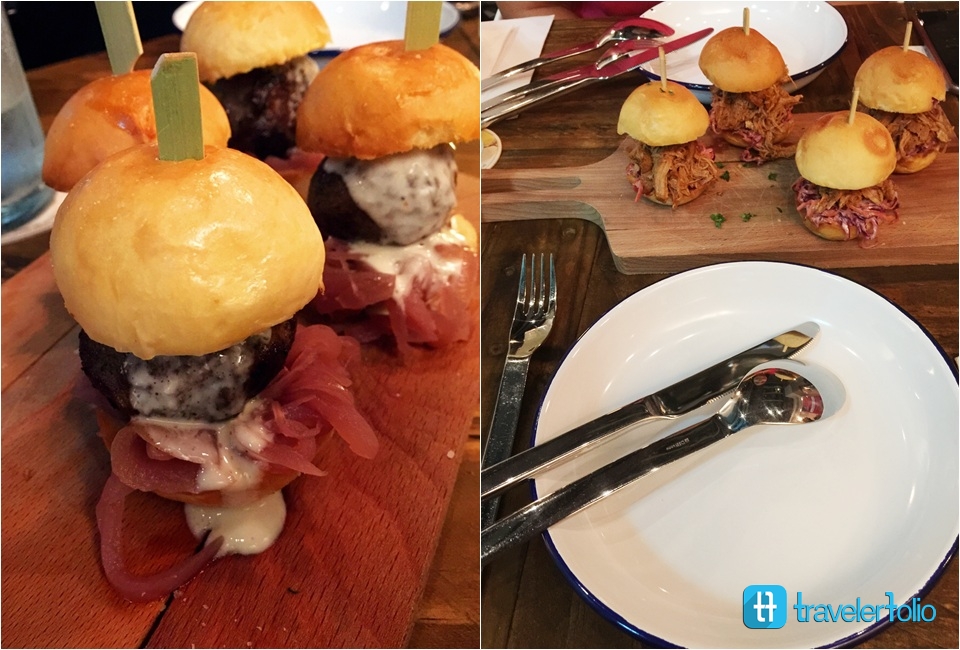 I liked the subsequence dish – Huevos con chorizo, which was simply, omelette with sausage (Chorizo), served with toasted Ciabatta. Simple dish is a test of culinary skills and all I can say is that Club Meatball nailed it! The omelette was fluffy, and the egg yolks within, runny. On top of that, the sausages were so savory – oh gosh, I would love to eat this again. I was told dish is available for breakfast menu only. Try it if you come here for breakfast to taste the traditional homemade Barcelona breakfast.
Special highlight on the main dish, which was Wagyu beef with rosemary balls ($19.50), resting on top of onion mashed potato soaked in red wine sauce. All ingredients came together to orchestra excitement. Did I already mention Wagyu beef? Well, there are five sizable meatballs in total, eat it with red wine sauce and mashed potato. Mmmm…mouth-watering!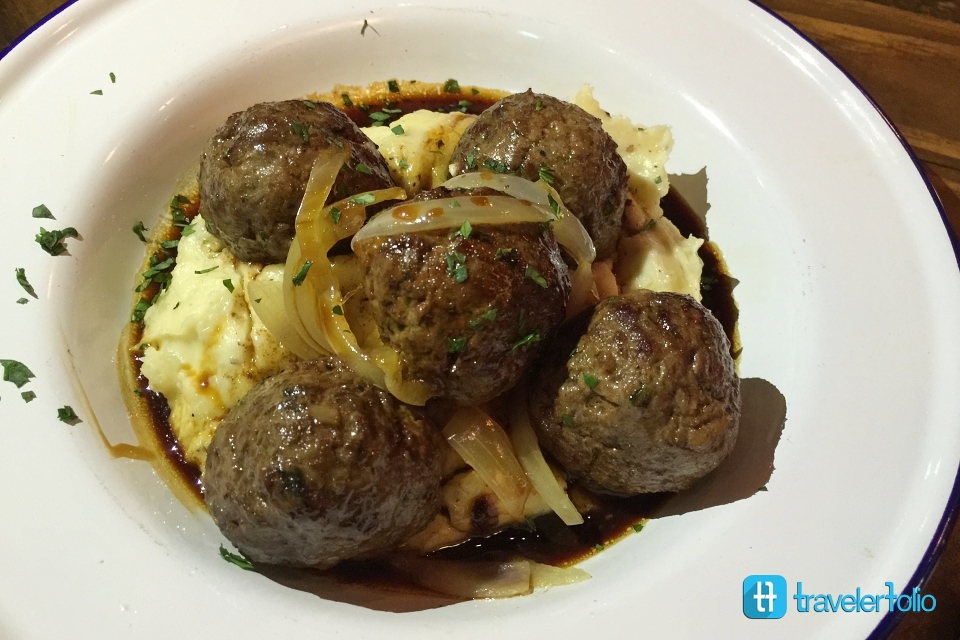 Aside that, main dish – Iberico pork and fennel are also worth a try ($19.50). The finely chopped fennel were slightly sweet which enhanced the sweetness of the pork, the meatballs were also succulent with salsa verde. Pappardelle (which are large, board and flat pasta noodles) were freshly made to compliment the balls. Highly recommended to try them for yourself.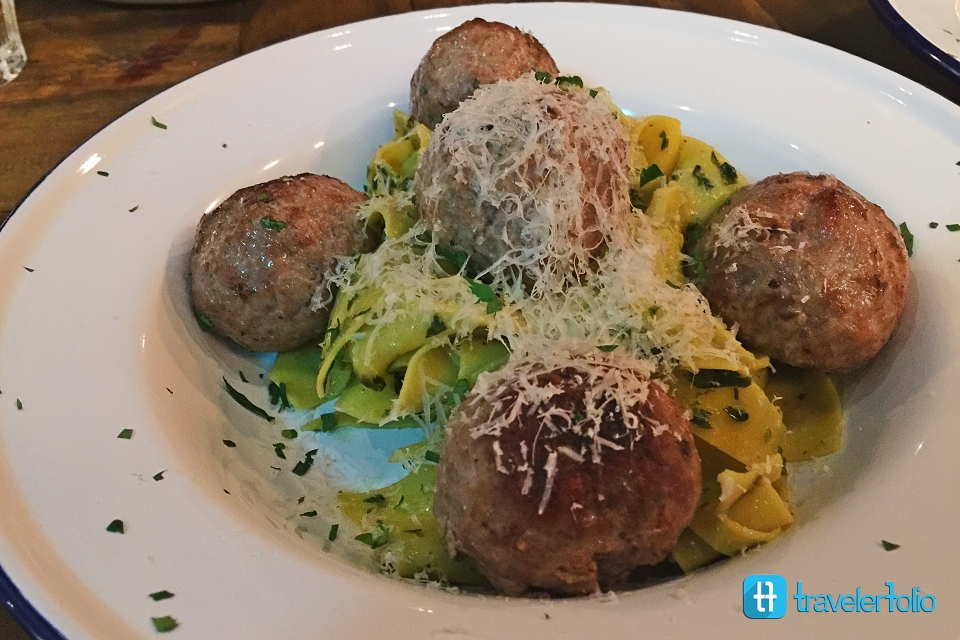 We wrapped up the meal on a prefect note when Club Meatballs dished out lemon meringue with caramelized pineapple and pistachios ($12), as well as white chocolate cheesecake with almond crumble and berries ($12).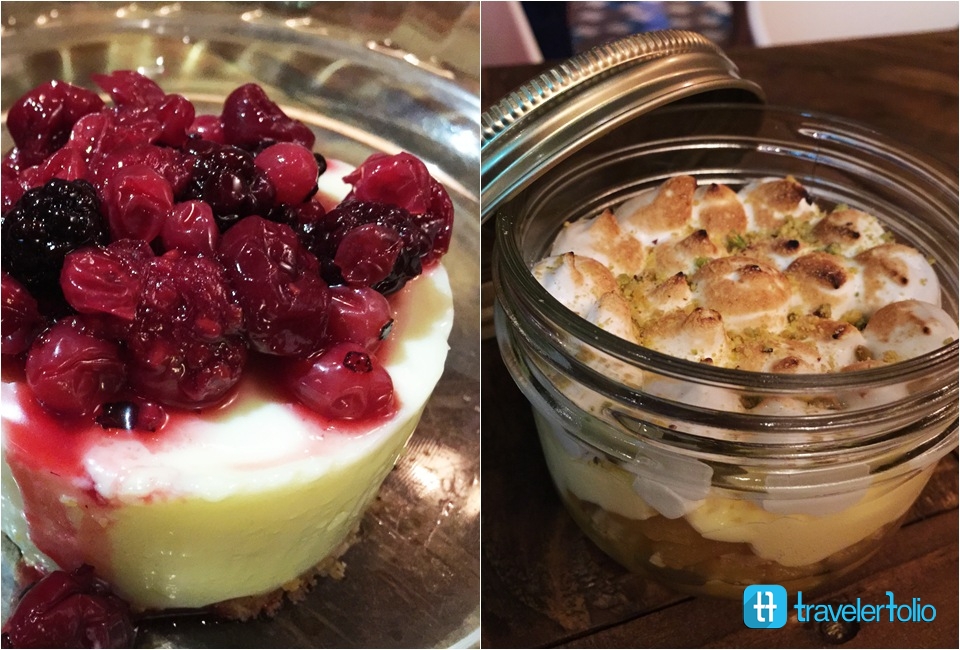 The lemon meringue offered such a fruitful kick that it is almost addictive. It was served in a glass can which I thought was quite a quirky idea. White chocolate cheesecake, on the other hand, tasted so rich and smooth that's it's a royal! The almond crumble which served as a base layer for the cake added flavour and texture very well. The berries balanced the sweetness; I would recommend the cheesecake for anyone with a sweet tooth.
Club Meatballs
#01-35 China Square Central, 20 Cross Street, Singapore 048422
Open Mon-Thu 11am-midnight, Fri 11am-1am, Sat 5pm-midnight.
With the Entertainer mobile app, you and your guest enjoy one complimentary main menu item when a main menu item of equal or greater value is purchased. This will save you an estimated S$39.
Early Bird Discount has been extended to end Feb 2015!
Get the Entertainer 2015 Singapore Mobile for over 1000 Buy-1-Get-1-Free offers (potential savings of over S$89,000!) and enjoy a discounted price of S$60 (usual S$70). That's not all.
TRAVELERFOLIO readers get an additional 10% off! The reader promo code: 2015TRAVELER
Bonus: Receive the Entertainer Travel 2015 FREE with purchase of Entertainer 2015 product and enjoy over 250 hotel offers throughout Asia, Indian Ocean, Europe, Middle East & Africa.