Who will be crowned the new Changi Millionaire? First of all, congratulation to the six finalists of 'Be a Changi Millionaire' 2013! Among them, two finalists are Singaporeans, another pair from China, and one from Indonesia and Russia. All the finalists are already winners in some way – each won S$5000 cash prize and a 3-night stay at the luxurious Crowne Plaza Changi Airport, with airfare provided for non-Singapore residents.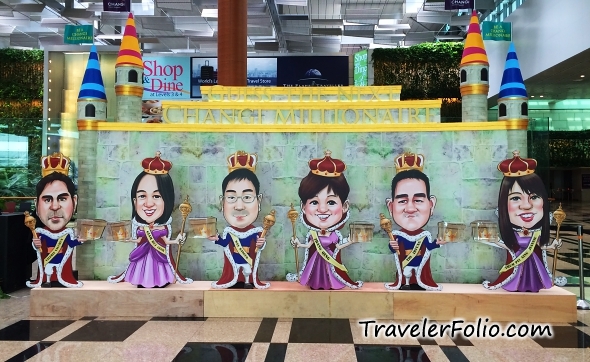 The cute caricatures of the six finalists on display. They will meet at Changi Airport T3 Departure Hall for the final showdown of luck tomorrow!
'Be a Changi Millionaire' 2013
'Be a Changi Millionaire' 2013 is Changi Airport's fourth run of the yearly anchor promotion, offering the largest cash prize in Singapore's retail promotion. To participate in the Millionaire Draw, you just need to spend a minimum of S$30 in a single receipt – from shopping to dining at the public and transit areas of Changi Airport. Since its debut in 2010, three lucky shoppers from Singapore and Australia became overnight millionaires, each walked away with a cash windfall of one million dollar!
This morning, I met with the Changi Millionaire Finalists and had a nice chat over coffee with Mr Valeriy Val'Chun from Russia and Mr Wan Bao Guo from China. They are very excited now and couldn't believe it when they were picked as the finalists out of so many entries at the world's most awarded airport. When asked if this is the first time both reached the grand final of some lucky draw, the answer was a resounding yes! They bought some gifts and entered 'Be a Changi Millionaire' 2013 for the first time at Changi Airport last year and became the grand draw finalists. Very lucky indeed!
Mr Wan, Mr Valeriy Val'Chun and their translators from Changi Airport.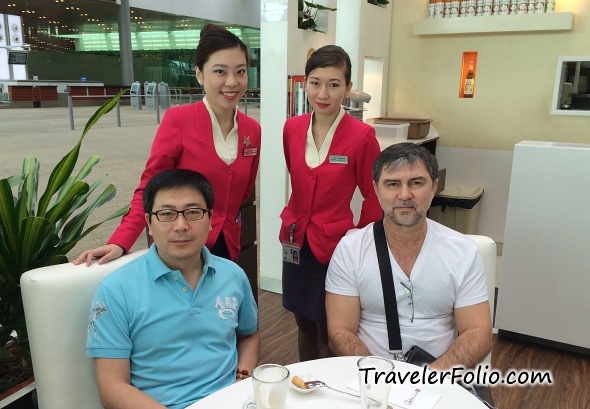 Last May, Mr Valeriy Val'Chun was transiting via Changi Airport and bought two smart phones, perfumes and a Tissot watch for S$675 at T1's transit mall. It turned out that he was the first lucky shopper to qualify for the 'Be a Changi Millionaire' 2013 Grand Draw.
Mr Valeriy Val'Chun travels frequently and always chooses to transit at Changi Airport, his favourite airport, as it is safe, efficient and offers a great variety of shops and dining options as well as modern facilities. The 52-year-old engineer emphasized that he enjoys shopping at Changi as prices are more competitive here as compared with many European cities.
Mr Valeriy Val'Chun's wife and granddaughter are here to give him support when he takes the centre stage at the Grand Draw tomorrow. If he wins, his plan is to take his family on a vacation and build a children's playground for his granddaughters. In the meantime, he is taking his granddaughter to the Singapore Zoo!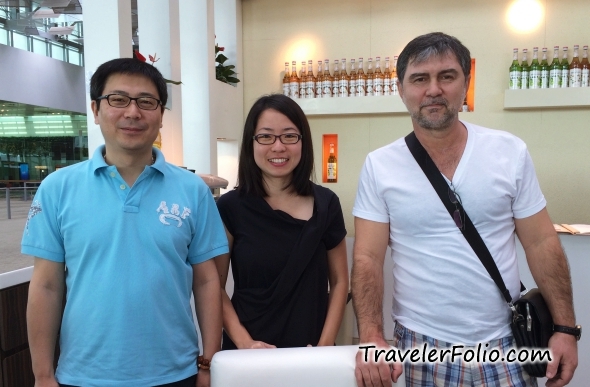 Told myself I must take a photo together with these very lucky finalists! One of them could be the next Changi Millionaire!
44-year-old Mr Wan is the third finalist picked for 'Be a Changi Millionaire' 2013. The business manager of a logistics firm in Shanghai was in Singapore for a business meeting last July; in fact, he hadn't been here for years and saw many new developments in the city-state. As a business traveller, he finds Changi Airport very clean and convenient.
Knowing that the prices of luxury brands are quite competitive in Singapore as compared to what they have in China, Mr Wan specifically checked out the price of a Gucci bag at T3's transit mall and found the good deal that his wife wanted. The purchase won him a holiday to Singapore and a place in the Grand Draw.
Mr Wan's family is here in Singapore to cheer and support him while he wears his lucky bracelet for the final showdown of 'Be a Changi Millionaire' 2013. In the meantime, they have been enjoying family time on Sentosa island!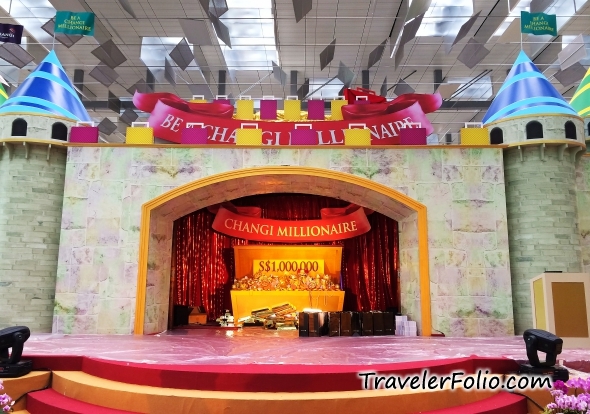 The stage where the finalists will take on the battle of luck!
'Be a Changi Millionaire' 2013 Grand Draw
19 January 2014, Sunday 1:00pm
T2 Departure Check-in Hall, Row 11
There will be popcorn, cupcakes, balloons and a photo booth
… Everyone is welcome to join in the fun and stands a chance to win amazing prizes!
– First 500 will receive a set of four Care Bears soft toys.
– Guess the winner and stand to win an iPad mini.
At the Grand Draw, there will be four rounds of exciting games during which the finalists will vie for S$1 million cash prize. For more information, visit millionaire.changiairport.com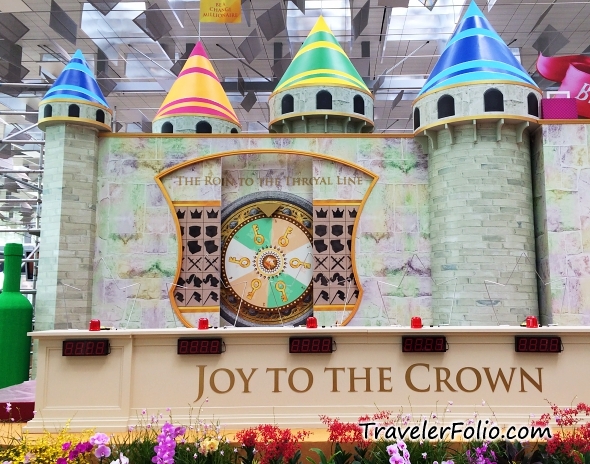 Let's see who will be crowned the 4th Changi Millionaire tomorrow!
Read Changi Millionaire 2012.