In the light of no-frills carriers gaining popularity in the region, more travellers in Singapore choose this option as their preferred mode of transport to Malaysia, considering that they can reach their destinations in a shorter time.
However, for certain location like Kuala Lumpur (KL), the capital city of Malaysia, many still prefer to go there by coaches to avoid the hassle of travelling from the airport to the city centre, which can take about 45mins to 1 hour by public transports. On the other hand, the coaches from Singapore will take the passengers right into the city centre of KL.
To meet the demands of commuters between Singapore and Malaysia, many tour companies operate direct routes to a network of destinations in Peninsular Malaysia. Well established in Singapore since 1985, Luxury Tours & Travel is a full-fledged tour operator that provides a wide spectrum of travel services at attractive prices in Asia. The leading transport provider boosts a fleet of tour coaches with comfortable seats and a wide seat pitch. With safety in mind, Luxury coaches are driven by highly experienced drivers and all passengers onboard are fully insured.
Incorporated with in-coach entertainment system, the coach journey to KL will keep you occupied with movies and music. Light snacks and newspapers are provided on board too.
The pick-up point in Singapore is at Concorde Hotel and you have the flexibility to choose any one of the 4 drop-off points in KL city. The drop-off points are at Dorsett Regency Hotel, Hotel Istana Kuala Lumpur, Prince Hotel and Residence, and Sheraton Imperial Kuala Lumpur Hotel. These luxury hotels are so conveniently located in the heart of KL city sprawling with malls, eateries and entertainment centres, that you may want to consider staying over at the hotel where you will be dropped off. Why not?
Luxury Tours & Travel currently offers very attractive bundle packages for the discerning travellers from Singapore to Kuala Lumpur.
Save Up to 40% discount when booking Luxury Coach + Hotel package deals to Kuala Lumpur! For Early Bird Discount (valid till 31-Mar-2011), buy your tickets online 30 days in advance to get an additional S$5 off for the trip from Singapore to KL.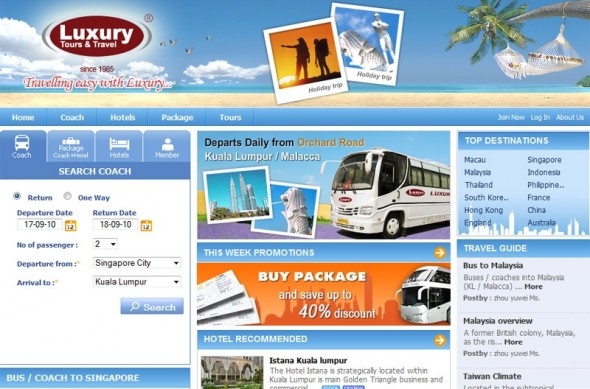 Book Online http://www.luxury.com.sg/ or call 65-6733 2808 / 6235 1911. Alternatively, you can head down to Luxury Tours & Travel office to find out more about travel package deals from the helpful staff. Address: 2nd Floor 44/45/46, 100 Orchard Road, #02-46 Concorde Hotel & Shopping Mall, Singapore 238840

(Advertorial)